1m children need help as Nepal earthquake kills thousands and destroys homes and schools
Almost one million children need emergency help after the devastating earthquake in Nepal that has killed more than 4000 people and injured thousands more.
Water and food is running out, communications are down and hundreds of thousands of people are sleeping in the open because of the fear of further quakes.
Here is the #Nepal's first school #NepalEarthquake pic.twitter.com/VOMH9ALj6o

— Pradip Pariyar (@ppariyar) April 27, 2015
Many schools have been damaged or destroyed and all state-run schools have been closed down in the wake of the disaster. In neighbouring India, schools in Uttar Pradesh are also shut for two days because of fresh tremors.
The United Nations children's agency UNICEF says children are particularly vulnerable to diseases because of unsafe water and sanitation and fears some children may have become separated from their families. 
A prayer from a schoolgirl in Kathmandu after the quake
It is mobilising staff and emergency supplies to meet the urgent humanitarian needs of at least 940,000 children affected by the earthquake, focusing on water and sanitation, nutrition, education and child protection. That figure is expected to grow.
A UNICEF spokesman said: "Children make up half of Nepal's population. We fear loss of life and great devastation to children's lives, as homes and schools are destroyed."
west point school, thankot. Thank god it was Saturday when quake hit Nepal #NepalQuake pic.twitter.com/v44SWD7ZTn

— A-Mason (@anpmsn) April 27, 2015
Roger Hodgson, Deputy Country Director for Save the Children in Nepal, said: "As the sheer devastation of the recent earthquake becomes clearer, we know that children have been the most affected by this disaster."
The 7.8 magnitude earthquake on April 25 and nearly 60 aftershocks caused vast devastation across much of Nepal, with buildings destroyed or damaged. Luckily, it happened on a Saturday when schools were closed – or the death toll could have been much higher.
#nepal #kathmandu #earthquake #prayfornepal Nepal Earthquake: High school shattered. #earthquake #nepal #kathmandu … pic.twitter.com/QcNlO61PfR

— ooopsididit (@ooopsididit) April 25, 2015
The tragedy comes as Nepal's education system has been transformed. Despite a conflict that ended only recently, the country attained universal pre-primary and primary enrolment rates, according to the Education For All Global Monitoring Report 2015.
The GMR applauded its achievements – including increasing the enrolment in pre-primary education, raising the number of trained teachers and attaining gender equality at all levels at schools.
From @spencerchumbley: People seek shelter in a Lalitpur District school in Kathmandu, Nepal. #NepalEarthquake pic.twitter.com/jb38RItDwR

— VICE News (@vicenews) April 27, 2015
But many schools have been affected by the earthquake. In Gorkha district, the chief government official said that 50% of houses and schools had collapsed. And there are fears for thousands of undocumented Tibetan refugees.
The Dolma Development Fund – an organisation caring for Tibetan tribals in Nepal – set up a school in Dhunche, near Bridim, to educate 500 ethnic Tibetan children and orphans of the area. Its chief finance officer Carla Teixeira Alvares Kaspar told the BBC: "Bridim is practically razed to the ground."
People take shelter inside a school in Kathmandu
Several international organisations and government are working to provide clean water, sanitation, food, shelter and other supplies to the people of Nepal.
You can donate to the Nepal earthquake appeals being run by UNICEF, Save The Children, Oxfam, BRAC and Tear Fund.
---
More news
Theirworld's mission to give children in crises a safe place to learn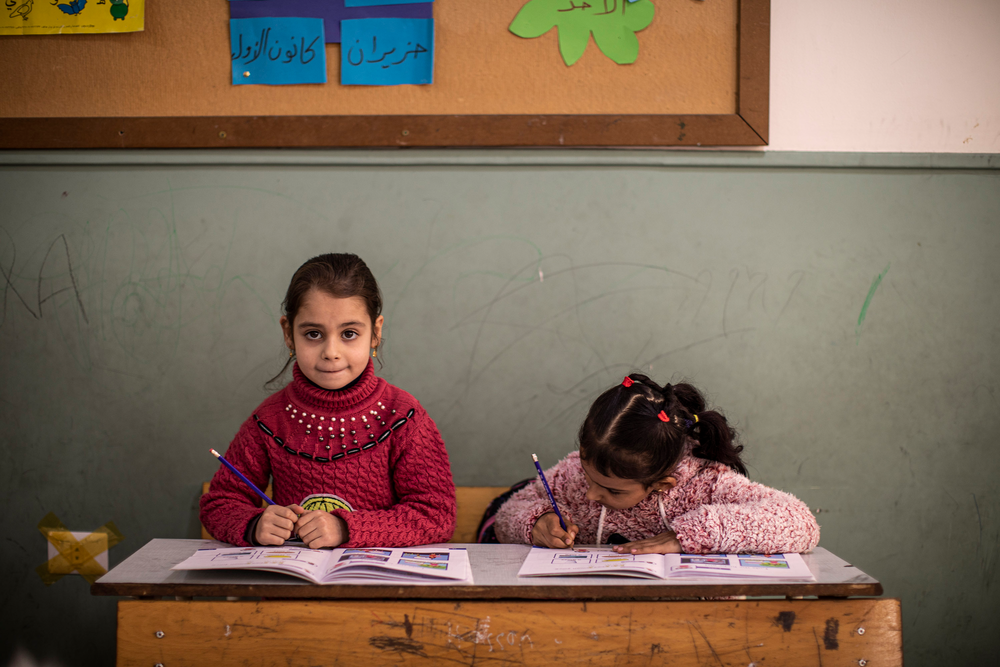 Theirworld's mission to give children in crises a safe place to learn
We thought loud noises were a storm – it was Russia bombing Ukraine
We thought loud noises were a storm – it was Russia bombing Ukraine