20 key stats from 2020 in the campaign to end the global education crisis
Coronavirus and education, Theirworld
---
Some of Theirworld's innovative Covid-19 projects feature in our look at the figures behind the successes and challenges in this difficult year.
---
Education has taken a battering in 2020 – with the Covid-19 pandemic bringing schools around the world to a halt.
But this year has also seen a remarkable response and some amazing innovation – including from Theirworld and our project partners – to ensure children are still learning in a safe environment.
Here we look at some of statistics behind the successes and the challenges from 2020 in the mission to provide a quality education for every child. If you want to advocate for education, Theirworld's online resource The Key is packed with all the facts, talking points and information you need. Check it out here and watch the video below.
1.5 billion
That's how many children and youth had their education disrupted by the Covid-19 pandemic. The health crisis closed schools and universities in more than 190 countries, halting classroom learning for 91% of all the world's enrolled students. There are still 990,000 students affected by school closures, according to UNESCO.
40 million
The number of young children who have missed out on early childhood education in their critical preschool year due to the pandemic, United Nations research revealed. Nearly 22 million of them are in South Asia.
106,441
22,000
That's how many students, teachers and academics have been injured, killed or harmed in attacks on education during armed conflict or insecurity over the past five years. The chilling statistics were revealed in Education Under Attack 2020, a report by the Global Coalition to Protect Education from Attack. There were more than 11,000 recorded attacks on education facilities, students and educators between 2015 and 2019.
$45 million
The total Covid-19 emergency grants provided by Education Cannot Wait, the global fund for education in emergencies, to respond to the pandemic in 35 crisis-affected countries and emergency settings. ECW also supported multi-year programmes in 18 countries. The organisation has now reached 3.6 million children and 42,000 teachers.
591
The number of new Global Youth Ambassadors recruited by Theirworld in 2020 – taking our total to 970 in 78 countries. Our Global Youth Ambassadors are aged 18 to 29 and are youth campaigners and social entrepreneurs who are united in their passion for social justice and the right to education. 
20 million Euros
30%
Of students have been victims of bullying, said the UN. This has devastating consequences on academic achievement, school dropout rates, and physical and mental health.
9 Covid-19 projects
Theirworld worked on nine specific projects in 2020 aimed at dealing with the learning crisis caused by the pandemic. In northern Greece, we supported the Refugee Trauma Initiative to hire and train young migrants to give them hope and to ensure their communities have access to early childhood support.
180 million
That's how many extra girls have enrolled in primary and secondary education since 1995. The Global Education Monitoring Report this year revealed the global enrolment rate for girls increased from 73% to 89%, with the biggest improvements in sub-Saharan Africa, Southern Asia and especially in India. 
117
The number of countries that still allow child marriage. Twenty have not ratified the minimum age convention to prevent child labour and four nations ban pregnant girls from school.
7 countries
Theirworld worked with partners on projects during 2020 in Lebanon, Turkey, Greece, Nigeria, Kenya, Uganda and Tanzania. This included our Skills for Their Future and Code Clubs programmes, which help marginalised girls and young women to learn digital, coding and entrepreneurship skills in four sub-Saharan African countries. In Turkey, our project created and distributed non-formal education learning materials for refugee families which promote psychological wellbeing for children aged five to 12. Learn more about Theirworld's projects.
40%
Of the world's 79.5 million refugees are children – and the number of displaced children is larger today than any time since World War II, says UNHCR.
97%
Of school students in Latin America and the Caribbean are still locked out of their classrooms by the pandemic. Children in the region have lost on average four times as many days of education (174) as those in the rest of the world, with over 137 million young people still not back at school, said UNICEF. 
$5 billion
Before #Covid19, there were over 260 million children in the world who weren't going to school.

To make education accessible, IFFEd aims to raise at least an extra $5 billion in 5 years, helping lower income countries to change the lives of hundreds of millions of children. pic.twitter.com/MeL1Glwqut

— Theirworld (@theirworld) September 21, 2020
The extra funds the International Finance Facility for Education aims to raise in five years – helping lower-income countries to change the lives of hundreds of millions of children.
1 in 3
A third of adolescent girls from the world's poorest households have never been to school, said a report released in 2020 before the pandemic. They face obstacles such as poverty, gender discrimination, disability, ethnic origin or teaching language, distance from schools and poor infrastructure.
60%
Of low-income students are regularly logging into online instruction during the health crisis, compared with 90% of high-income students. Girls and women are 23% less likely than boys and men to be able to use mobile internet in low and middle-income countries.
94 million
That's how many teachers are working in schools around the world – an increase of 50% from 62 million in the year 2000. But 69 million more teachers are needed (24 million for primary and 44 million for secondary) to ensure every child is educated by 2030.
2.5
Times more likely to never have been at school – that's the sad reality for children with a sensory, physical or intellectual disability.
1.3 billion
The total number of young people today – the largest youth population in human history. Yet one in five youth worldwide are currently not in employment, education or training. While youth make up one-fifth of the global population, they make up one-third of the global unemployed workforce.
---
More news
Take the test and discover how our Schools Hub helps students grasp the global education crisis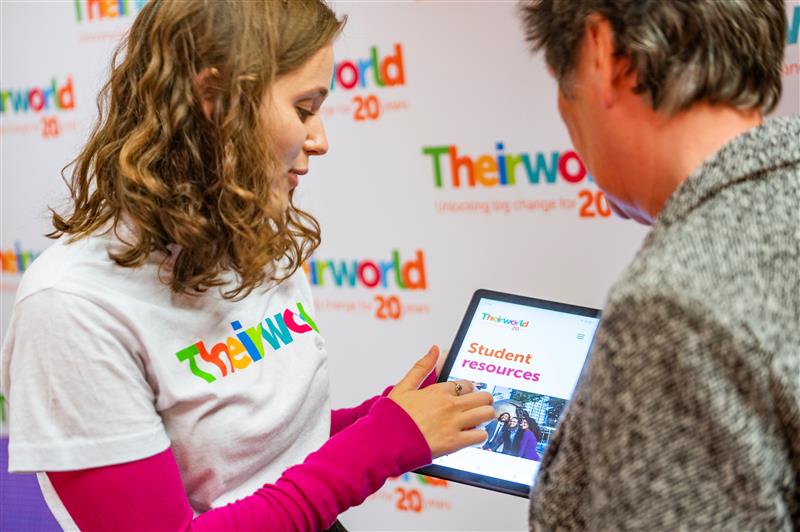 Take the test and discover how our Schools Hub helps students grasp the global education crisis
#LetMeLearn: the story of a global education campaign
#LetMeLearn: the story of a global education campaign