20 things about the G20 summit and why it could help to deliver education for all
Barriers to education, Discrimination of marginalised children, Early childhood development, Education Cannot Wait, Education funding, Education in emergencies, Right to education, The Education Commission, Theirworld
The G20 summit will be held in Germany on July 7 and 8 - but what is it, who'll be there and what might it mean for children who are denied education?
---
1. The G20 stands for Group of 20. Founded in 1999, it is a forum for the governments and central bank governors of the world's top 20 industrialised and emerging economies to talk about global financial issues.
2. The G20 comprises 19 individual countries plus the European Union. The countries are Australia, Argentina, Brazil, Canada, China, France, Germany, India, Indonesia, Italy, Japan, Mexico, Russia, Saudi Arabia, South Africa, South Korea, Turkey, United Kingdom and United States. 
3. The G20 nations represent about two-thirds of the world's population, 85% of global gross domestic product and over 75% of global trade.
4. The first G20 meetings featured finance ministers and the heads of each country's central bank. But in 2008, during the global financial crisis, summits of the leaders from each member country were introduced.
5. Each year the host country invites other guest nations or organisations. Spain has become a permanent fixture and it has become customary for the African Union, the Association of Southeast Asian Nations and others to attend the leaders' summits. This year Norway has also been invited.
6. A lot of the groundwork is done in advance or on the sidelines by key advisers known as Sherpas. Tom Fletcher – former British Ambassador to Lebanon and now Director of Global Strategy for the Global Business Coalition for Education, said: "They get the leaders up the summit. The Sherpas meet regularly to prepare the agenda, key issues and – crucially – the final communique." Find out more about the Sherpas.
7. The G20 is supported by several international organisations, including the International Monetary Fund, the United Nations, the World Bank and the World Trade Organization. These and other organisations are invited to attend key meetings.
8. The G20 summit is in Hamburg this year because Germany currently holds the presidency. Last year's presidency was held by Turkey and 2018 will be Argentina's turn. 
9. Leaders expected to attend include Angela Merkel from Germany, Donald Trump from the US, Xi Jinping from China, Theresa May from the UK, Vladimir Putin form Russia, Justin Trudeau from Canada, Emmanuel Macron from France and Narendra Modi from India.
10. Throughout the year major events are also held by engagement groups from business (known as the B20), civil society (C20), labour (L20), think tanks (T20) and youth (Y20). The outcomes of these are submitted to the G20 leaders.
11. The Y20 brings together young leaders from across G20 countries. This year they met in Berlin in June. The Y20 called on the G20 leaders' summit to back education for every child – especially girls. 
12. At the Y20, Saket Mani – one of Theirworld's network of Global Youth Ambassadors handed over petitions supporting education that were signed by 138,000 supporters of Theirworld, ONE and Global Citizen. He also delivered a call to action for a bold funding plan to help get every child in school that has been supported by singer and education campaigner Shakira, together with 29 major charities and organisations including Theirworld, ONE, Global Citizen, Save the Children, Avaaz, Malala Fund, Islamic Relief, VSO and World Vision.
13. That plan is called the International Finance Facility for Education (IFFEd). It could unlock as much as $10 billion of additional funding – if the G20 countries and the World Bank get on board. The idea for IFFEd came from the Education Commission, a body chaired by Gordon Brown that was made up leaders, researchers and experts. It spent a year investigating how the funding needed to get every child in school can be found. Find out how IFFEd would work.
14. The Sustainable Development Goals agreed by world leaders say every child in the world should be getting a quality education by the year 2030. But unless urgent action is taken, by 2030 more than half of the world's 1.6 billion young people will never have been to school, dropped out of school or left education without even the most basic skills needed for employment.
15. The G20 summit comes days after UNESCO warned that the amount of aid allocated to education has been falling for six years in a row. While overall development aid increased by 24% from 2010 to 2015, the amount spent on education dropped by 4%. It is now less than the funding for transport.
16. Shakira believes the summit is a huge opportunity to push education to the top of the agenda. She said: "It's unacceptable that more than half of the world's 1.6 billion young people will never have been to school by the year 2030 if we continue as we are."
17. As well helping school education, the IFFED would help to pay for quality pre-primary education programmes. Theirworld has been campaigning for G20 leaders to prioritise early childhood development and especially pre-primary education, particularly for the poorest and most marginalised children.
18. A new report by Theirworld last week highlighted a severe lack of investment in early years education. It showed that 85% of children in low-income countries do not have access to pre-primary education and more than 200 million children under the age of five are at risk of failing to reach their potential.
19. Shakira will be on stage at the Global Citizen Festival in Hamburg on July 6 – the day before the G20 Summit. Other headliners include Coldplay, Pharrell Williams and German singer Herbert Grönemeyer. It will be attended by fans who get free tickets for engaging in causes, such as the campaign to educate every child in the world.
20. Here's one way to get the attention of the G20 summit. Yell "Oi, world leaders" at them while dressed in a pink baby suit and sitting at a drum kit. Comedian Matt Lucas has appeared alongside other funny stars in a series of new films for Theirworld's #5for5 campaign, which calls for more investment in early childhood development. Watch Matt's message for the G20 below.
---
More news
Take the test and discover how our Schools Hub helps students grasp the global education crisis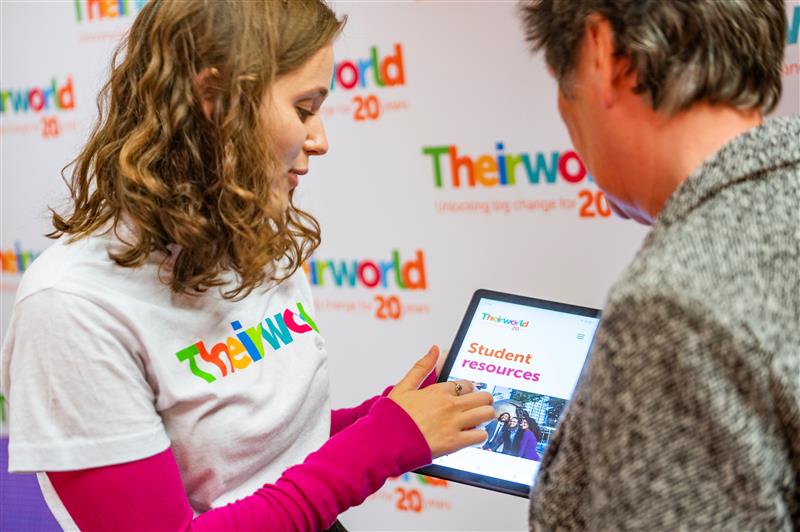 Take the test and discover how our Schools Hub helps students grasp the global education crisis
MyBestStart programme gives young girls the education they deserve
MyBestStart programme gives young girls the education they deserve