650 learning centres to help get Nepal's children back to school after earthquake
Education in emergencies, Safe schools
The EU's Andreas Roettger breaks the ground at first of the new centres in Shreepur Chhatiwan Picture: Facebook/UNICEF Nepal
Work has begun on the building of 650 transitional learning centres to restore education for one million children affected by last year's earthquakes in Nepal.
A ceremony marked the start of the project to get children into safe schools. For the past year, they have either been out of school or in inadequate temporary learning spaces.
The 650 new centres – which will also have early childhood development centres – will bridge the gap for the next two years until permanent schools are built. 
The project – run by the European Union and the United Nations children's agency UNICEF in conjunction with Nepal's education department – will also ensure the centres have learning materials and 1300 teachers will be given training on psychosocial counselling.
Andreas Roettger, Head of Cooperation at Delegation of the European Union, broke the ground for the first centre at Shreepur Chhatiwan village in Makwanpur District. 
He said: "These transitional learning centres will provide a better environment for teaching and learning for students and school teachers.
Children play in the rubble of a destroyed school in Bhaktapor Picture: A World at School/Claire Wilkinson
"At the same time, it will impart the need for safer learning spaces and raise awareness in the communities for better disaster preparation in the future."
The first of two major earthquakes struck on April 25 last year. The urgent humanitarian need for the 2.8 million people affected was food, water, shelter and medicine – but very soon thoughts turned to getting children back into school as quickly as possible.
About 16,000 schools were damaged or destroyed. However, progress until now has been very slow. The government declared a moratorium on construction until new national standards for building and construction were developed.
Watch an amazing virtualy reality film about the education struggles of Nepal's children
That meant huge numbers of out-of-school children are at risk of falling prey to child labour, child marriage, trafficking and other abuse. They are also in danger of falling out of the education system and harming their chances of fulfilling their potential.
This is why the new Education Cannot Wait fund – to be launched at the first World Humanitarian Summit in Turkey – must be backed by commitment and money from world leaders. The fund has to deliver emergency education where it is most urgently needed during and after conflicts, natural disasters and health crises.
Nepalese children need to be in school and learning Picture: A World at School/Claire Wilkinson
You can add your voice by signing the #SafeSchools petition – which has been backed by thousands of A World at School supporters.
The UN-UNICEF project in Nepal, in conjunction with partners, will help to construct transitional learning centres in the earthquake-hit regions of Gorkha, Kavrepalanchowk, Makwanpur, Nuwakot, Okhaldhunga, Ramechhap, Rasuwa, Sindhuli and Sindhupalchowk.
The learning centres will be made from corrugated, galvanised iron sheet roofing and sturdier walls than the temporary spaces – many of which were constructed from bamboo. 
Tomoo Hozumi, UNICEF Representative to Nepal, said: "Following the devastating earthquakes last year that destroyed or severely damaged over 35,000 classrooms, a tremendous amount of effort was made to bring children back to school as soon as possible to minimise disruption of their education by establishing temporary learning centres.
 "In view of the continuing need for vigilance and preparedness for disasters in the country, we need to ensure safe learning spaces for children."
Learn more about what other organisations are doing to help Nepal's children back to school
---
More news
Theirworld's mission to give children in crises a safe place to learn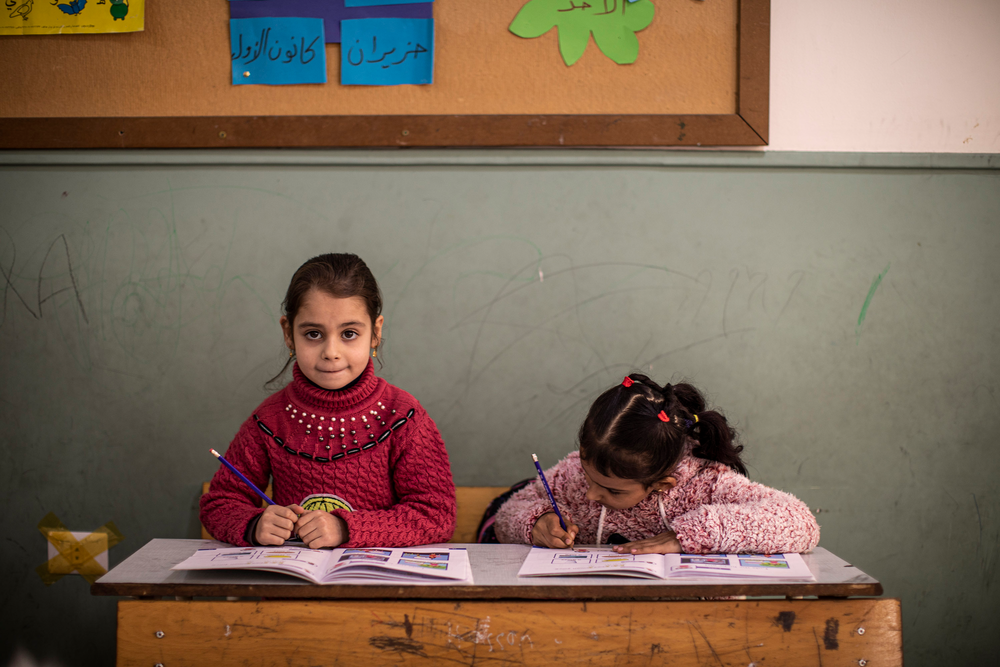 Theirworld's mission to give children in crises a safe place to learn
We thought loud noises were a storm – it was Russia bombing Ukraine
We thought loud noises were a storm – it was Russia bombing Ukraine