'Nothing is impossible': Syrian refugee who fled bombs and became a star student
The international community is failing in its promise to provide the funding needed to send all Syrian refugees to school. A report published today by the children's charity Theirworld says governments have not delivered on pledges made at the Supporting Syria and the Region conference in February.
The cover of the report shows Mohammed Ammar Said Koshak. This is his inspiring story.
Mohammed overcame the odds to become a success at school
Mohammed was a young boy when the conflict began in Syria. The constant bombing in the Damascus suburb of Daraya meant he went to school less and less often.
In 2012, after 11 days of non-stop shelling, his family took their chance and fled to neighbouring Lebanon, taking only what they could carry. Among the things they left behind were Mohammed's school certificates – and that meant he missed out on a year of education in his new country.
When he did get back into a classroom, the lessons were in English, not Arabic. So the teenager had to learn a new language and a whole new curriculum.
READ THE REPORT ON EDUCATION FOR SYRIAN REFUGEES
TELL WORLD LEADERS TO KEEP THEIR PROMISE
Mohammed Ammar Said Koshak is now 16. Amazingly – despite all the upheaval and the obstacles – he ranked second in the country in the recent Brevet, or secondary school certificate examinations.
Beirut-based writer Tabitha Ross said: "When I heard that a Syrian boy had come second in all of Lebanon, I assumed it would be a child from a background of privilege, whose parents could afford to send him to a private school and whose education had not been interrupted by the war. I could not have been more wrong."
Mohammed said: "When I was in grade seven, we started having to leave school early because of the bombing. We used to hide in the bathroom.
"Even when school was open, it was very interrupted – we'd be two days in school, then two days out, depending on the ceasefires and the bombing."
The teenager studies at his home in Lebanon
When his family arrived in Lebanon, he had to wait for a year to get new school certificates. During that time, he helped his father Said at the restaurant where he worked.
"We had no books," said Mohammed. "Nothing to read or revise or to do and the alternative education centres are only for the younger kids."
When he finally got into a Lebanese school, he and his brothers and sisters would translate their lessons from English to Arabic – then write the answers back into English.
"It took six or seven hours a  day just to do the homework," he said. "I'd sleep just six hours a night. If I wasn't asleep, I was at school or studying."
But it's all been worth it for Mohammed, who wants to become a doctor.
His parents Said and Rabia are committed to education. Said works for 18 hours a day at two jobs to pay for his children's school books and transportation.
He said: "When I was young I had to work in the afternoons to pay for going to school in the mornings. And then I had to leave school for good at 14. 
"Education is so important and this is why I work so hard so that my children can have the opportunity I did not."
Mohammed said every Syrian refugee should have the same opportunity to shine as him. He added: "Nothing is impossible. They should work hard and complete their education to be able to go back to rebuild our country."
---
More news
Theirworld's mission to give children in crises a safe place to learn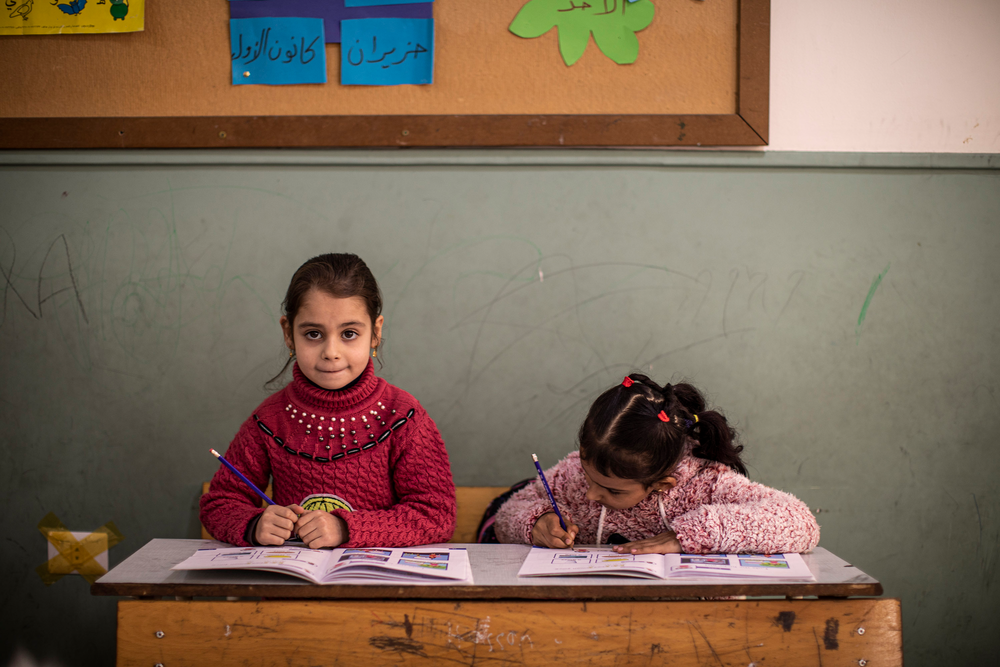 Theirworld's mission to give children in crises a safe place to learn
We thought loud noises were a storm – it was Russia bombing Ukraine
We thought loud noises were a storm – it was Russia bombing Ukraine