A year after Peshawar attack, are Pakistan's schools safer?
Education in emergencies, Safe schools
---
Jo Griffin is a freelance journalist for the Guardian, Observer, BBC and Al-Jazeera. She has also worked as a journalist in Mexico, Central America and Brazil.
Students carry a banner, showing pictures of some of the victims, in a street leading to the Army Public School today
It is exactly a year since seven Taliban gunmen stormed the Army Public School in Peshawar, killing 141 people, including 132 children.
The atrocity drew international condemnation and led to calls for urgent measures to improve safety at schools in Pakistan. 
 "For us, this was a really significant attack. We know there are elements here that do not value education but we had never seen an attack on that scale," said Daniel Timme, of UNICEF in Pakistan, which is working with the government to improve safety at schools.
 "We had seen attacks, such as school buildings being blown up … but never an attack like this on innocent children.
"There will never be any justification for that. The whole world was looking at Pakistan then, and the attack still stands out," said Timme from Islamabad.
Pakistan retaliated decisively to demands at home and abroad for retaliation. It drew up a National Action Plan to crack down on extremism, brought back the death penalty and stepped up a military offensive against the Taliban in the Khyber Pakhtunkhwa province. 
But what measures have been introduced to improve safety in schools? What lessons have been learned since Peshawar? 
Students light candle for the victims at a school in Bannu today
Prior to that outrage, Pakistan – which has the second highest number of children out of school in the world – suffered more attacks on its schools than any other country in the world, including:
Opponents of the state blowing up thousands of school buildings
Supporters of girls' education being killed
Millions of children terrorised out of schools and denied an education
According to a report in 2014 by the New York-based Global Coalition to Protect Education from Attack (GCPEA), which collates information on the attacks, between 2009-2012 at least 838 schools were attacked.
But the scale of the Peshawar attack and the vicious targeting of children brought a new urgency to efforts to improve safety.
Earlier this year, Pakistan launched the Safe Schools Initiative with Gordon Brown, United Nations Special Envoy for Education. Produced in collaboration with A World at School and the Global Business Coalition for Education, the 15-point plan includes community-level initiatives engaging parents and religious leaders, and school-level interventions.
It also incorporates guidelines for the training of staff as safety officers, contingency plans – including a rapid-response system – and financing for security so that education is not compromised by need for funds. 
It is a full framework for a comprehensive approach to protecting all schools by involving communities, empowering school staff and protecting children physically and psychologically from attack.
In line with this initiative, said Timme, UNICEF and the Pakistan authorities have been collaborating in programmes such as the Pakistan Safer School Project to improve security.
Measures include the setting up of disarmament, demobilisation and reintegration plans in 137 schools in five districts of Khyber Pakhtunkhwa and 137 disaster management committees.
In the Jalozai camps for internally displaced persons, 120 teachers have been trained on emergency preparedness and school safety. 
UNICEF said the measures had led to a decrease in attacks and improved sense of security among teachers and students.
In addition, all the provincial governments have developed standard operating procedures for school safety, including raising boundary walls, appointing guards at school gates and fortifying gates.
Ali Ansari, an expert on Pakistan education, stressed the limits of improving physical infrastructure of schools and the importance of strengthening community involvement in schools. 
"I doubt we'll see another event like this [Peshawar], but nonetheless there is a need to prepare students and teachers in the event of something like this happening," he said. 
"To date, not much has happened beyond building boundary walls and providing armed guards. The key is to create greater community ownership of schools to ensure that communities are willing to protect them."
San Tehseen, whose teenage brothers Noorullah Durrani and Saifullah Durrani died in the Peshawar attack and who coordinates a forum representing victims' families, expressed frustration at continued lapses of security.
He said: "In the opinion of our forum, the government is still providing more security to politicians and officials than educational institutes, which is totally wrong."
Heavy security outside the Army Public School today
Diya Nijhowne, director of the GCPEA, said: "An important way that Pakistan should show its commitment to protecting its schools from attack and ensuring the safety of its students while also guaranteeing their right to education would be to endorse the Safe Schools Declaration, which commits states to taking a range of actions to protect education." 
So far, the declaration has been signed by more than 50 states. 
Ben Hewitt, Director of Campaigns and Communications for A World at School, said: "Attacks on schools around the world are at their worst in 40 years and urgent action is needed to make schools and children safe.
"In the face of these attacks, courageous children return to school every day as their families know how vital it is for every boy and girl to get a quality education.
"World leaders need to act now to protect schools, whether through safe schools initiatives such as in Pakistan and Nigeria but also all by governments signing and implementing the Safe Schools Declaration."
To coincide with the anniversary of the Peshawar attack, the GCPEA has released a new report with a plan for what education ministries can do to keep schools and universities safe amid conflicts. 
A final version of the Guidelines for Protecting Schools and Universities from Military Use During Armed Conflict is also being released.
For relatives of those who died a year ago in Peshawar, the anniversary is another day of suffering. 
Sana Tehseen said: "A year has passed and our pain and suffering has not decreased. Our wounds are still as fresh as they were on December 16, 2014."
READ MORE
Peshawar survivors tell of their trauma
---
More news
Theirworld's mission to give children in crises a safe place to learn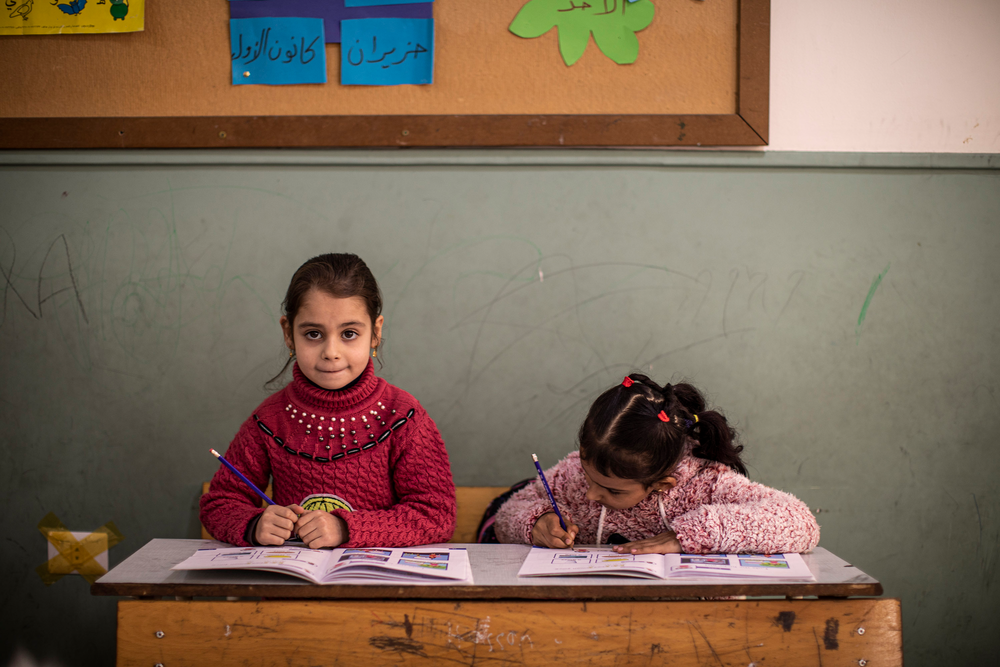 Theirworld's mission to give children in crises a safe place to learn
We thought loud noises were a storm – it was Russia bombing Ukraine
We thought loud noises were a storm – it was Russia bombing Ukraine