How Code Clubs are giving girls the technology skills they need to succeed
Girls' education, Theirworld
To celebrate Africa Code Week, we look at projects supported by Theirworld that are helping marginalised girls and young women in Zimbabwe, Kenya and Uganda.
---
Lynn Chaparika loves to code. Learning digital skills can help the 16-year-old schoolgirl from Zimbabwe become more confident, creative and successful in the future workplace.
She is one of hundreds of girls at Code Clubs and Skills for Their Future programmes supported by Theirworld that ensure marginalised and disadvantaged girls and young women get an equal chance to fulfil their potential.
"I really enjoyed my time with the Code Club and I would like to pursue a career in ICT (information and communications technology)," said Lynn, who attended classes run by Muzinda Hub in the capital Harare.
"Technology helps in making interacting among people easier and l would like to be one of the women who takes ICT to the next level and be an inspiration to other women and young girls."
Kenyan schoolgirl Sharon is another enthusiastic student of coding. She attended the Theirworld Code Club run by Youth for Technology Foundation at Huruma Girls' School in Nairobi.
"I'd like to know more about the world and more about computers," she said. "I'd like to be a big entrepreneur. I'd like to be my own programmer and do my work in my house." 
As part of Africa Code Week, Women in Technology Uganda (WITU) – which has been running the programme for the past two years – took part in the Scratch Africa Conference. 
Esther, the programme co-ordinator on the ground, said: " The girls have demonstrated amazing learning in using coding with Scratch. We are very impressed and proud."
Theirworld launched the Code Clubs programme in 2016 and has supported over 1,300 girls through projects in Zimbabwe, Kenya, Uganda, Nigeria, Tanzania and Lebanon. 
Skills for Their Future will bring together the learning and evidence gathered over the past three years and implement a more sustainable, impactful programme model for the older age groups. 
We are celebrating Africa Code Week – which is marked in 37 countries – by featuring the work of our partners in Zimbabwe, Kenya and Uganda. 
Picture gallery: celebrating Africa Code Week
Rapid changes in technology and automation mean that half of all the world's young people – more than 800 million – will not have the basic skills necessary for the workforce by 2030, the year when the Sustainable Development Goals are meant to have been achieved. The outlook is particularly bleak in parts of Africa.
"It is predicted that less than one in five young people in sub-Saharan Africa are on track to have the most basic skills for employment by 2030," said Theirworld President Justin van Fleet. 
"With the challenges and opportunities of the Fourth Industrial Revolution, education will need to ensure workforce readiness, soft skills, technical skills, and entrepreneurship are at the heart of today's curriculum.
"The Theirworld Code Clubs and Skills for Their Future programmes aim to bridge the gap between education and opportunity for the most marginalised and disadvantaged girls."
The Zimbabwe classes – which are possible thanks to the players of the People's Postcode Lottery – involve the facilitators and coordinators taking the students through a particular aspect of coding at each lesson. 
Why is it important to teach coding? It's not only essential to allow young people to develop digital skills they can use in the future, but helps with problem solving, builds resilience and allows kids to bring their ideas to life. #AfricaCodeWeek pic.twitter.com/0q6cRnfBrh

— Theirworld (@theirworld) October 21, 2019
The older students (aged 16 to 20) learn on HTML and CSS while the younger ones (10 to 12) code through games like Minecraft and Scratch, using Kano computer kits that they construct themselves. 
Muzinda Hub Training Co-ordinator Bernard Juru said: "The girls came in with no prior experience in IT and coding. They were a bit shy at first but grew in confidence and started expressing themselves more as they saw coding can be for everyone – it is not for boys only.
"Learning coding and technology skills helps the girls fulfil their potential in every way. We are living in a technology-driven world and these are skills needed to be successful in the future."
Bernard said it is not just the girls who are growing in confidence from their coding lessons.
"We have also seen a shift in mentality from the parents and guardians of the girls," he said. "They are now more and more involved in the daily activities of the girls and supporting them to take coding and technology seriously."
Another student who gained a lot from the Code Club experience with Muzinda Hub is 17-year-old Promises Chibuye. She said: "I really do want to learn more coding because nowadays technology is more popular in our day-to-day lives and it can help you access information and connect world wide. I also want to create my own mobile application." 
In Kenya, while over 75% of Kenyan women are employed only 6% of engineers are women. Youth unemployment in Kenya has been above 25% for nearly a decade and is significantly higher than in neighbouring countries.
Stacy Irara – a Youth for Technology Foundation Program Co-ordinator in Nairobi – explained that the girls learn several coding languages and processes.
She said: "They learn Coffee Script and Python as they use the Make Snake App. Additionally, they explore Kano blocks, Pong, Make Minecraft, Scratch and learn how to make music with code. 
"Fun incorporated in education makes learning engaging. Students are more willing to participate and take risks. They retain information better because the process is enjoyable and memorable. This means that we are making meaningful, long-lasting impact."
All of these amazing projects have been possible thanks to the continuous generosity of the Players of the People's Postcode Lottery.
---
More news
Skills for the future give young people the best chance of success
Skills for the future give young people the best chance of success
Take the test and discover how our Schools Hub helps students grasp the global education crisis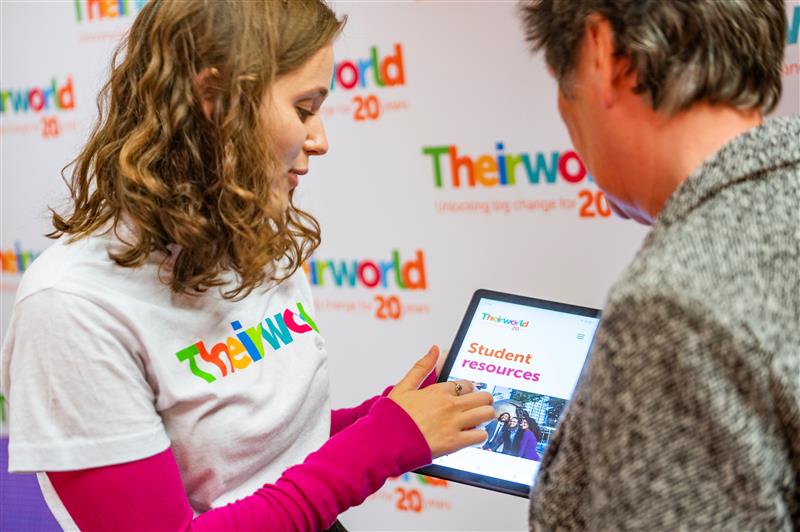 Take the test and discover how our Schools Hub helps students grasp the global education crisis