When Amanda Gorman inspired us with her poem about the power of education
Theirworld
---
Long before she stole the show at the US Presidential inauguration, the gifted poet and activist starred at a Theirworld event as a teenager.
---
Amanda Gorman wowed the world when she recited her inspirational poem The Hill We Climb at the inauguration of US President Joe Biden. The 23-year-old youth will also be the first poet to perform at a Super Bowl when she appears before another global audience next week.
But at Theirworld we already knew about Amanda's amazing talent. Back in 2015, she appeared at an event we held in Los Angeles as part of our campaigning to get every child around the world into school.
The reception was attended by British and American celebrities including Rod Stewart and wife Penny Lancaster, TV host Piers Morgan and film stars Geena Davis and Minnie Driver. They were bowled over when activist Amanda – named in 2017 as the first US National Youth Poet Laureate – recited this poem about the power of education.
The Child Awakened
I saw a child find hope
in the click of a pen
the candles in her eyes
like the flickering of an ocean wave
even her notebooks sculpted out of the sky
I saw a boy aflame with knowledge
scraping horizons with his pencil
opening a book
like he was opening a globe
These children lifted up pens
and the battles hushed
and the hunger went quiet
and dawn broke through the night
A small and steady reminder
that the power is not always in the pen
but it is always in the child
---
More news
Take the test and discover how our Schools Hub helps students grasp the global education crisis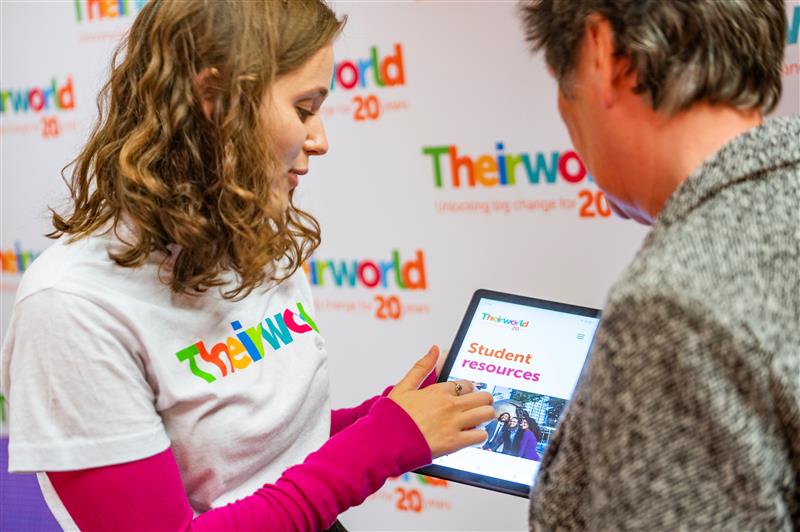 Take the test and discover how our Schools Hub helps students grasp the global education crisis
#LetMeLearn: the story of a global education campaign
#LetMeLearn: the story of a global education campaign