Amazing virtual reality film shows education struggles of Nepal's children one year after earthquake
Children's welfare after natural disasters, Education in emergencies
A child walks through rubble to get to school in a scene from the virtual reality film Safe Schools: Nepal
One year after the earthquake that devastated Nepal, many children are still struggling to get an education.
Some face challenges just getting to their classroom and millions of others are still out of school – 16,000 of them were damaged or destroyed.
To mark the one-year anniversary of the April 25 earthquake, the children's charity Theirworld has launched an amazing virtual reality film called Safe Schools: Nepal.
It captures 360­-degree video and audio, transporting the viewer to Nepal to see and hear stories of children whose education has been affected.
Watch a trailer for the film here…
Although it was made by the digital agency Rain for viewing on any virtual reality device or headset, the user experience is also great on desktop or laptop computers. Just use the Up/Down, Left/Right Controls to be able to move around inside the film.
And it's fantastic on mobile phone platforms such as the new YouTube 360. If you don't already have the YouTube app on your phone, download it.
On your mobile device, click on this link and the film should open within the app. When the film starts, click on the full screen button and then move your phone around. As your hand moves, so will your view of what's going on in the film.
Safe Schools: Nepal highlights the tragic consequences for children in Nepal and around the world who are exposed to trafficking, early marriage and child labour because their education is neglected in the aftermath of an emergency, such as a war or natural disaster.
Watch the full film here…
In 2015, humanitarian emergencies and crises disrupted the education of more than 80 million children and young people – yet less than 2% of humanitarian aid went towwards getting children back into a safe school.
The #SafeSchools campaign calls on world leaders at the first World Humanitarian Summit in May to commit to launch a fund that ensures children return to school quickly after an emergency.
Sarah Brown, President of Theirworld – the charity behind A World at School – said: "This extraordinary film transports the viewer to Nepal into the heart of the earthquake aftermath to see and hear from children at just a fingertip's reach. You can't fail to be moved by their resilience and determination to return to school and escape the layers of exploitation.
"We must urge world leaders to deliver this promised humanitarian fund for education in emergencies which will be able to act fast in the future to meet this need."
You can add your voice by signing the #SafeSchools petition.
The film was included in YouTube's Official Blog on the launch of 360-degree live streaming and spatial audio on YouTube.
Safe Schools: Nepal was also watched on virtual reality headsets by guests at an event held by the Global Business Coalition for Education in Washington, DC, last week.
Rain partnered with Christian Stephen, the award-­winning conflict  journalist and Co­-Founder/Creative Director of Freelance  Society, and The Uprising Creative's virtual reality studio VEHICLEvr to bring the film to life.
Rain CEO Brian Edelman said: "Virtual reality is a new frontier for storytelling. It's arriving in a  big way and beginning to reach the consumer  from a variety of touch points. It's not just through a headset which most people  can't afford. Knowing that, we wanted to take it a step further. 
"VR  is another aid to democratise learning and we're leveraging that side of the technology to tell this story and inspire people to take action."
---
More news
Theirworld's mission to give children in crises a safe place to learn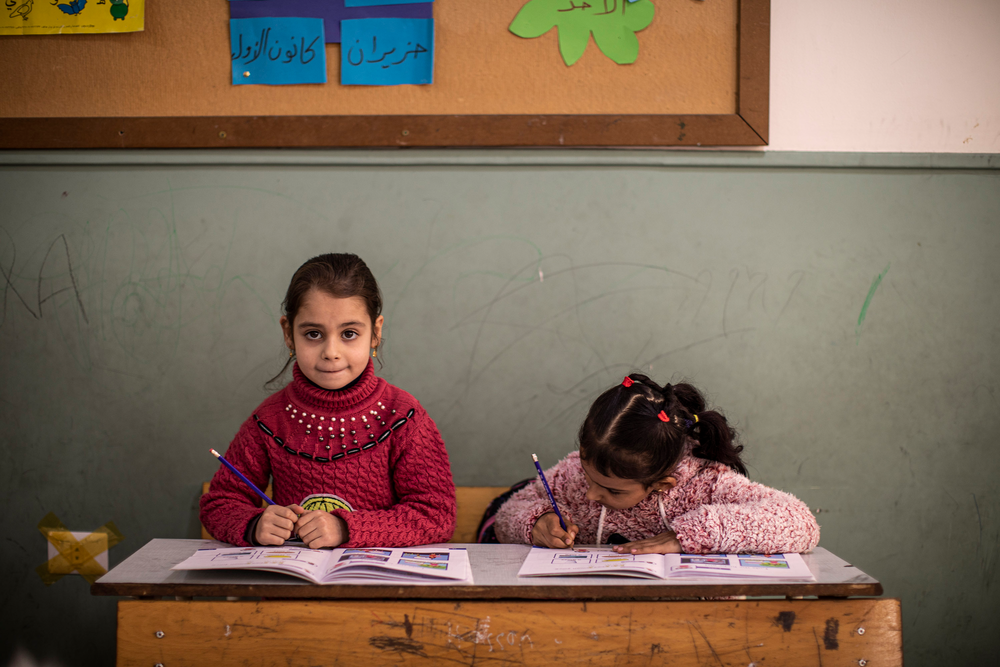 Theirworld's mission to give children in crises a safe place to learn
We thought loud noises were a storm – it was Russia bombing Ukraine
We thought loud noises were a storm – it was Russia bombing Ukraine