"Knowledge is opportunity and we should ensure everyone has equal access"
Early childhood development, Global Youth Ambassadors, Right to education, The Global Business Coalition for Education (GBC-Education)
---
A Global Youth Ambassador from the USA talks about an event that spotlighted the need to focus on investment in primary education.
---
At a breakfast event held by the Global Business Coalition for Education held in Washington on April 19, the objective was to realise just how access to education breeds opportunity – particularly within the scope of primary education. 
The event brought together top leaders from a variety of disciplines, including Amina Mohammed from the United Nations and Kristalina Georgieva from the World Bank. It urged the unification of the public and private sectors in the fight to strengthen education on a global scale. 
"Collaboration on education cannot wait," Mohammed insisted. Indeed, it cannot and must not – 90% of the brain is formed by the time a child becomes five years old and an ever-growing global population stresses the need for a more devoted focus on primary education, education's transformational harness and ensuring access of opportunity for all.
Barriers to education manifest themselves in different ways. By starting at the bottom of Maslow's Hierarchy of Needs, existential barriers are the most immediate and detrimental blockers to education. 
Filippo Grandi of the United Nations High Commissioner for Refugees (UNHCR) commented on the overall situation for refugee children – "the statistics are still very bad" – and illustrated the situation for many refugee children in Lebanon.
In a world that increasingly places value on a highly skilled labour force, and when only 1% of refugees overall attend college as compared with 30% of the overall population, the need for inclusive policies has never been so pertinent. 
In a recent publication by Theirworld, it was found that "refugee children are five times more likely to be out of school than non-refugee children". 
Annemiek Hoogenboom, Country Director of the People's Postcode Lottery, spoke about the importance of healthy food and its impact on education, as well as providing competitive environments through sports.
And those who should have a seat at the table? For starters, children around the world. 
Researchers at the University of Cambridge recently found that UNICEF allocates less than 1% of the official development assistance (ODA) it receives for early childhood development (ECD) to pre-primary education. 
Mohammed underscored the importance of also including educators in the discussion, and ensuring that teachers are adequately equipped with training and resources. 
Finally, Sigrid Kaag Minister for Foreign Trade and Development of the Netherlands, touched upon the "growing number of young people that are lost" and "marginalised groups", and suggested vocational opportunities as a way to learn applied trades. 
For those, particularly in the private sector, who view investments in human capital as a threat to the bottom line, David Boutcher from Reed Smith offered the following insight: "This needs to be a part of the strategic plan of the company itself. 
"How are companies going to pursue [diversity in the workplace] if they don't pursue educating their workforce? It makes sense for their business and it needs to be an inherent part of the way they plan their business going forward". 
Mohammed also noted that "we need to be much more innovative in finding sustainable financing."
It bears repeating – knowledge is opportunity. Ensuring that the world's constituents alike have equal access to education results in a net positive.  
In my capacity as a Global Youth Ambassador for Theirworld, I pride myself in working alongside passionate individuals committed to ensuring access of opportunity and education to all.  
This breakfast event personally shone light on the fact that it is never too early for social, financial and policy investments in human capital and the dire need for this conversation to be taking place at a greater scale.
To echo Mohammed's positive call to action: "For every challenge, there are 10 opportunities to turn that around."
---
More news
New school resources focus on disability and girls' education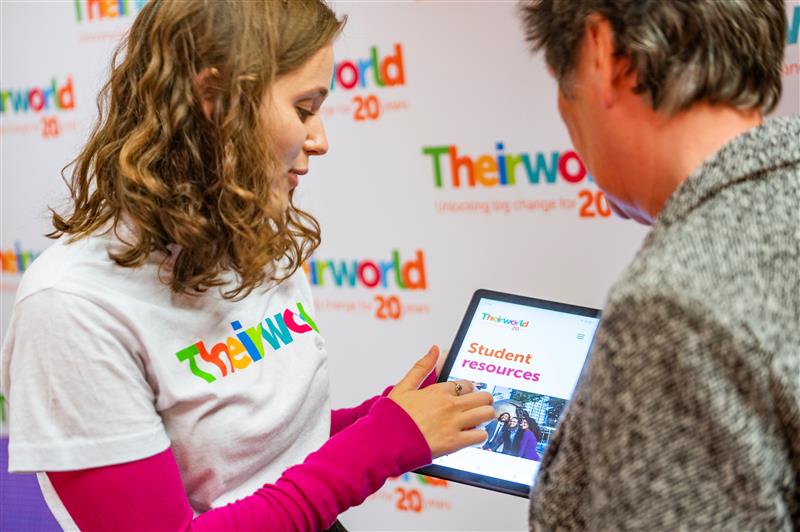 New school resources focus on disability and girls' education
Roger Federer supports the Act For Early Years campaign
Roger Federer supports the Act For Early Years campaign