"There's an utter mismatch between the possibilities of where science and technology are taking us and where we sit in relation to it"
Technology and education, Theirworld
---
In the first of a special series, education campaigner Tom Fletcher talks to Will Hutton, Nick Clegg, Professor Fadi Daou, Emma Sinclair and Roly Keating.
---
Theirworld has today launched Learning in the Digital Age – a special series of our Better Angels podcast, the show that helps you to transform your voice into meaningful action..
It follows Tom Fletcher, former diplomat and global education campaigner, as he travels from the Beqaa Valley in Lebanon to Silicon Valley in California to find out how we can learn the right things in the right way to thrive in the digital age.
Tom asks everyone – from prime ministers and tech CEOs to movie stars and classrooms full of 12-year olds – about the key lessons that made them who they are, what future generations need to take humanity forward and how to unleash this opportunity.
Episode one of Learning in the Digital Age focuses on the overarching question: what should future generations learn in order to thrive in the Digital Age? Education is a building block of life and crucial to development – but what is actually at the core of a good education?
In this first episode of Tom's Better Angels series, entrepreneurs, politicians and thinkers from around the world explore what constitutes a good education, what needs to be done to ensure everyone has access to education and how we can make this happen.
Guests include Theirworld President Sarah Brown, who normally hosts the Better Angels podcasts. Others are Will Hutton, political economist and Principal of Hertford College, University of Oxford; former UK Deputy Prime Minister Nick Clegg; the Rev. Professor Fadi Daou, CEO of the Adyan Foundation; entrepreneur and journalist Emma Sinclair; and Roly Keating, Chief Executive of the British Library .
A foremost political thinker, Will Hutton speaks to Tom about the importance of placing emphasis on emotional intelligence in the Digital Age. He discusses how key traits such as ethics and empathy are becoming increasingly important.
Hutton says universities need to teach students to understand the logic of the machines they use or will be using in their work.
He says: "Are we there, are our curricula in that place, is Oxford's curricula in that place? Certainly not…there's an utter mismatch between technology base and the possibilities of where science and technology are taking us, and where we as humanity sit in relation to it.
"The disconnect is huge and university's role is surely to close that."
Nick Clegg reflects with Tom about where he thought his real learning took place. He places importance on "instilling in youngsters at a very early age that pride in your own nation and your own community – patriotism – is entirely compatible with respect for and even wonderment of the achievements of others".
As the British ambassador to Lebanon, Tom saw the Syria crisis up close and knows many young people don't have the chance or choice to go to school or university.
Professor Daou talks about the knowledge refugees need to thrive in new countries and the work of The Adyan Foundation, which has pioneered ways to teach young people of different backgrounds how to co-exist.
Roly Keating talks to Tom about the emerging "compensating hunger" of digital natives actively seeking out spaces like libraries, which are engineered to allow you to think, concentrate and engage in a curious way.
In the Digital Age where so many spaces are made for distraction, libraries are the space where people can get away from the 'noise' and take in new knowledge.
He says: "Simply to survive and thrive, they need knowledge and they need the ability to concentrate, it's not easy…they live in a universe where they're almost, if not literally being shouted at, they are in the digital sense. Libraries are the helpfully pre-engineered opposite of that."
---
More news
Take the test and discover how our Schools Hub helps students grasp the global education crisis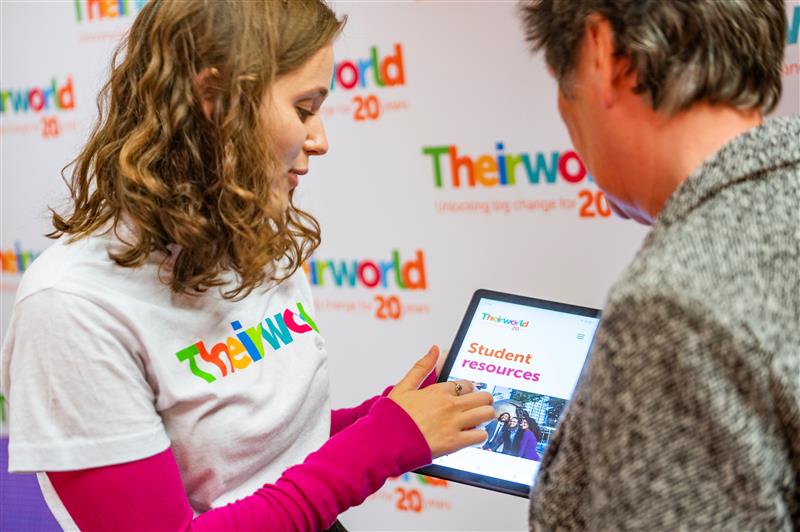 Take the test and discover how our Schools Hub helps students grasp the global education crisis
#LetMeLearn: the story of a global education campaign
#LetMeLearn: the story of a global education campaign