Breast milk: the first line of protection for infants in emergencies
Early childhood development, Theirworld
---
Picture: Theirworld/Natalia Jidovanu
In times of crisis, a lot can get thrown in the air.
Questions like "where is home," "how am I going to feed and protect my family," and "where will we sleep tonight" become commonplace – and shared for huge numbers of families, communities, and young boys and girls who are facing these giant, heartbreaking uncertainties for the first time.
As a new Theirworld report shows, critical early childhood development services – such as health care for mother and child, good nutrition and "Safe Spaces" to learn through play – may fall by the wayside when physical safety feels at risk, or when displacement changes what seems possible.
However, it is exactly these services that are so important to provide stability and protection for young children and ensure their futures can be brighter.
As world leaders gather this week for the United Nations General Assembly and the Leaders' Summit on Refugees, they must remember that the development of our youngest generation cannot wait until conflict moves from their area, famine is over or waters recede from low-lying villages and the luckiest families may return to a more familiar way of life.
Either we ensure women and children in crisis have what they need now or we will see the impacts for generations to come.
SAFE SPACES: Read about the report
SAFE SPACES: Youngest children slip through cracks
SAFE SPACES: Protecting babies and toddlers from toxic stress
In particular, supporting women to breastfeed can mean the difference between a child growing up in crisis getting his or her strongest, best possible start in life – or being left behind.
Breast milk is lifesaving for infants enduring crisis because its formulation changes to match what a nursing infant needs, even changing composition if a child is sick.
In addition, possible lack of safe drinking water in emergencies can make formula use the path to deadly diarrhea and acute malnutrition. Almost 95% of child deaths in emergencies are due to diarrhoea caused by dirty water or inadequate hygiene.
Critically, supporting women who want to breastfeed is also about reinforcing a woman's right and ability to make important health and care decisions for herself and her family.
Ensuring women have "Safe Spaces" to breastfeed and care for young children, and the ability to secure their own care and pursue their own medical or other needs, is about protecting personal agency within crisis and putting trust in women.
We also know that women who breastfeed reduce their own risk for cancer and diabetes.
Whether or not a child receives breast milk exclusively for the first six months following birth, and breast milk in addition to complementary foods after that until at least age two, is one of the most effective ways to prevent stunting – chronic malnutrition.
It also makes sure that child has his or her best chance at growing up with a strong body and brain ready to take on the world's challenges – from how to care for a family and build community, to running a thriving business, teaching the next generation, or even running for office.
But first comes survival. We know that the risk of death and disease in emergencies is 20 times higher than normal for children under five, and that a young child's brain development can suffer when violence is ever-present.
Breastfeeding is a clear part of the solution, providing a solid foundation for lifelong health and resilience. It is the first line of protection for infants in emergencies, and is a critical part of the support and services included in early childhood development that urgently require a great deal more attention and investment.
---
More news
Take the test and discover how our Schools Hub helps students grasp the global education crisis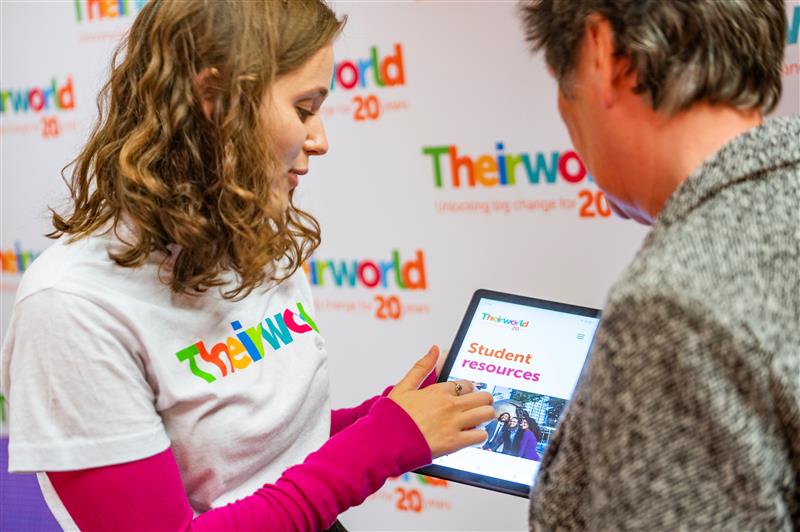 Take the test and discover how our Schools Hub helps students grasp the global education crisis
MyBestStart programme gives young girls the education they deserve
MyBestStart programme gives young girls the education they deserve