"Our job as Global Youth Ambassadors is to emphasise the need for action beyond words"
A World at School, Global Youth Ambassadors, Safe schools, The Education Commission, The Global Business Coalition for Education (GBC-Education), United Nations General Assembly
---
A World at School's Global Youth Ambassadors (GYAs) are a network of passionate advocates in 85 countries around the world. Two of them - Taha Fathima Khan from India and Ousmane Ba from Sierra Leone - were in New York for the launch of the Education Commission report and the United Nations General Assembly (UNGA) in September. Their GYA Journal told each day what they had done, who they met and how they promoted the cause of education for all. Here they reflect here on their experiences and how their time in New York will affect their work as GYAs.
---
By Taha Fathima Khan
The UNGA week has come to an end and all I can think about is how impactful it was for me. With events back-to-back plus early mornings and late nights, I had little time to reflect on what was going on before it was all over.
What I've taken from all of these events is that a lot is happening with regard to education in emergencies around and beyond the UNGA. Be it the Education Commission report launch or the presentation of research findings about education, Safe Schools IS the subject of intense international discussion.
Our job as Global Youth Ambassadors is to emphasise the need for action beyond words. We saw evidence of this need being recognised when many organisations pledged additional donations and some countries fulfilled their existing promises.
It was surreal to think that the petitions and campaigns that GYAs everywhere worked to achieve have helped make this progress possible.
However, one thing that I felt was lacking in many of these events was effective youth involvement or youth participation. While a Youth Panel comprising accomplished young individuals existed as part of the Education Commission, most other meetings had little or no young voice.
This seemed ironic considering that what was being discussed and debated had everything to do with children. When it comes to education, children are the most important stakeholders and therefore must be supported to actively participate in conversations.
On a personal level, attending UNGA events harnessed deeply impactful learning experiences for me. I feel I now have a better understanding of education-related issues and the factors that are taken into consideration in policy-making and policy implementation.
On a lighter note, I learned how to live-tweet! Something that I thought I knew how to do, until I was faced with events with figures, statistics and long sentences (exceeding 140 characters by a great deal). This led to the developing massive respect for those who do this so wonderfully.
I also learned about networking. As someone working towards a future profession in hospitals and with patients, this experience taught me how to interact with people across a broad spectrum of experiences and age groups. Many of the experiences were as positive as they were due to the amazing people who surrounded me at all times. I made some great friends and acquaintances.
Most importantly, it created for me a realisation of insignificance (not a typo). I mean that in a positive sense. When one personally meets and interacts with people who have and are doing so much good, one feels extremely humbled. This is exactly how I felt at each event.
Their modesty and sincerity resonated in me in the days following the UNGA. What also came along was the realisation of how much there was to do (for children and education) and how little I had actually done. It boosted my drive to bring about more positive change in my role as Global Youth Ambassador and as part of my own organisation (Child Awareness Project).
On the whole, this experience taught me this and so much more that can't be put into words. If it's possible, I believe I matured years in these past few days. As for Safe Schools, this week was the much-needed monumental push for the campaign. 
By Ousmane Ba
In September, Taha and I were in New York to represent the A World at School Global Youth Ambassadors and promote the #SafeSchools campaign during the United Nation General Assembly.
We attended side-events related to our campaign and the experience was unique and quite rewarding. I learned a lot and had the opportunity to engage with key decision-makers who are bringing about incredible change in the world.
From day one we were on the ground blogging, live-tweeting and reporting live as we attended each event. It felt great to be part of the action!
Along the way, we were constantly supported by our wonderful coordinator Eleanor and Theirworld/A World at School staff, who made our experience more interesting than it already was.
The first event we attended was a brunch with the Education Commission Youth Panelists, organised by Ben, a fellow GYA and a youth panelist. We got a chance to engage with some of the other youth panelists – young people as passionate about education as I am and actively campaigning for children's education in emergencies.
Open and wonderful, they shared their thoughts on why the launch of the Education Commission report was so significant and the impact such a report would have on children around the world.
Then we attended the commission report launch, where world leaders gathered to review the future of education. This was a critical report launch as millions of children are caught in emergencies and have been out of school for years. 
Recommendations were made and given to UN Secretary-General Ban Ki-moon, who optimistically expressed his support for transforming a lost generation into a learning generation.
After the event, we were able to speak with the commissioners, who strongly emphasised the role young people have to play in creating accessible education for all, clearly indicating that young people should lead and should be at the heart of the global campaign for education.
Throughout the next few days we attended events that addressed the gaps in education equity. Each event had its own focus and its own perspective on how best to bridge the education gap to make sure that children, especially those caught in emergencies, can go to school.
Highlights for me included:
Education Equity 2030, which talked about using date and research to advance education equity for all
Identifying and Addressing Evidence Gaps, which brought together key stakeholders including government officials and business leaders to talk about a $10 million research envelope for education in emergencies
The Global Business Coalition for Education Breakfast event, which explored needs-based education that reflects current challenges on the ground
Each event we attended was crucial for the #SafeSchools campaign and felt promising in the sense that concrete solutions to help children in emergencies go to school were explored. It was a great week for the #SafeSchools campaign.
---
More news
New school resources focus on disability and girls' education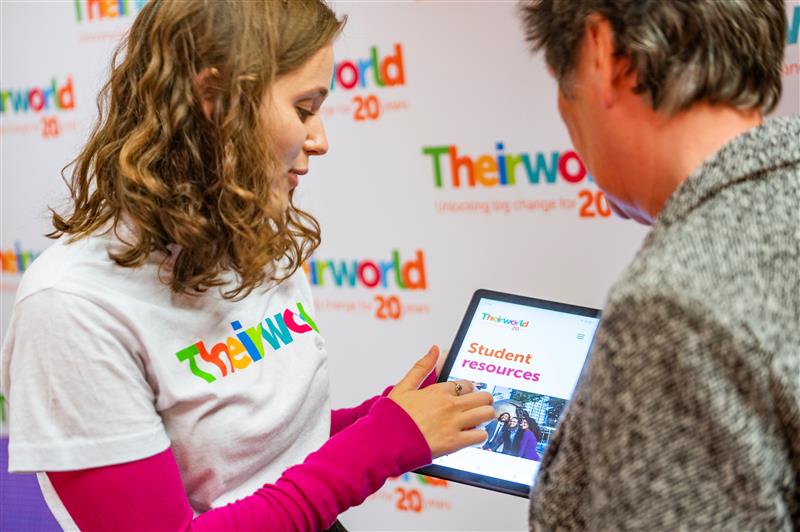 New school resources focus on disability and girls' education
Roger Federer supports the Act For Early Years campaign
Roger Federer supports the Act For Early Years campaign