"My organisation in Cameroon helps over 1300 children to become creative, to reason and to solve complex problems"
Global Youth Ambassadors, Technology and education
---
Last month I took part in the 2016 One Young Summit in Ottawa through the Emma Watson's Tribe Scholarship. The summit was from September 28 to October 1 and I was one of the 30 delegate speakers.  During the Panel on Education, I addressed over 1300 young people from 197 countries on "Why are schools failings to prepare young people for today's job market?" I focused on the topic of using technology to help teach children employable skills but stressed that in some countries there are more fundamental and urgent needs that have to be addressed first.
---
Poor learning outcomes in primary schools result in just 28% of Africa's youth being enrolled into secondary school, while another 90 million youths struggle to find low-paid jobs. 
In the absence of an urgent drive to raise standards, half of out-of-school children – 61 million in total – will reach adolescence lacking the basic learning skills which they and their countries need to escape poverty. Teaching is therefore at the heart of the learning crisis and for Africa's economic success.
In my country, Cameroon, despite government efforts to put every child in school, attendance rate is barely 65%. 
My session at the One Young World Summit was about using technology to help teach children employable skills. However, in some countries there are more fundamental and urgent needs.  
Over 80% of head teachers in Cameroon say budgets don't arrive on time and they lack school materials and supplies to facilitate learning. According to Transparency International, 50% of primary schools have poor infrastructures – only 19% had working toilets, 30% had access to tap water and barely 30% had enough tables and benches for students. 
My organisation, HOPE for Children Cameroon, provides educational assistance such as benches, writing materials, uniforms, learning aids, and computers to primary schools. We are currently serving over 1300 children, helping them to become creative, to reason and to solve complex problems. 
We also realise that school absenteeism from diarrhoea-related illnesses is very high in Cameroon and so we embarked on constructing cleaner and safer pit toilets for children and teachers. School absenteeism has reduced by 27% and teachers now stay longer in schools.  
With the African youth population expected to grow by 42.5 million by 2020 according to the World Bank, over 470 million jobs will be needed globally in the labor force between 2016 and 2030 – hence the need for investment in key skills to drive economic growth. 
Companies are shifting towards demand for high-level skills while low and medium-skilled jobs are becoming obsolete. To meet these demands in the near future requires innovations within the educational system which has become obsolete especially in developing countries 
For years now, technology has failed to provide solutions to these problems and while we may blame the tech industry, some blame can be attributed to the hostile, bureaucratic and poor infrastructure plaguing our current educational system. 
With sub-Saharan Africa now considered the world's fastest-growing mobile technology region, there is a huge promise towards digital learning, making it possible to bring low-cost access to education and provide new learners with skills.
Billions has been spent on financing education in developing countries, often resulting in poor outcomes. Using technology to fix underperforming schools may not always be the solution. But failure to try and harness technology could end up damaging the lives of millions of children. 
We need to invest in teacher training, personalised learning and supporting teachers with liveable wages. We need to incentivise parents so that children, especially girls, can stay in school. 
Every dollar we invest in an additional year of school generates an additional $10 in health and earnings in low-income countries. 
Unless African governments and the international community work in close partnership to raise educational standards, the future of millions of children will be wasted, and we can't afford to risk it. We must strive to leave our country with smart and better informed kids to carry it forward. 
As the late Nelson Mandela once said: "Any society which does not care for its children is no nation at all."
---
More news
New school resources focus on disability and girls' education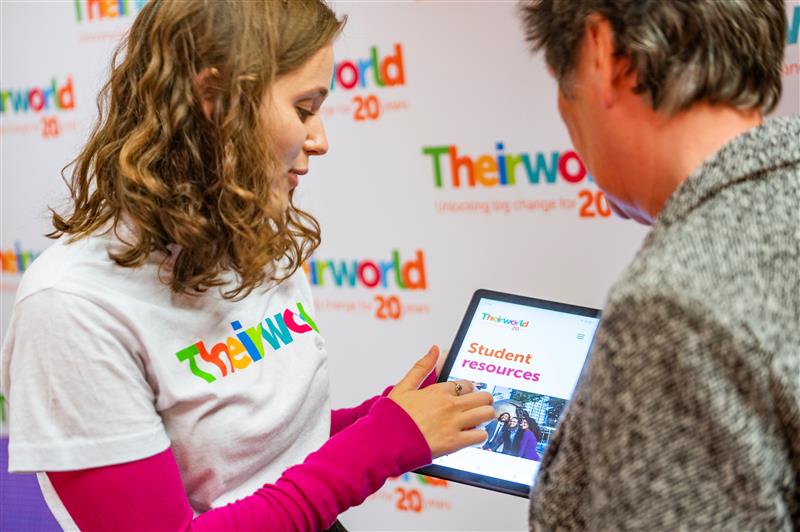 New school resources focus on disability and girls' education
Roger Federer supports the Act For Early Years campaign
Roger Federer supports the Act For Early Years campaign