Children in Nepal return to school after devastating earthquakes
Children's welfare after natural disasters, Education in emergencies
Students walk to school past damaged buildings in Bhaktapur
Nepal's children have started to trickle back to school after the deadly earthquakes that killed thousands and left homes and classrooms in ruins.
The longer students spend out of school, the greater the risk is that they might never go back. So it was vital that schools began to reopen yesterday, giving students the opportunity to be with their friends and teachers and to try to cope with the trauma of the past few weeks.
Children and parents sing on first day back at school
Thousands of schools reopened across Nepal and classes were also held in temporary learning centres – five weeks after the devastating April 25 earthquake, which was followed by another on May 12.
One of those returning was Shasham Shrestha, a tenth grader at the Kuleswor Awas Secondary School in Kathmandu. He told Thomson Reuters Foundation: "I am nervous. It is painful to see my classroom in rubble."
Ankita Kapall, 11, back in her classroom in Bhaktapur
Education ministry official Hari Lamsal said opening schools was important to show that life is getting back to normal. He added: "We will construct temporary learning centres for schools because reconstruction of old buildings will take time."
The United Nations children's rights agency UNICEF said almost 14,000 children whose schools were destroyed or heavily damaged in the earthquakes are having classes at 137 temporary learning centres in 16 districts.
Parents and children going to school on outskirts of Kathmandu
It is working with the Nepalese government and partners to get as many children as possible back to school quickly. Almost one million children have been missing out on education since the earthquakes struck, killing more than 8600 people and destroying 32,000 classrooms and damaging 15,000 others.
Tomoo Hozumi, UNICEF Nepal Representative, said: "Education cannot wait – especially in the immediate aftermath of natural disasters like the Nepal earthquakes.
Workers build a temporary school in Kathmandu
"While reconstruction of thousands of schools will no doubt be a priority in the recovery phase, if we are not able to provide at least a temporary solution immediately, we run the risk of losing many children who otherwise could benefit from our efforts to build back better the education system."
The government is planning to open 15,000 temporary learning centres, according to the Asian Development Bank.
Pabitrya Paudyal, 13, holds a book that she found among the rubble of destroyed Chaturmala Higher Secondary School in Muchowk, Gorkha Picture: UNICEF/Panday
Teachers have received training on psychosocial support to children and key lifesaving messages on disaster preparedness, health, hygiene and protection. Children will spend the first two weeks back at school playing and interacting with teachers before their studies resume.
Niraj Kayanstha, a teacher at Changuranayan school, east of Kathmandu, told state-run Radio Nepal that about half of the 400 students returned yesterday.
Subham Maharjan, 7, and Sanjay Maharjan, 5, in UNICEF-supported temporary learning centre in Khokana Picture: UNICEF/Karki
He added: "They were not studying but singing and dancing and talking to teachers about their experience during the earthquakes."
Government inspectors who were sent to the schools gave green stickers for safe buildings or red stickers for damaged ones.
Three girls sit on blackboard in Shree Chaturmala Higher Secondary School in Muchowk Picture: UNICEF/Panday
One of the schools destroyed by the earthquake was Durbar High School – the first to be established in the country in 1854.
Student Krishna Nepal, 13 – whose home was destroyed – told Hindustan Times: "I am very happy that classes are starting and we will be able to continue our studies."
Almost 14k children in #Nepal go #BackToSchool in temporary learning centres for first time http://t.co/VWL6M4cDj0 pic.twitter.com/iIZPbm3OUa
— UNICEF (@UNICEF) May 31, 2015
---
More news
Theirworld's mission to give children in crises a safe place to learn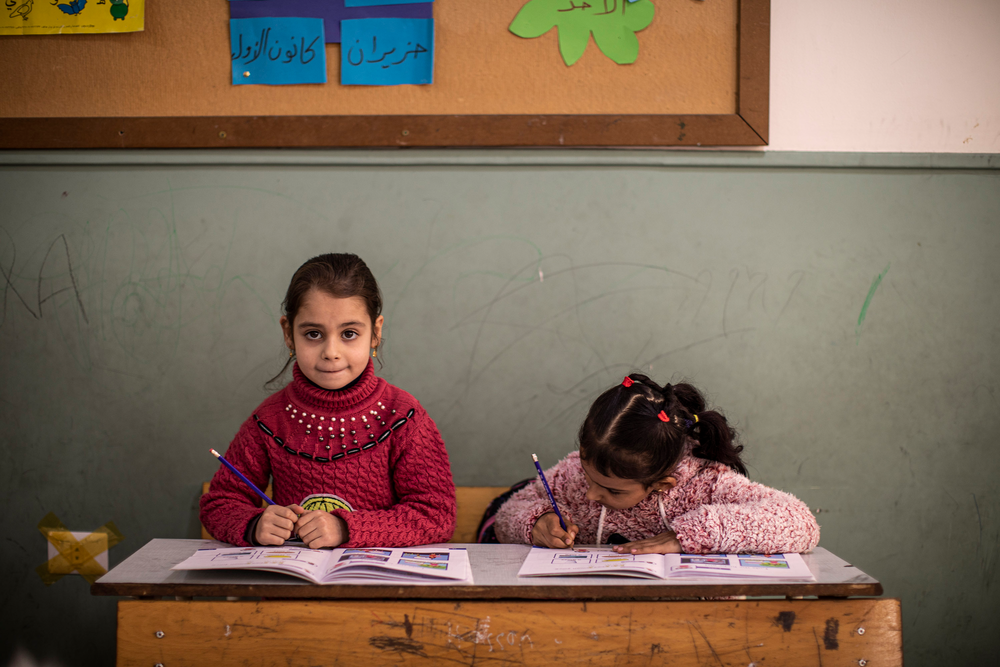 Theirworld's mission to give children in crises a safe place to learn
We thought loud noises were a storm – it was Russia bombing Ukraine
We thought loud noises were a storm – it was Russia bombing Ukraine