Give the gift of hope to vulnerable children with these Theirworld Christmas presents
Theirworld
---
Help us to change lives by buying our stunning scented candles, beautifully-designed festive cards or a special solar power bank and flashlight.
---
Looking for a special Christmas gift? We've got a range of perfect presents that show you care for your loved ones and can change the lives of some of the world's most vulnerable children.
You can choose from stunning hand-poured candles with sumptuous scents, beautifully-designed festive cards and a special solar power bank and flashlight.
When you purchases these gifts you help Theirworld to help children achieve their potential through quality education. 
The candles are created by Sandwick Bay Candles and hand-poured in Scotland's Outer Hebrides using 100% natural soy wax, premium fragrances and pure cotton wicks. The Wonder: Christmas Berries candle has a festive concoction of notes of cyclamen and pine with spice, florals and amber complimenting each other.
The Dream: Gingerbread candle has a scent of gingerbread and spice, making it a festive favourite with notes of homemade gingerbread, cinnamon, cloves and vanilla. The Miracle: Christmas Spice candle has warming notes of nutmeg, cinnamon and clove with top notes of orange and mandarin.
37% of the retail price of each candle will go to Theirworld to help create a brighter future for every child. Each has a burn time of about 55 hours.
There are three types of cards to pick from – Christmas, Happy Holiday and Festivities. Each has a different design by Nick Eagleton and represents our vibrant approach to everything we do to unleash children's potential, amplify their voice and unlock Theirworld.
Our other gift this year in the Theirworld Shop is the WakaWaka Power+. It's a powerful, compact solar power bank and flashlight for every outdoor situation. It can be fully charged in three hours from the grid or 18 hours in the sun.
Every purchase will help to spread light and power to the more than one billion people without access to electricity.
---
More news
Take the test and discover how our Schools Hub helps students grasp the global education crisis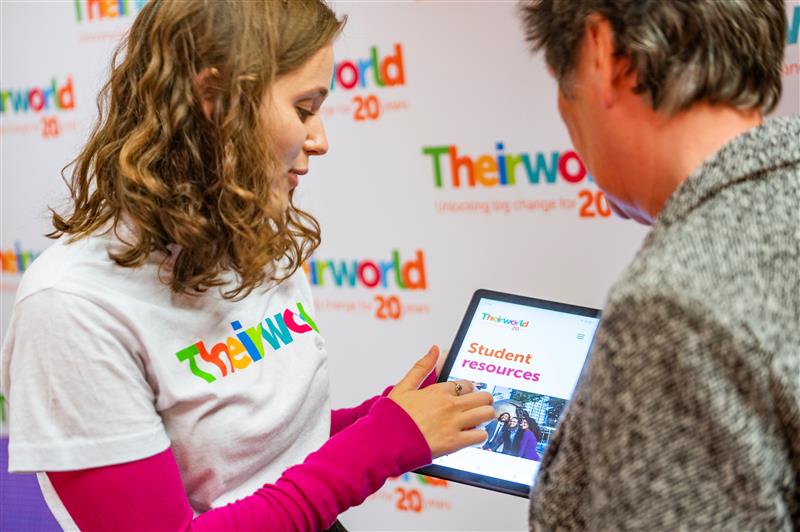 Take the test and discover how our Schools Hub helps students grasp the global education crisis
#LetMeLearn: the story of a global education campaign
#LetMeLearn: the story of a global education campaign