"The Code Club has helped to unlock the hidden potential of these girls"
Girls' education, Technology and education, Theirworld
---
On International Girls in ICT Day, we look at Theirworld's project in several countries to teach girls and young women computer skills in a safe environment.
---
To celebrate International Girls in ICT Day, we've rounded up the achievements from Theirworld's Code Clubs project.
Launched in 2016, the Code Clubs aim to reinforce the importance of girls and women's education by providing them with a safe and supportive educational environment where they can learn valuable skills. 
We've been able to teach young girls from the age of six to 25 ICT (information and computer technology) and computer programming, using Kano computer kits, in the hope of narrowing the gender gap in Science, Technology, Engineering, Math (STEM) fields. 
Currently, we are working in Lebanon (United Lebanon Youth Project),  Nigeria (Oando Foundation), Uganda (Women In Technology), Tanzania (BRAC) and are working towards setting up a Code Clubs project in Kenya again with the Youth For Technology Foundation. 
March 2016
Theirworld's first ever Code Clubs were launched in Kenya, where we were able to target some of the most marginalised girls in Nairobi's Kibera slum. 
Diana, one of the participants, said: "At the Code Club we opened the computers and we saw the machines we are going to use to make a computer and I am happy to fix a computer. 
"I think it's not right when girls are denied their chance to go to school because everyone needs to have his or her own knowledge so they can know how to control their lives." 
June 2016
Theirworld started working in Kampala with Women in Technology Uganda. The project here has been very successful and, so far, 120 young women and girls have completed the programme. 
Women in Technology Uganda is now implementing the project for the second year. 
August 2016 
Theirworld launched Code Clubs in Lagos, Nigeria, in collaboration with the Oando Foundation. In this instance, the foundation has been working with two local primary schools, targeting about 80 girls. 
According to Paschaline, the teacher, the project has been very well received by the girls. 
She said: "The Code Club has helped to unlock the hidden potential of these girls  – such as their analytical skills, creative skills, critical thinking, improving technical innovation, enhancing girls' futures and reducing social inequalities, and ensuring a competitive workforce. 
"It has bolstered their self-reliance as a female and educates them about their relevance in the society."
February 2017
Theirworld launched the Code Clubs with BRAC Maendeleo in Tanzania. The Code Club chapter in Tanzania started the Dar-Es-Salaam club.
October 2017
We launched in three additional locations in Tanzania – Mbeya, Iringa and Dodoma. Across all these new locations, we are currently reaching about 240 girls. 
August 2017
Theirworld started working with the United Lebanon Youth Project (ULYP) where we targeted girls from vulnerable refugee (Syrian, Lebanese and Palestinian) populations. 
The first pilot initially targeted 45 girls but – due to its success – Theirworld and ULYP will continue working together throughout 2018.
January 2018
Our most recent collaboration is with Youth For Technology Foundation in Nairobi, Kenya. The project is now in the process of being set up. 
On this International Girls in ICT Day, we wish to thank all our partners. Together, let's continue working as hard as we can to narrow the gender gap in all STEM subjects!
---
More news
Skills for the future give young people the best chance of success
Skills for the future give young people the best chance of success
Take the test and discover how our Schools Hub helps students grasp the global education crisis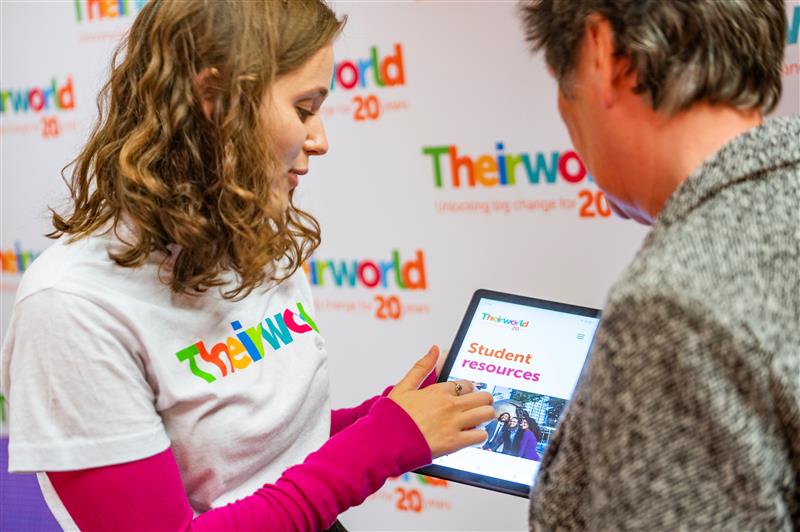 Take the test and discover how our Schools Hub helps students grasp the global education crisis