Courage of Syrian boy, 10, who lost his family and his legs in bombing but now loves school
Children with disabilities, Refugees and internally displaced people
---
To mark International Day of Persons with Disabilities, we talk to children injured in Syria and now living in Turkey. Share the video below and tell world leaders to keep their promise to get one million Syrian refugees into school.
---
Leith is 10 years old. Two years ago a bomb exploded, destroying his house in Syria and killing his mother, brothers and grandparents. 
Leith survived but lost both his legs. Like thousands of Syrian refugees who fled the conflict, he now lives with his father in Turkey, where he goes to school.  
"I love everything about school," says Leith, who wants to become a doctor. "We study and I play with my friends. They let us draw. I love drawing. I have made new friends at school and my best friend is a girl called Sidra."
Leith's story of courage is particularly poignant on the eve of International Day of Persons with Disabilities. December 3 each year is a day to celebrate children's abilities, differences and potential.  
But it's also a time to remember the extra barriers children with disabilities can face. 40% of all Syrian children living in Turkey are out of school, leaving them at risk of child labour, early marriage and exploitation. 
World leaders promised in February to get one million Syrian refugee children into school. Progress has been made but that promise has not yet been fulfilled.
Share this video on Facebook and support our #YouPromised campaign to get all Syrian refugee children into school
The out-of-school numbers are even starker for those children with a disability.
All children caught up in conflicts have the right to a safe space to learn – but studies show children with disabilities are more likely to be excluded from school and discriminated against. This holds true for many of the Syrian refugees who Theirworld met on a recent trip in Turkey. 
Like Bashar, a 13-year-old boy who was playing outside the family's shop in Syria when an homemade bomb exploded.
His face and eyes were badly injured by flying shrapnel. Bashar's father rushed him to a hospital but it had very few staff and supplies. 
While waiting for his son to be treated, soldiers stormed the hospital and arrested him.  When he was released, he took Bashar to Damascus for treatment. 
They removed the shrapnel but managed to regain only 2% of his vision in one eye. Now he can only see if it's light or not and make out some shadows. 
Bashar said: "My life has changed completely – it went from day to night. All I do everyday is sit and look around.  
"Before I used to play, go to school and talk to my friends. I used to love mathematics and would read all the time. I was in the 4th grade when school stopped for me. 
"I want to go to school, I want to see and go out. I want my life to change and go back to what I used to have."
Jessica Bryant, International Media Manager for Theirworld, visited Syrian refugee children in Turkey recently. She said: "All children have a right to an education. These children's stories reinforce what we have been campaigning for – Bashar and Leith belong in school.
"Life as a refugee child is precarious, dangerous and especially hard if you are child with a disability. These children are being denied their childhood and are in danger of becoming a lost generation. We have the power to stop this but must act now.
"We need more international funding for their education. World leaders have promised to get all Syrian refugees into school. We need to make sure the funding is delivered in full."
---
More news
Technology has the power to expand education for children with disabilities
Technology has the power to expand education for children with disabilities
Theirworld's mission to give children in crises a safe place to learn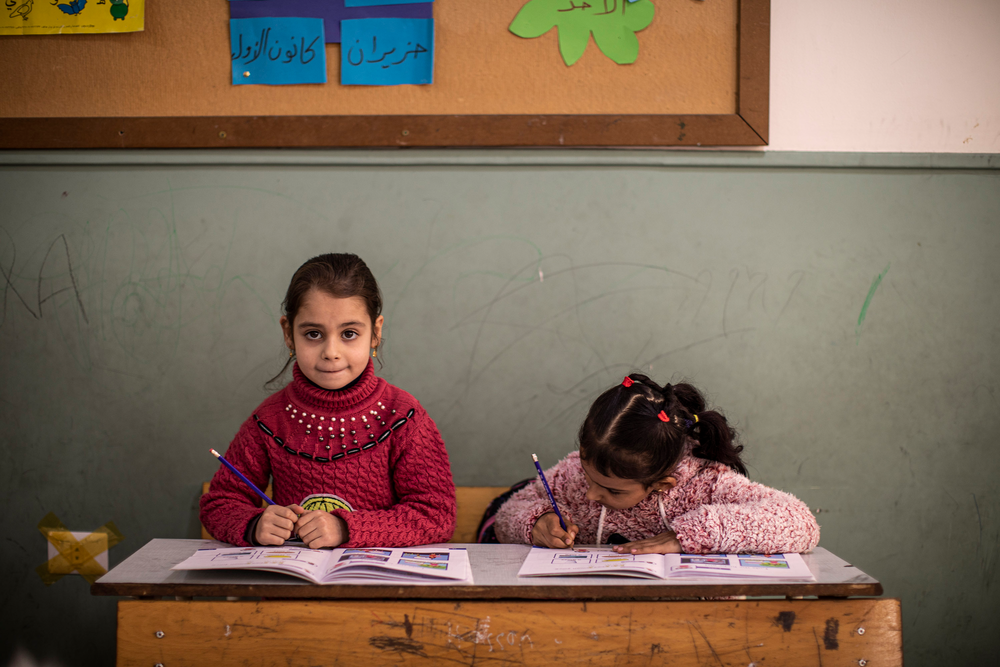 Theirworld's mission to give children in crises a safe place to learn