Teachers now 'the guide on the side' as they help children to learn at home during pandemic
Coronavirus and education, Girls' education, Technology and education, Theirworld
---
The Youth for Technology Foundation is delivering programmes supported by Theirworld that use digital skills as schools remain closed in Kenya and Nigeria.
---
More countries around the world are beginning to reopen their schools after months-long closures. But for most young people in Kenya and Nigeria, that day is still a long way off.
In Kenya, the coronavirus pandemic is wiping out an entire academic year for more than 18 million students from pre-primary to secondary in 90,000 schools. Classes will remain closed until January, final-year exams have been cancelled, all students will repeat what would have been the 2020-21 year and there will be no new intake.
In Nigeria, schools have reopened – but only for final-year students to work towards taking their graduating exams. When the rest will return is unknown right now.
That's a big challenge for the Youth for Technology Foundation (YTF), which uses digital tools to deliver learning and skills programmes to young people and women in vulnerable communities in both countries. Some of these programmes are supported by Theirworld and made possible by the players of the People's Postcode Lottery UK. 
"We were thrown into this new world just like everyone else. We are used to pivoting but not to this scale," said YTF founder and President Njideka Harry.
YTF provides most of its digital skills programmes – such as its Code Clubs for girls and Skills for Their Future initiatives with Theirworld – within school classrooms. So the shutdown meant delivering learning in different and innovative ways.
The organisation's short-term Covid-19 response included supporting 100 teachers at primary and secondary school levels in Nigeria and Kenya. Professional development workshops showed teachers how to move their class content online and share it with students.
"Our role has changed and the role of the teachers that we work with has changed," said Harry. Part of our inspirational messaging over the last four and half months is to encourage the teachers to change their mindset.
They are no longer the sage on the stage. There is a cultural shift in who they are and their role as a teacher. They are now the guide on the side, as the students themselves have to lead their own learning.
This has been a really huge shift. When teachers in Nigeria and Kenya go to teacher training college, they are shown how to teach using a pen and paper, with barely a mention of digital. So it is something that many have never seen. Some had never used email".
"One thing this pandemic has taught us is that it exacerbates inequalities."
The health crisis struck both Kenya and Nigeria in March. As of August 18, Kenya in East Africa has had more than 30,000 confirmed cases and 482 deaths, while Nigeria in West Africa has recorded over 49,000 cases and 977 deaths.
Teachers now are using their time to upgrade their skills and be aware of the online methods that they can use. This will be a benefit to the children during and after the Covid-19 times. Stacy Nguku, Program Co-ordinator​ at the YTF Academy in Kenya
Kenya's school year begins in January, so students had been back in classrooms for only a few weeks when the government ordered them to be shut down.
"It was a shock to everyone, sending them home for an indefinite time," said Stacy Nguku, Program Co-ordinator at the YTF Academy in Kenya. "We were thinking: how do we engage with the students? It was a hard time because there was no set online learning for students, so they and the teachers were in a dark place. 
Some of them started to find ways to engage the students, giving assignments to the parents at the school to take home. Then there was a transition into communicating with the students and parents using WhatsApp. They would send out PDF documents that parents would share with the students.
In May online learning started in public and private schools. The teachers had to learn how to use the applications to deliver content to the students. The students had to change their whole way of learning.
Kenya had just rolled out a new competency-based curriculum. It had included plans for online learning, so teachers now are using their time to upgrade their skills and be aware of the online methods that they can use. This will be a benefit to the children during and after the Covid-19 times.
But moving to online learning throws up major challenges. Many students don't have the computers, smartphones or internet connectivity necessary to join the classes".
Stacy added: "With the children being at home for so long, other issues are arising. There is a high increase of pregnancies among teenage girls who are at school. And students in rural settings are engaging in other activities, putting away their education. Come next year, how many of these pupils will come back to school?"
The education struggles have been similar in Nigeria, according to Gertrude Azie, Programme Co-ordinator at the YTF Academy there. 
"Teachers and schools have been struggling to engage their students during the shutdown," she said. "The teachers say most of their students don't have the hardware to engage in visual classes. They don't have laptops but can get simple smartphones and use WhatsApp or Zoom'.
Most of the students also don't know how to use these platforms – and it is foreign to many teachers". 
Gertrude's colleague Ezekiel Nworie, Programme Manager at YTF Academy, explained: "The majority of teachers here went through colleges of education and were taught only how to teach standing in front of their students with pen and paper or chalk. 
After the schools closed, they were engaging with students at home using WhatsApp. They would send the assignments to the parents, who then shared it with the students, who passed it back to the parents, who sent it on to the teachers.
We saw that this was a complicated issue. So we designed a programme which we called Locked Down But Not Locked Out to train the educators how to use effective tools better than WhatsApp to engage their students.
We organised a series of webinars for primary and secondary teachers here in Nigeria and Kenya and the educators are seriously pleased with the help we have provided for them".
YTF staff taught teachers how to transform and export their classroom content from the curriculum into the Kolibri platform and be able to assess it both online and offline.
"This virus is not going to go away any time soon. You have to have Plan B. Even when we go back to school there will still be some online learning – it is going to help many students who can study at home."
While delivering education was key, health safety messages were also a vital part of YTF's approach.
"While organising this programme, we made sure we encouraged the parents, teachers and students to make sure they observe social distancing and to wear their face masks and wash their hands frequently," said Ezekiel.
That was also the case in Kenya, where students used an interactive game created on Scratch programming software to learn about Covid-19 and the safety measures they should take.
The foundation's long-term project with Theirworld support is Skills for Their Future. It was designed to deliver a digital literacy curriculum on the Kolibri platform for 240 girls aged 17 and 18 in Kenya and Nigeria – giving them the skills they need to move from school into the workplace or set up their own businesses.
YTF and Theirworld are discussing how to move that programme online during the closure of schools. 
Njideka Harry said: "We are very confident that we can very easily virtualise the programme. Some of the skills that we've been doing during this lockdown time have helped us to understand the various platforms' abilities and challenges".
"I'm very fond of this quote: 'The best preparation for tomorrow is to do today's work superbly well.' And that's what we are doing. We have been heads down, trying to figure out how best to deliver the most relevant content to a wide spectrum of teachers in Kenya and Nigeria."
---
More news
Skills for the future give young people the best chance of success
Skills for the future give young people the best chance of success
Take the test and discover how our Schools Hub helps students grasp the global education crisis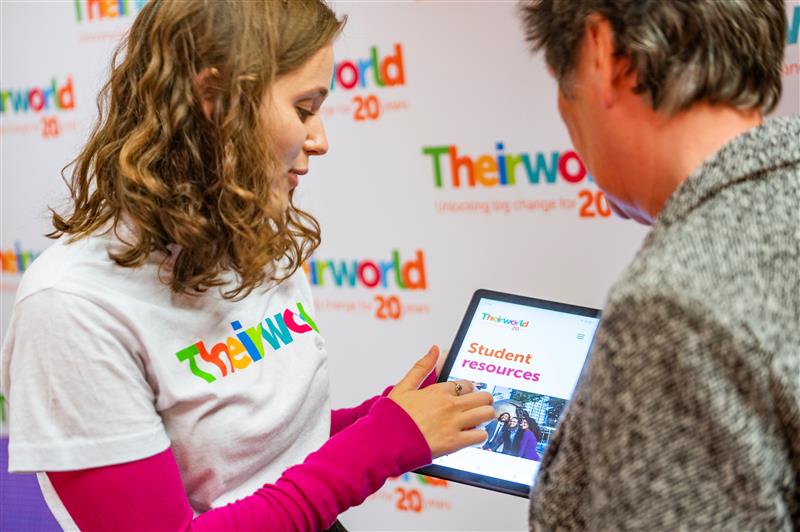 Take the test and discover how our Schools Hub helps students grasp the global education crisis