Earthquake-hit Ecuador struggles to get children back to school
Children take part in the Returning to Joy programme at a school in Coaque Picture: UNICEF/Reinoso
Fear of aftershocks and a lack of funds are two of the key challenges to efforts by United Nations agencies, NGOs and the education ministry to get hundreds of thousands of children back into Ecuador's school – six weeks after a magnitude 7.8 earthquake.
"There is a lack of money to fulfil the demand that the ministry of education faces in response to school damage and destruction," said Veronica Zambrano, of Plan International Ecuador, which is working with state authorities and UN agencies in the affected areas.
She said the flash appeal launched by the UN and its partners had achieved just 15% of its target of $73 million, with most of the funds coming from the Central Emergency Response Fund.
The quake struck northwest Ecuador on April 17, killing at least 650 people and damaging thousands of buildings in the provinces of Esmeraldas and Manabí on the Pacific coast.
Grant Lealty, Ecuador representative for the UN children's agency UNICEF, said a government structural survey completed after the quake showed it had damaged around 3000 schools, leaving some 120,000 children out of school.
He said an early priority for UNICEF had been to counsel teachers who were traumatised by the impact of the disaster on their communities and reluctant to return to school.
A school bus crushed by debris in the quake at Pedernales
"When local authorities are themselves victims, there is a momentary weakening of capacity," he said.
Zambrano said many teachers were also unwilling to go into the affected areas because they feared aftershocks. After hundreds of small tremors in the weeks after the disaster, on May 18 two aftershocks with a magnitude of 6.8 struck the area.
UNICEF is working with the authorities to implement a national plan for the return of children to school, including building temporary learning spaces for 20,000.
In early May, Lealty said so far eight spaces were in use. He said each space measures 72 square metres and caters for up to 1800 students a day, with classes held in three two-and-a-half-hour sessions and offering secondary and primary education.
The quake devastated schools in some of the country's poorest communities, where poverty pushes children into work and many adolescents had been identified as vulnerable before the disaster. 
The hardest-hit municipalities were Muisne, Pedernales and Jama in the provinces of Esmeraldas and Manabí. According to the last national census in 2010, those districts had poverty rates of 98.3%, 93.7% and 90.3%, respectively – compared with the average national rate of 60.1%.
Children at a UN camp following the destruction in April
While the national average net enrolment for upper secondary education (children aged 15-17) was 53.9% in 2010, it was significantly lower in the areas affected by the earthquake. It was 33.7% in Muisne, 30.8% in Pedernales and 45.2% in Jama.
Mass migration within the affected areas was an extra challenge, said Zambrano, with thousands of families on the move and remaining outdoors. Lealty said there were concerns that children out of school were vulnerable to trafficking gangs on the Colombian border.
On May 22, Ecuador's minister of education, Augusto Espinosa, announced that since May 9 75.5% of students in the affected zones had been enrolled on an educational schedule and the remaining 24.5% were expected to join by July 4 as more spaces were made available. 
Esponisa said: "Until last week, we were working in the emergency phase, which meant incorporating students into the educational timetable in which they could take part in recreational activities that provided them with psychosocial support.
"The stabilisation [phase] implies that all students will be accessing formal education by July 4."
The ministry said centres offering children psychosocial counselling had been opened in Jama, Pedernales and Canoa, Manabi and Muisne and Chamanga and Esmeraldas, the Andes News Agency reported.
One of the 3000 schools destroyed by the earthquake Picture: Plan International
But the return of children to school will depend on finding enough money to repair and reconstruct schools, said Zambrano.
"It is not easy to say [when all children will be back at school] because of the challenges Ecuador must address in order to get them back to school. The economic situation is difficult – oil prices had affected the economy and driven Ecuador into economic crisis before the quake."
Lealty praised the efforts and commitment of Ecuador's national agencies, which were "firmly in the driving seat", he said.
Together with UN agencies, the World Bank, international NGOs and local organisations, the ministry of education has agreed on response strategies for the first three months that include:
Creation of educational and protective spaces
Initiation of school activities through provision of essential material and capacity building
Communication of life-saving and preventative messages on health and WASH (Water, Sanitation and Hygiene)
Rapid adaptation and implementation of the curriculum in an emergency 
A temporary learning centre set up in the aftermath of the disaster Picture: Plan International
The ministry's National Plan for Safe Return to Classes includes the repair and reconstruction of damaged schools and the liberation of schools that have been used as shelters.
Zambrano underlined the broad remit of schools in the aftermath of disaster.
She said: "The immediate opening of schools is one of the most important strategies to enable communities to protect children and adolescents, providing a safe space to give psychosocial support, organisation and communication in affected communities.
"Schools – whether temporary or regular – are necessary to distribute information and establish joint strategies to prevent diseases, to promote hygiene and sanitation, and participation of the entire extended educational community."
Asked what had been the lessons from the earthquakes in Haiti and Nepal, she said: "Protection is always the most important area that has to be put into consideration and the response agenda.
"There is a tendency to work over the most basic and urgent needs; washing facilities and shelter – but protection, particularly for girls, is not on the minds of the authorities or civil society.
"Plan and other NGOs play a very important role in presenting this right as essential in time of emergency."
---
More news
Theirworld's mission to give children in crises a safe place to learn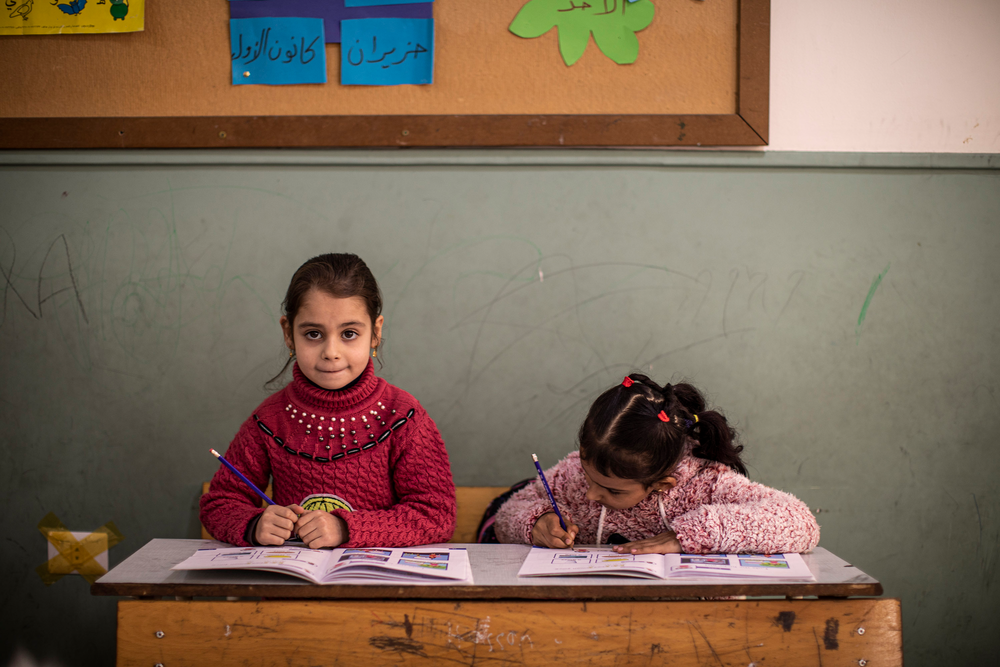 Theirworld's mission to give children in crises a safe place to learn
We thought loud noises were a storm – it was Russia bombing Ukraine
We thought loud noises were a storm – it was Russia bombing Ukraine