Ebola crisis: Safe schools plan to help five million children missing out on education
Education in emergencies, Safe schools
Emergency education and the swift reopening of safe schools are needed to help the five million children who have been forced out of school because of the Ebola crisis.
A report by the Global Business Coalition for Education and A World at School has recommended a three-fold response to the outbreak which has killed more than 5100 people in West Africa.
Since Ebola was detected in March, more than 14,000 people have contracted the disease and education has been disrupted across Guinea, Liberia and Sierra Leone. Unless schools reopen soon, millions of children are at risk of dropping out of school permanently, of becoming pregnant or ending up in child labour.
Gordon Brown, United Nations Special Envoy for Global Education, wrote the foreword to the report. He said: "With children out-of-school indefinitely, Ebola threatens to reverse years of educational progress in west Africa where literacy rates are already low and school systems are only now recovering from years of civil war.
"We must act to provide visionary solutions to mitigate the looming social and economic challenges ahead. Education is the only solution that affords the realisation of hope and opportunity while saving lives in the short and long term."
Ernest, 7, from Kenema, Sierra Leone, says: "I'm bored because there is no more school." Picture: UNICEF/Bindra
The report – titled Ebola Emergency: Restoring Education, Creating Safe Schools and Preventing a Long-term crisis – says the following urgent steps need to be taken by governments and the international community to get those millions of children back into school and learning:
Emergency education until schools reopen
Safe schools to reopen as quickly and as responsibly as possible
Investment in sustainable schools and planning for emergencies
The report says: "The provision of education and the responsible reopening of safe schools can save lives and help manage the public health and larger socio-economic consequences of Ebola."
More than 4000 children have lost at least one parent to Ebola and many have been abandoned by surviving relatives who fear contracting the disease. The report also says that "out-of-school children are at greater risk of violence, rape, child marriage, child labour, recruitment in fighting, prostitution and other life-threatening, often criminal, activities".
As part of their three-fold education response, GBC-Education and A World at School make 10 key recommendations:
EMERGENCY EDUCATION
1. Use remote learning tools such as radio, TV, mobile and internet technology to provide interim education programmes. In the longer term, these could supplement classroom learning. But the report warns that "given the current state of tech infrastructure and access in these three countries, these measures cannot be a comprehensive or long-term solution".
2. Pay staff during school closures. While many public school teachers are being paid, teachers in private schools are not. In Liberia, 50% of all teachers work in private schools.
A woman speaks to a young boy in Liberia about symptoms of Ebola and best practices to stop its spread Picture: UNICEF/Jallanzo
REOPEN SAFE SCHOOLS
3. Put in place a transparent plan to reopen schools as quickly and as responsibly as possible. This means country ministries and other sectors working together to end uncertainty over schooling.
4. Prepare schools for reopening. Schools should be cleaned and disinfected publicly and openly to ease fears. Safe water, sanitation facilities and public should all be in place.
5. Give teachers information and training on Ebola. The report says: "Ensuring that teachers are properly trained to raise awareness about Ebola and drive accurate information about preventing the spread of the virus among students and families should be a top priority."
6. Use education facilities for health monitoring – teachers should conduct temperature checks and monitor signs of infection among the student population. This worked well in Singapore during the SARS epidemic in 2003.
7. Roll out a school feeding programme "which will not only serve as an incentive for the poorest children to come back to school but it will support families working to rebuild their lives".
8. Give students physical and mental health support – and particularly help those who have experienced trauma, become primary caregivers or become married or pregnant.
Handwashing at an Ebola treatment unit in the Congotown neighbourhood of Monrovia, Liberia Picture: UNICEF/Nesbitt
SUSTAINABLE SAFE SCHOOLS
9. Implement preventative public health programmes on basic measures such as hand-washing, vaccinations and sanitation practices. In US schools, this is estimated to protect more than 63 million people from flu annually.
10. Develop contingency plans for future emergencies by helping communities to develop strategies for times of crisis.
The report says that in the short term teachers and school administrators can give lifesaving information about preventing the spread of Ebola and accessing family services. In the longer term, education will ensure children are not trapped in poverty or that their own children will not die of preventable illnesses.
It concludes that "schools should not be used as treatment facilities or holding centres for Ebola" and that reopening schools quickly and safely will help to restore hope and enable a strong public health response.
Aliko Dangote, CEO of the Dangote Group and founding member of GBC-Education, said: "Providing emergency education to children and their teachers and then responsibly reopening safe schools would help promote hope and keep pathways for rebuilding opportunity open for children, youth and their families."
You can read the full report here.
And you can read A World at School co-founder Sarah Brown on how schools can help to stop Ebola.
---
More news
Theirworld's mission to give children in crises a safe place to learn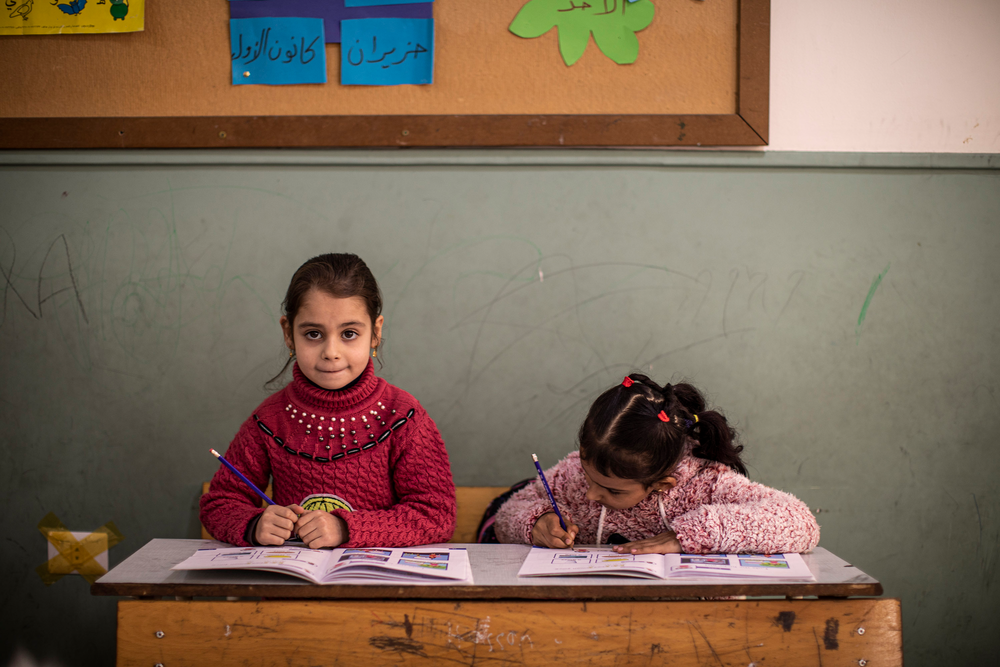 Theirworld's mission to give children in crises a safe place to learn
We thought loud noises were a storm – it was Russia bombing Ukraine
We thought loud noises were a storm – it was Russia bombing Ukraine