Ebola two years on: how deadly virus stopped millions from going to school
Students at Mangalla school in Gueckedou, Guinea, in March 2015 after classes reopened following the Ebola outbreak Picture: UNICEF/de Mun
Millions of children out of school for months. Thousands of children who died or lost one or both parents.
This wasn't a war or a natural disaster. This was Ebola, the deadly virus that swept through West Africa – particularly Liberia, Sierra Leone and Guinea.
The outbreak was officially recognised by the World Health Organization on this day in 2014. It was declared over in January this year – but new Ebola cases have emerged in all three neighbouring countries, including five deaths in the past week in Guinea.
Two years after the health crisis that caused global concern, we look at the statistics and the timeline as Ebola devastated education in West Africa.
Even before it struck, all three were economically troubled countries still emerging from conflict and civil war. Guinea and Liberia had been increasing their school attendance numbers – Guinea had 58% of children completing primary school by 2012.
On the second anniversary, we look at how the Ebola outbreak affected the lives and education of millions of children. You can also read a report by one of A World at School's Global Youth Ambassadors in Liberia.
THE STATISTICS
Students pray during a class at Monrovia Demonstration School in the Liberian capital in 2015 Picture: UNICEF/Grile
FIVE MILLION
The number of children estimated to be out of school in the three countries at the peak of the outbreak.
ONE MILLION
Students listened to distance learning programmes through community radio when their schools were closed.
191,000
Children received psychosocial support to help them deal with the trauma they experienced.
70,000
Liberian children do not officially exist because their births were not registered during the outbreak.
An abandoned classroom in Kenema, Sierra Leone, in 2014
36,000 
Teachers have been trained in Ebola prevention measures.
22,000 
Children lost at least one of their parents to Ebola.
3500
Children died of Ebola – more than a quarter of the total victims.
THE TIMELINE
MARCH 2014
A health worker in protective clothing closes the gate at an Ebola treatment centre in Liberia Picture: UNICEF/Nesbitt
On March 25, the World Health Organization reports an outbreak of the Ebola virus in Guinea, with suspected cases in neighbouring Liberia and Sierra Leone.
By the summer of 2014, all schools in the three countries have been closed down.
DECEMBER 2014
To help five million children get back into school, the Global Business Coalition for Education and A World at School produces a report that recommends a three-fold response.
Unless schools reopen soon, millions of children are at risk of dropping out of school permanently, of becoming pregnant or ending up in child labour.
JANUARY 2015
Schools begin to reopen in Guinea. In the capital Conakry, those students who turn up have their temperatures checked at the entrance to their schools. Very soon, more than 1.3 million children – about 85% of pre-Ebola attendance – are back in their classrooms and nearly all of the 12,000 schools are open.
The school closures are leaving girls at increased risk of pregnancy, prostitution and sexual violence, according to a report by Plan International.
FEBRUARY 2015
A student has her temperature checked in Monrovia, Liberia
Students return to their classrooms as schools reopen in Liberia six months after being shut down. More than 7000 safety kits are provided to about 4000 schools, including buckets, soap, gloves and chlorine. 
MARCH 2015
Schools in Sierra Leone are set to restart – but there is widespread anger as the government bans pregnant girls from returning in case "it will encourage other girls to do the same thing".
APRIL 2015
Students return to St Joseph's Secondary in Sierra Leone's Freetown Picture: UNICEF/Irwin
After nine months sitting at home, children return to classes in Sierra Leone. About 1.8 million children have been missing out on their schooling and the biggest fear is that many of them will not return. The numbers of children returning on the first day is reported as low.
AUGUST 2015
Controversy in Liberia as the country's schools, which had reopened after six months, are closed down again. Parents had been told classes would stay open to make up for lost time – but the government closes them again and says a new academic year will start in September.
MARCH 2016
The Sierra Leone government announces that the 5000 pregnant girls expelled from school have been allowed to return. But not before many girls have missed exams to gain entrance to higher secondary school, university or college.
A report by A World at School showed that more than 80 million children have had their education disrupted by emergencies – including conflicts, natural disasters and health crises like Ebola – in the past year.
In the midst of horror and despair, they need safe schools, a future and hope. Yet less than 2% of all humanitarian aid in 2015 went towards education.
That's why Theirworld – the children's charity behind A World at School – launched the #SafeSchools campaign to ensure leaders meeting at the World Humanitarian Summit in May commit to set up a new platform to fund education in emergencies.
Public pressure is needed to make sure they deliver – and you can tell them to take action by signing the #SafeSchools petition. Just click on the button below.
---
More news
Theirworld's mission to give children in crises a safe place to learn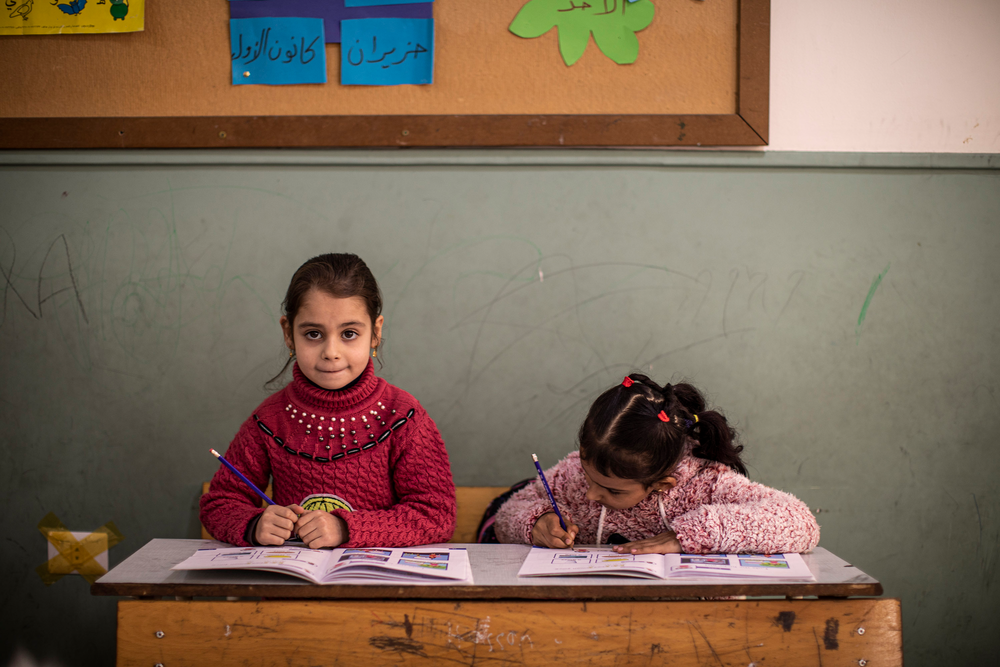 Theirworld's mission to give children in crises a safe place to learn
We thought loud noises were a storm – it was Russia bombing Ukraine
We thought loud noises were a storm – it was Russia bombing Ukraine