Education champions who can persuade world leaders to deliver their promises
Education Cannot Wait, Education funding, Education in emergencies
A teacher recites numbers at an informal learning space in a UNICEF-supported camp in Maiduguri, Nigeria Picture: UNICEF/Esiebo
There's a massive week coming up for the future of education across the world. With hundreds of millions of children either out of school or not learning properly, urgent action is needed.
So the stage is set for world leaders meeting at the United Nations General Assembly in New York. 
They have the opportunity to tackle many of the pressing problems – including the failure to keep promises made at previous summits to provide the funding to get every child in school.
Leaders must make real commitments, specifically on delivering education for children living in humanitarian emergencies such as the Syrian conflict.
TELL DONORS TO KEEP THEIR PROMISES TO SYRIAN REFUGEE CHILDREN
There are 75 million children aged three to 18 living in crisis-affected countries who are in desperate need of educational support.
Here are some of the change-makers who could make a big difference in persuading the international community to help get all Syrian refugee children into school and properly finance the Education Cannot Wait fund for education in emergencies.
GORDON BROWN
The UN Special Envoy for Global Education has been at the forefront of pushing education issues nearer the top of the global agenda.
He is chair of the Education Commission that is about to deliver its recommendations into how to finance and deliver quality schooling to every child in every country.
He was also instrumental in calling for the Education Cannot Wait fund that was launched in May. It aims to reach more than 13 million children and youth over the next five years.
ERNA SOLBERG
Prime Minister of Norway and a driving force behind the growing realisation that funding education in humanitarian emergencies is as vital as providing food, shelter and medicines.
She is also co-convener of the Education Commission and Norway hosted the historic World Humanitarian Summit in May, when the Education Cannot Wait fund was unveiled.
She said recently: "Reaching all children and young people with quality education may be a daunting challenge – but we can make significant progress if decision-makers step up to the plate, together with teacher unions, international organisations, the private sector, civil society and others."
THE EDUCATION COMMISSIONERS
The Education Commission is a high-powered group of former and current world leaders, policymakers and researchers. Their year-long mission was to examine how to reverse the lack of financing for education around the world.
They consulted a wide variety of NGOs, organisations, universities and individuals in more than 80 countries. 
On September 18 in New York, the commission will deliver its exhaustive report and a set of key recommendations, which UN Secretary-General Ban Ki-moon has said will be adopted.
ANTHONY LAKE
The Executive Director of the UN children's agency UNICEF, which revealed earlier this month that almost 50 million children have been uprooted from their homes – 28 million of them driven out by conflict.
It will be using the UN General Assembly to highlight the situation for refugee and migrant children, the risks young people who are forcibly displaced face and action the international community should take to protect migrant and refugee children and their families
When the refugees report was released, Lake said: "If we fail to provide them – and all child refugees and migrants – with opportunities for education and a more normal childhood, how will they be able to contribute positively to their societies? What price will we collectively pay for that failure?"
IRINA BOKOVA
As well as being a co-convener of the Education Commission, she is Director-General of the UN agency UNESCO. 
Lack of funding for education was a major theme of its Global Education Monitoring Report 2016, published last week. It revealed that the financing gap means that on current trends all girls and boys will not go to primary school until 2042 and lower secondary until 2059 – decades after the 2030 deadline set in the Sustainable Development Goals.
At the report's launch, she said: "A fundamental change is needed in the way we think about education's role in global development, because it has a catalytic impact on the well-being of individuals and the future of our planet."
BARACK OBAMA
The United States President will host the Leaders' Summit on Refugees as a side event during UN General Assembly week. 
Among its aims are getting significant new global commitments to increase funding to humanitarian appeals and international organisations, and increasing refugees' self-reliance and inclusion through opportunities for education.
On World Refugee Day in June, Obama said: "In advance of that summit, the United States is urging other governments to contribute more funding for humanitarian aid operations, to grant more refugees the chance to work and attend school."
ELIAS BOU SAAB
Lebanon's minister for education has done so much over the past couple of years to help get Syrian refugee children into schools in his country. Lebanon hosts 1.3 million refugees, more per head of population than any other country.
A member of a group that will oversee the Education Cannot Wait fund, he introduced the double-shift system that allowed Lebanese and Syrian children to be taught at different times of the day.
He spoke at a Global Business Coalition for Education event in Washington, DC, in the spring, where he said: "We risk losing an entire generation and you know where they will be heading after that – and that will affect the world. I ask the donors to move fast."
JULIA GILLARD
The former Australian prime minister is Board Chair of the Global Partnership for Education – it supports 65 developing countries to ensure every child receives a quality, basic education.
She will be at several high-profile events during UN General Assembly week and she sits on the Education Commission.
In a blog last week, she wrote: "To try to find a way for the world to do better, I have been working over the past year with Gordon Brown and Anthony Lake, under the auspices of the government of Norway, to build a mechanism that will generate and direct the necessary resources to create a world where no child will have her or his education interrupted because of an emergency or crisis."
---
More news
Young people's tireless campaign for an education game-changer
Young people's tireless campaign for an education game-changer
Theirworld's mission to give children in crises a safe place to learn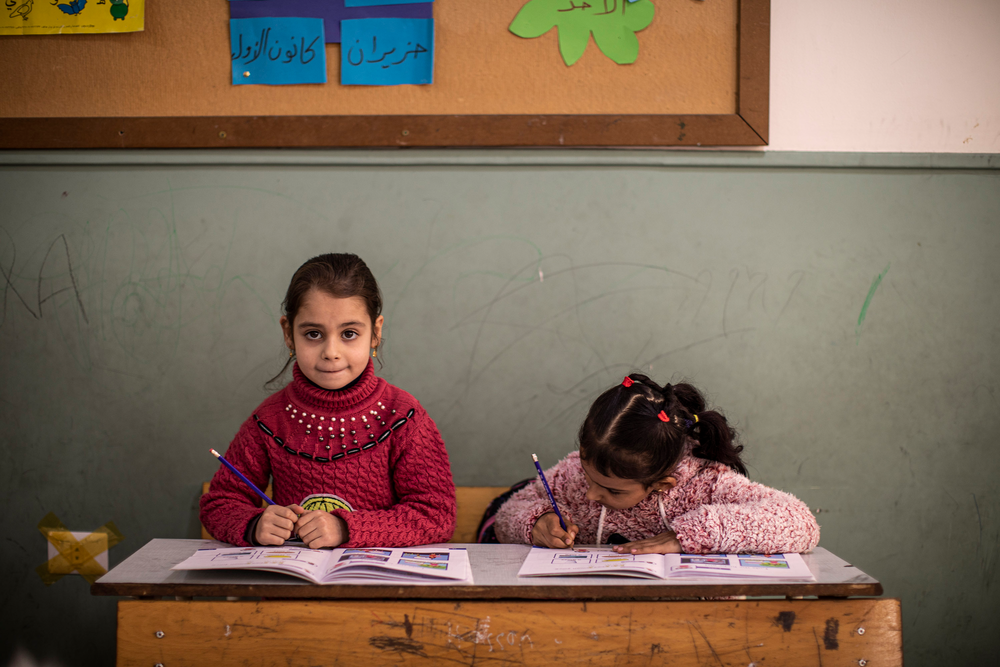 Theirworld's mission to give children in crises a safe place to learn