Expert judges to decide five winners of Theirworld Education Innovation Awards 2021
Theirworld
---
They have the tough task of choosing the programmes that will benefit from scale-ready grants of £50,000 and mentoring to boost their work with marginalised young people.
---
It was a difficult enough job choosing 11 finalists from the dozens of inspiring and exciting applications for the Theirworld Education Innovation Awards 2021.
Now a panel of 13 expert judges has to select the five winners, who will each receive £50,000 scale-ready grants, masterclasses and mentoring to help them make an even bigger impact as they deliver education to vulnerable young people. 
Today we reveal the judges, who among them have a wealth of knowledge on education, innovation and scale-readiness, business and finance, diversity and inclusion, technical insights, and storytelling and people. 
One of them, Andrew Jack – Global Education Editor of the Financial Times – said: "As judges, we'll have to make some tough decisions to select five winners. Each of the 11 finalists has already demonstrated that they have the vision and the skills to carry out impressive and exciting programmes.  
"Our job now is to select the five who we feel most deserve the opportunity to further develop their ideas and increase capacity to help marginalised learners." 
The Awards judges are:
Theirworld invited applications from non-profits, NGOs and charities actively working towards – or planning to scale up to – reaching marginalised learners in seven countries where we currently have projects running: Greece, Kenya, Lebanon, Nigeria, Tanzania, Turkey and Uganda. 
The entries had to focus on an area that comes under Theirworld's three main pillars – early childhood development including pre-primary education, safe places to learn and skills for the future. 
The scale-ready grants for the five winners will cover the necessary scaleup costs, generate evidence and help push pilot projects forwards. Theirworld will also offer masterclasses and mentoring to the winners, to help them build connections and hone the skills needed to scale up an innovation. 
Kelly T. Clements said: "Every child in the world deserves a quality and inclusive education. That's the goal – getting there is the challenge. Theirworld is fostering and supporting organisations that are pioneering innovative ways to do even more on the ground to tackle the global learning crisis." 
Yomi Adegoke said: "I'm delighted to be judging the Education Innovation Awards. Innovation, investment and inspiration are all key to offering a fair and equal chance for marginalised children to access learning and future success." 
Mary Contini added: "With unprecedented challenges unfolding across the world, Theirworld is ensuring education – especially girls' education – remains a priority. I am looking forward to learning more about these innovative and powerful education projects."
---
More news
Take the test and discover how our Schools Hub helps students grasp the global education crisis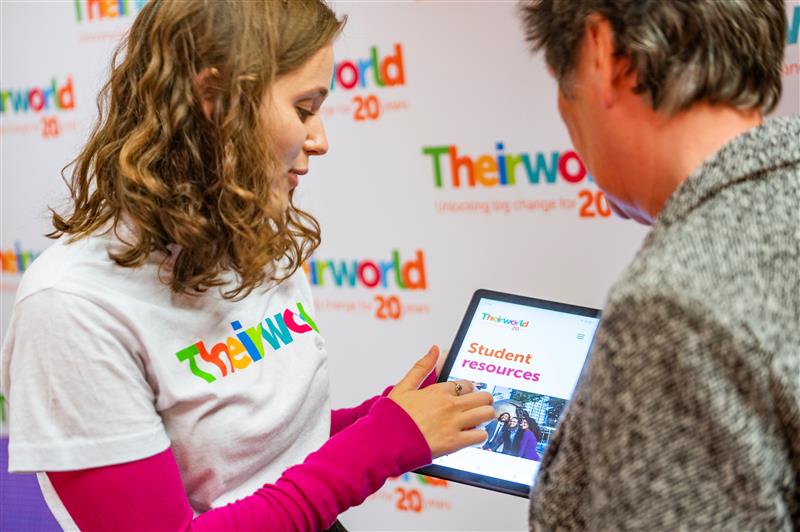 Take the test and discover how our Schools Hub helps students grasp the global education crisis
#LetMeLearn: the story of a global education campaign
#LetMeLearn: the story of a global education campaign