Fear of violence keeps poorer Brazilian children away from school
In a two-part special report, Jo Griffin examines the problems of violence which affect education in Latin America. Jo is a freelance journalist for the Guardian, Observer, BBC and Al-Jazeera. She has also worked as a journalist in Mexico, Central America and Brazil.
A Brazlian boy at Areiao slum in Jaguaré Sao Paulo Picture: UNICEF/Fabres
On December 10, schools shut for more than 2200 pupils in the favela complex of Maré, in northern Rio de Janeiro, Brazil, as police raided the area and exchanged gunfire with drug gangs.
On this occasion, the shutdown affected seven schools, three nurseries and three children's learning centres, according to education authorities, which promised teachers would catch up on missed lessons. 
But children in poorer areas of Rio routinely miss classes because of armed violence. Schools might shut for several hours during a police operation or families keep their children at home if tensions are high and the route to school is dangerous,
Children also drop out of classes because they are sucked in to the violence and parents disrupt their education by transferring them between schools to avoid flash points.
Read more: Why Latin America needs safe schools


For Eduardo Alves, of research organisation the Observatorio das Favelas, based in Maré: "Violence is a reality that affects mobility throughout the whole city … in the favelas and on the outskirts, its consequences have more effects because of social inequality."
School suspensions and fear among teachers and students are among the consequences of the inequality that increases the vulnerability of poor communities.
While there are no statistics on how many hours of schooling are lost to violence in Rio, news reports reveal that schools in some favelas regularly close for hours at a time because they are unsafe.
The dangers for students are particularly acute in densely populated areas that have become militarised as authorities grapple with urban crime.
A boy plays in Mangueira favela overlooking Rio's Maracana football stadium during the 2014 World Cup in Brazil
Many Rio residents are divided over whether the "pacification" process initiated in 2010, whereby armed police invade and then set up a UPP base in areas that were controlled by drug trafficking gangs, has improved security or led to an escalation in tension.
In 2014, violent deaths in Brazil surged to 58,000, with killings by police the second most likely cause of violent death, according to a report by the Brazil security forum published in October. Rio was the second most dangerous state in terms of violent deaths.
In areas like Maré, battles between police and gangs overshadow school life. In a report prepared by the state teachers' union (SEPE), which was published last year by the Observatorio das Favelas, a teacher in Maré recalls how a lesson about bogeymen in children's literature turned into a session about students' worst nightmare – the black armoured vehicle of the BOPE police whose arrival announces the start of a police operation.
"What struck me was that the students' greatest fear was of the 'caveirao'," the teacher said. 
Another teacher recalled supervising 30 children in a playground while a police helicopter overhead fired at suspected gangsters.
Nowhere is the tension between the right to education and the security agenda of the city authorities more evident than at schools where UPP units have set up base on the premises. A "social" element of the UPP project envisages more police involvement in schools.

In the Alemão favela complex in northern Rio, the walls of the Theophilo de Souza Pinto school are pockmarked with bullet-holes and students pass armed police as they arrive for classes at the school. Enrolment has dropped since the armed UPP police set up their base on the school grounds in 2012. Human rights campaigners and residents have repeatedly called for the police unit to leave the playground but there is no sign yet of the UPP force moving on.
A police commando patrols the Mare Complex shantytown in Rio
"If the shooting is not too bad, the teacher carries on with the lesson but if it's a lot we lie down on the floor. Sometimes, we stay in the corridors because they are safer," said one student quoted in a report by investigative journalists.
"But the shots still disturb us because, even when the class does continue, your attention is elsewhere, listening out for what might happen."
The negative impact on children's ability to learn and cognitive function is another consequence of living with armed violence. In Maré, Yvonne Bezerra de Mello, founder of the Uere project, has developed a teaching method that integrates neuroscience with didactics to repair "learning blocks" caused by exposure to violence.
Ms De Mello believes many children in Rio drop out of school because the constant exposure to violence creates specific learning blocks.
"Children growing up here often cannot learn because they cannot focus; they lack the pre-learning required for school," she says.
Her project aims to "repair the brain's synapses" so that traumatised children restore the cognitive function needed to attend a mainstream school session in the afternoon. She has been recruited by the city to expand the teaching method to other schools.
For Eduardo Alves, the disruption to children's education is one manifestation of a failure to protect Rio's citizens and a deeper disregard for the lives of those in poor areas.
"What is in question so that education or any other aspect of human life flows more determinedly … is that the state puts human life above all else," he said.
"A clear policy of defending human life, expressed through a policy of full mobility across the city is urgently needed to address these and other inequalities."
---
More news
Theirworld's mission to give children in crises a safe place to learn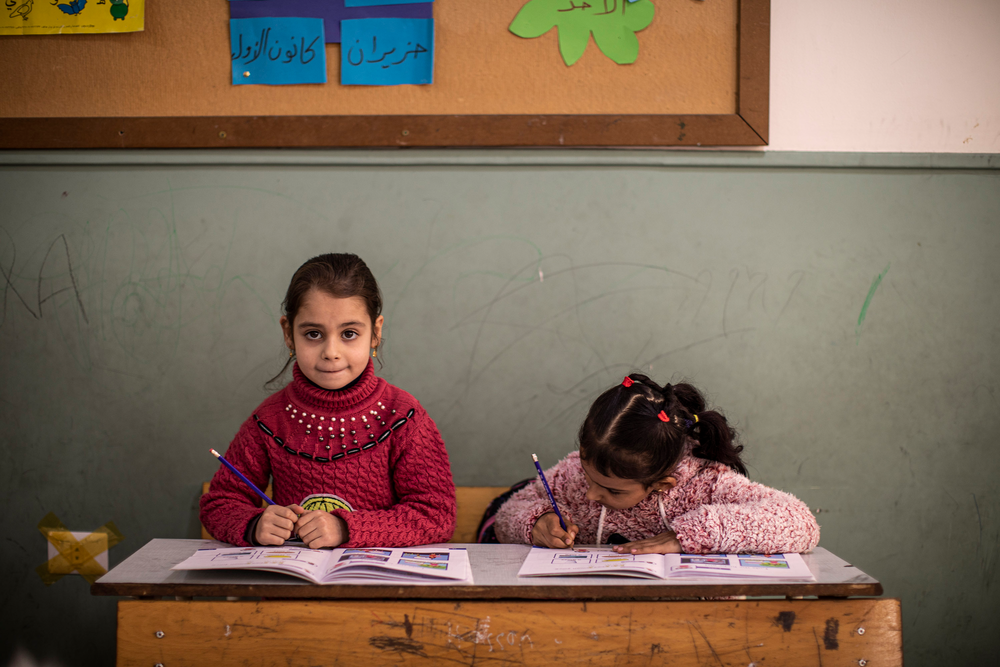 Theirworld's mission to give children in crises a safe place to learn
Five things you need to know this week about global education
Five things you need to know this week about global education