Fiji cyclone leaves 240 schools destroyed or damaged
Picture: UNICEF/Sokhin
Twelve-year-old Eremodo sits on his desk in a classroom damaged by the devastating storm in Fiji that left more than 40 people dead and tens of thousands homeless.
About 240 schools were destroyed or damaged when Cyclone Winston ripped through the South Pacific islands nation on February 20, with winds topping 200 miles per hour.
After what aid agencies described as a "collossal effort" by the Fijian government, more than 1000 schools and education centres have just been reopened.
Waisake, aged four, plays in the ruins of his kindergarten classroom in the village of Yaqeta on the Yasawa island group Picture: UNICEF/Sokhin
But many others will have to be rebuilt or repaired – and at least 100 are being used as evacuation centres for 53,000 people whose homes were flattened.
Eremodo is a Grade 7 student at Somolevu Catholic School on Vuaki Island. He said: "I came here to help teacher to clean the classroom, so we can have our classes soon again.
"My school bag is missing, I don't even have a pen to write".
Talica, six, and Asenaca, seven, look through schoolbooks left in the aftermath of the storm on Vuaki Island Picture: UNICEF/Sokhin
Peter Wong, 25 – a teacher at the same school in the Yasawa island group – looked at the foundations of what used to be the Grade 8 classroom.
"It is completely gone," he said. "There were 10 children in this class.
"Now they have nowhere to study. We are looking for options to substitute the classes".
A mother with her children in an evacuation centre at Nasau Primary School in Nasau village Picture: UNICEF/Hing
 OCHA – the United Nations Office for the Coordination of Humanitarian Affairs – is monitoring the effects of Cyclone Winston. Its report for today says:
Early assessments indicate at least 240 out of 901 primary and secondary schools (27%) have been damaged and 60 completely destroyed (6%)
More than 250 of the 834 early childhood, care and education (ECCE) centres have been damaged and 139 (17%) destroyed
The significant damage to schools and ECCE centres will take from two to six months to repair
Of the 901 primary and secondary schools at least 103 (11%) are being used as evacuation centres
Six-year-old Sara sits in an evacuation centre at AKP Primary School in Ba town after her family home was destroyed Picture: UNICEF/Sokhin
The damage to schools stands at about $42 million, according to Fiji's National Disaster Management Office.
Three hundred schools – and 26,000 people in the worst affected areas – have been provided with supplies to ensure safe drinking water and sanitation.  Apart from the impact on education, 38% of all healthcare facilities were damaged.
The United Nations children's agency UNICEF said 120,000 children had been affected by Cyclone Winston.
"This is a truly nationwide disaster for Fiji," UNICEF Pacific representative Karen Allen said, as the organisation launched a $7 million humanitarian aid appeal.
Uraia, aged seven, sits in the remains of his home just yards from the shoreline where the storm surge destroyed homes Picture: UNICEF/Sokhin
"We have met far too many children who have lost literally everything – their possessions, their home, the family's crops that they depend on for food and possibly income, their school and their community health clinic. They need urgent and comprehensive assistance."
Seven-year-old Grace, from Navuavua in Ra Province, stood in the doorway of what used to be her family kitchen and told of her terror when the cyclone struck.
"It was night but I was afraid to sleep," she said. "The wind was so loud, it was making a booming noise.
"We ran to the neighbour's house and we we sitting inside two sofas all night. Next day when we checked on my house – I was sad to see it broken".
---
More news
Theirworld's mission to give children in crises a safe place to learn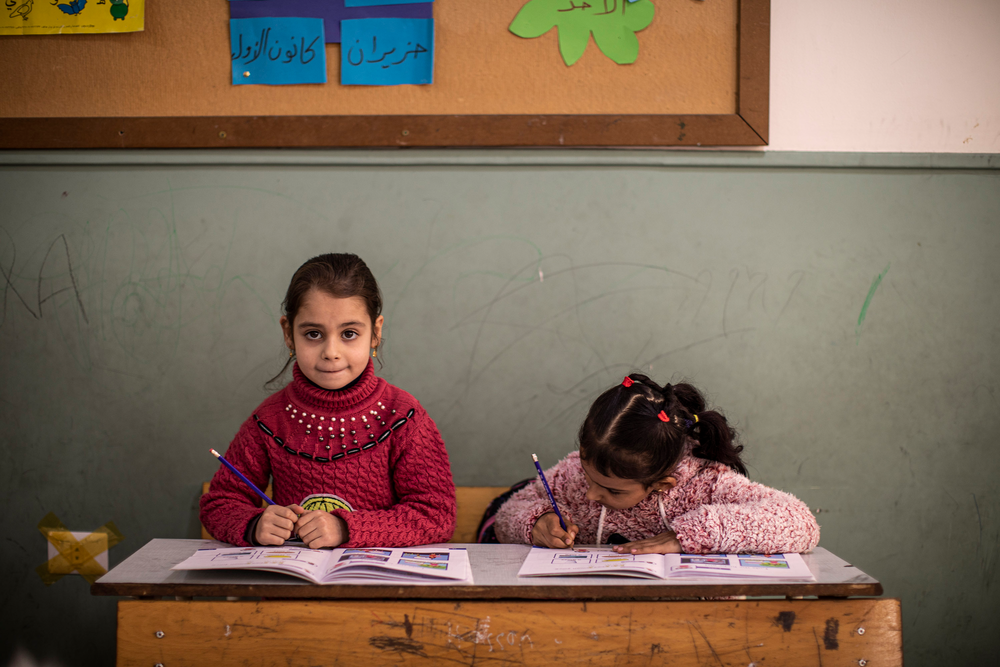 Theirworld's mission to give children in crises a safe place to learn
We thought loud noises were a storm – it was Russia bombing Ukraine
We thought loud noises were a storm – it was Russia bombing Ukraine