Five things you need to know this week about global education
Children in conflicts, Children's welfare after natural disasters, Education Cannot Wait, Education in emergencies, Global Youth Ambassadors, Justin van Fleet, Theirworld, Yasmine Sherif
---
Theirworld takes part in talks on a safe schools plan in Nigeria, while a UN deal on school meals will help a child malnutrition crisis in Venezuela.
---
Nigeria makes safe schools pledge
Nigeria has committed to develop a national plan for safe schools in the wake of attacks on education that have included the abduction of hundreds of students and the killing of more than 2,000 teachers.
The Abuja Compact on Safe Schools was announced at a forum of government ministers, state governors, security forces, the international community and the private sector.
Addressing the forum, Theirworld President Justin van Fleet said our Global Youth Ambassadors in Nigeria will campaign for safe schools and hold everyone accountable for delivering the plan.
He said support would come from Education Cannot Wait, while the Global Business Coalition for Education – a Theirworld initiative – will help to identify potential partners in the private sector to support the rollout of the safe schools plan.
"We can also look at the potential for innovative finance through the new International Finance Facility for Education as a possible financial solution to support the efforts," added van Fleet.
Nigerian Finance Minister Zainab Shamsuna Ahmed will develop a national plan for safe schools and a financing roadmap within three months. In a year, there will be an evaluation of the results achieved.
The forum was held just days after the seventh anniversary of the Chibok kidnappings, when 276 schoolgirls were abducted by Boko Haram. Since 2014, more than 1,000 students have been kidnapped – including almost 300 girls from a school in Jangebe last month.
School closures due to safety and security issues have impacted an estimated 1.3 million Nigerian children during the 2020-21 academic year.
Emergency aid for children in border crisis
Emergency education support will help children caught up in a rapidly-escalating humanitarian crisis in the border region of the Democratic Republic of the Congo and the Central African Republic.
Education Cannot Wait and the UN refugee agency UNHCR announced a $2 million grant to provide learning opportunities for refugee and host community children in settlements near the border.
On a visit to the Modale refugee site in the Central African Republic, Education Cannot Wait Director Yasmine Sherif said: "These refugee girls, boys and their families have faced horrible violence and insecurity. Thousands have walked for weeks and hid in the forests, desperately seeking safety.
"We call on donors to urgently fund the remaining $4 million gap for the education component of UNHCR's response in this forgotten crisis. These girls and boys are the ones left furthest behind."
Volcano halts education for 33,000
Nearly 33,000 children affected by the erupting volcano on the island of St Vincent have no idea when they will go back to school.
Students were preparing to return to class last week after Covid-19 shutdowns when families had to flee the devastation from the La Soufriere volcano in the Eastern Caribbean country. 
Of the 94 primary and secondary schools on St Vincent and the Grenadines, more than 70 are being used as shelters.
Student Jenique Matthias, 17, told UNICEF the schools closure is a big setback, as she was preparing for her leaving proficiency exam. She said: "I can't get to study now or complete the school-based part of the exams."
School meals deal in Venezuela
#NewsAlert: WFP to provide school meals in #Venezuela.

WFP will provide nutritious school meals to children, particularly in pre-primary and special education schools, as well as invest in the rehabilitation of school canteens and training school staff on food safety practices.

— World Food Programme (@WFP) April 19, 2021
A deal has been struck for the World Food Programme to supply food to 185,000 schoolchildren in Venezuela, where child malnutrition has increased during a humanitarian crisis caused by the country's economic collapse.
The UN agency and Venezuelan officials said the aim is to extend the project to 1.5 million children by the end of the 2022-2023 school year.
Humanitarian aid groups have campaigned for the Venezuelan government to allow the WFP to distribute food aid. The agency said schools were the "most appropriate platform" to "reach communities in an independent manner"
The crisis has led to more than five million people leaving the country. More than 850,000 children were out of school before the pandemic, which led to education being disrupted for another 6.9 million students.
Afghan girls' schools attacked
Ten schools, including six for girls, have been badly damaged by recent airstrikes and bombs in Afghanistan, according to the European Commission.
It said the education ministry had appealed to humanitarian partners to support the reopening of schools in the Arghandab district of Kandahar province, where civilian buildings including schools have been damaged during fighting.
More than 3.7 million children are still out of school in Afghanistan – at least 60% of them girls.
But progress is being made, said Afghan education minister Rangina Hamidi in an interview with Education Cannot Wait. She said: "To go from approximately 800,000 students and very low numbers of girls in 2001 to more than nine million students in 2020 – of whom 39% are girls – is a major achievement. Today most students who begin their primary school will complete their educational journey in Afghanistan."
---
More news
Take the test and discover how our Schools Hub helps students grasp the global education crisis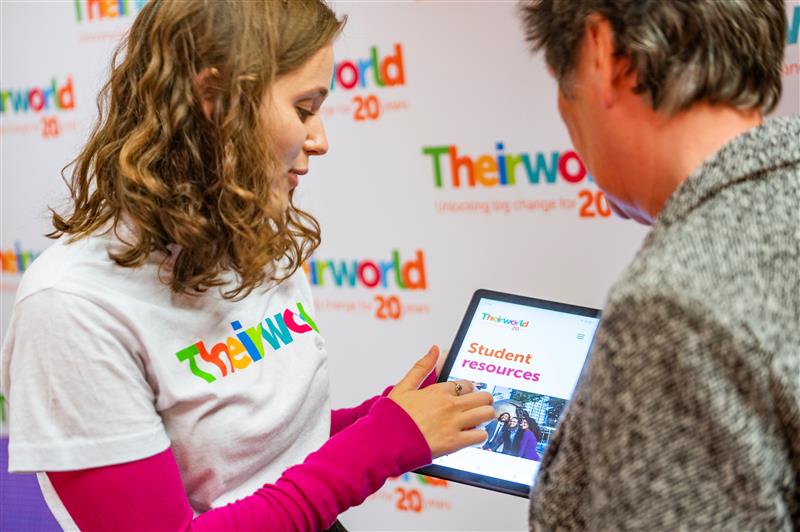 Take the test and discover how our Schools Hub helps students grasp the global education crisis
#LetMeLearn: the story of a global education campaign
#LetMeLearn: the story of a global education campaign