Five things you need to know this week about global education
Coronavirus and education, Education in emergencies, Health and education convergence
---
Some European countries get set to reopen schools, while health and nutrition programmes will help children around the world bounce back from lockdowns. 
---
European students set to return to school
European countries whose education systems have been badly disrupted by the pandemic will reopen some schools next week.
High schools in Greece will begin classes on Monday, with hundreds of thousands of students having to take at least two Covid-19 tests a week. Students and teachers will wear masks indoors and outdoors, while breaks will be staggered to avoid overcrowding.
Teenagers in grades 10 to 12 have missed the most face-to-face teaching. Schools in Greece have been mostly shut since early November, apart from a brief reopening earlier this year.
Greece is host to more than 40,000 refugee children and many of them have had their education put on hold by the pandemic. As part of our Covid-19 crisis projects, Theirworld helped young refugee children deal with stress and anxiety by working with partners to provide early childhood packs in the northern towns of Polikastro and Axioupoli.
Schools will also reopen in the Czech Republic, Hungary and Bulgaria. The Czech government announced it will reopen the lower grades of elementary schools next week. Schools there have faced the longest combined periods of full or partial closure in the European Union. 
Bulgaria's classrooms will also reopen. But Hungary will push back the planned reopening of secondary schools by three weeks to May 10, after teachers and students called for a delay.
Venezuelan refugees need emergency education
"We commend Colombia's recently announced offer of temporary protection to Venezuelans. Financing education for refugees is a moral and political imperative for all world leaders in the 21st Century." ~ @OfficeGSBrown. https://t.co/j25JtOWPEf

— Education Cannot Wait (@EduCannotWait) April 6, 2021
The global fund for education in emergencies has called for an extra $116 million from international donors to support emergency education responses for refugee children affected by the Venezuelan economic crisis.
Education Cannot Wait has given $29 million in grants to support multi-year education programmes for more than 350,000 vulnerable children and youth in Colombia, Ecuador and Peru. 
The escalating economic and security crisis in Venezuela has triggered the largest forced displacement in South America's history – with more than 5.4 million people fleeing the country.
Education ministries in host countries are trying to expand learning programmes to absorb the influx of refugees into local schools. But refugee children are often left behind and many have no access to the internet, computers and smartphones.
Niger to tackle education crisis
The new president of Niger, Mohamed Bazoum, has promised to make education a priority.
He said Niger's main problem since independence in 1960 has been the weakness of its educational system and pledged to prioritise school reforms as much as security.
More than half of children aged seven to 16 are not in school in Niger. Fewer than 60% of primary school students enter secondary school and the preschool enrolment rate is just 7%.
Bazoum said school attendance was low and dropout rates high. Only around 25% succeeded in the final high school exam last year. He added: "This explains the early marriages of young girls, 77% of whom are married before the age of 18, 28% before the age of 15. This also explains the high prevalence of polygamy."
Nutrition key to school return
@UNESCO and @WFP are stepping-up their partnership today to invest in the wellbeing of learners and ensure they receive the school health and nutrition they need to recover from the biggest learning crisis in history and thrive. ©Shutterstock pic.twitter.com/Bhhp7vwY7C

— Education 2030 (@Education2030UN) April 1, 2021
Two United Nations agencies have renewed their partnership to ensure health and nutrition programmes help children bounce back after school closures.
UNESCO and the World Food Programme will advocate for the education, health, nutrition and wellbeing needs of school-aged children and youth.
Before the pandemic, more than 73 million children were attending school on an empty stomach, preventing them from concentrating and learning. Many more children did not go to school because of preventable and treatable illnesses and malnutrition.
"The Covid-19 pandemic and the resulting school closures have emphasised the inter-relationship between education and health," said Stefania Giannini, Assistant Director-General for Education at UNESCO. "We have seen that schools are not only essential to deliver education but provide a vital social space and deliver key services like school feeding, vaccinations and health education."
Staying in school 'reduces HIV cases'
Staying in school longer reduces the risk of girls becoming infected with HIV, according to UNAIDS. 
The agency said that, in eastern and southern Africa, data shows a positive link among adolescent girls and young women between condom use with a non-cohabiting partner and completion rates of lower secondary school.  
UNAIDS also said greater gains have been made in reducing new HIV infections among adolescent girls and young women in countries that have higher completion rates for lower secondary school.
The research was revealed as Education Plus, a new advocacy initiative for adolescent girls' education and empowerment in sub-Saharan Africa, was launched to step up action to ensure that every girl gets a quality secondary education.
---
More news
Theirworld's mission to give children in crises a safe place to learn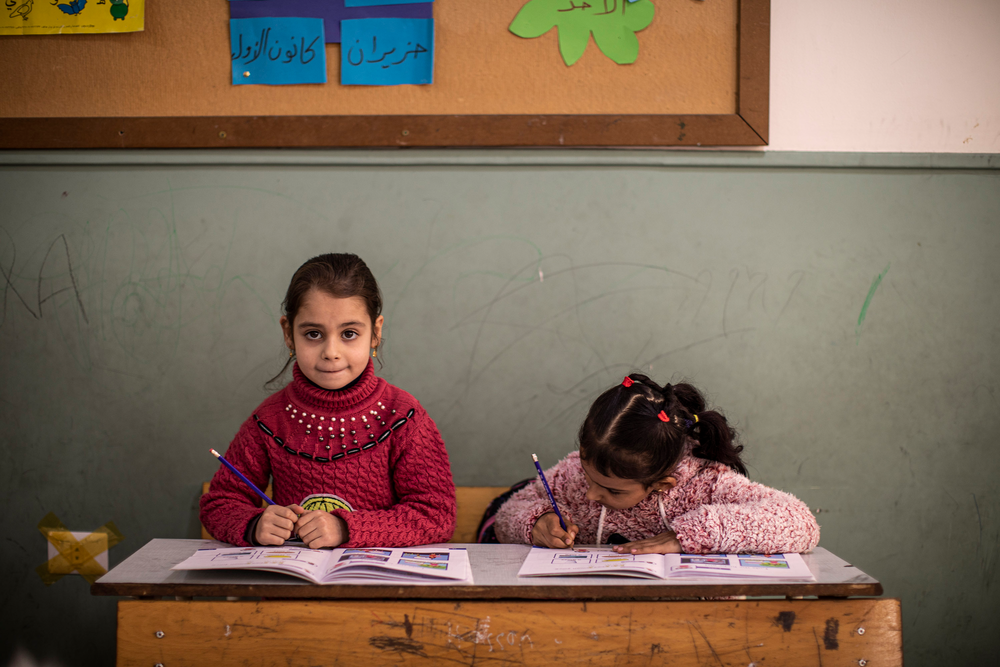 Theirworld's mission to give children in crises a safe place to learn
We thought loud noises were a storm – it was Russia bombing Ukraine
We thought loud noises were a storm – it was Russia bombing Ukraine