Five things you need to know this week about global education
Girls' education, Theirworld
---
Theirworld's fears for the future of girls' education in Afghanistan after the Taliban takeover leads our news roundup.
---
Theirworld fears for girls' education in Afghanistan
Theirworld has expressed concern over the future of girls' education after the Taliban takeover in Afghanistan.
A statement said: "We are horrified by the scenes in Afghanistan. We are particularly worried about what this could mean for the education of girls and women in the region. Everyone has the right to an education and a safe place to learn."
The Taliban banned girls from going to school when they ruled the country from 1996 to 2001. Since they were overthrown, steady progress has been made on education for girls and women. 
Alex Spillius, Senior Editorial Consultant at Theirworld, reported from Afghanistan in 2001. This week he wrote about his experience in Kabul, saying "the mood then was elation and relief" but now "the mood will be utter dread and trepidation".
There are fears that a new refugee crisis will begin. There are already more than 2.5 million Afghan refugees – many of them in neighbouring Pakistan but also as far as Europe.
In the Greek islands, Theirworld's education projects support children who have fled Afghanistan. An estimated 3.7 million children are still out of school in Afghanistan – 60% of them  girls, according to UNICEF.
The UN children's agency reported that some Taliban local representatives said they are waiting for guidance from leaders on the issue of educating girls, while others have said they want schools "up and running".
Tents help girls' school beat Covid crisis
When Covid-19 hit a girls' school in Malawi and half of the 605 students tested positive, the rapid spread was blamed on crowded classrooms.
The education ministry approached the United Nations World Food Programme, which was already providing take-home meals for students. Three large tents were delivered, initially for isolation space and then converted into classrooms. 
"The 300 learners recovered within two weeks," said Emily Mkokamasa, head of Lilongwe Girls Secondary School. "Each tent accommodates 70 learners seated a metre apart." 
Student Nellie Paundi said: "I really prefer learning in the big tents – we effectively observe social distancing because they are spacious. They also have good ventilation."  
5m Mexican students drop out
Mexico's government has revealed that more than five million children and youth dropped out of education last year because of the pandemic.
A total of 5.2 million students did not register for classes, with many parents saying their internet coverage wasn't good enough for online learning.
The figure was released as President Andrés Manuel López Obrador encouraged families to send their children back to school when classes resume next month. He said it was not mandatory for the country's 25 million students to attend. 
A survey showed 58% of parents are not in favour of their children going to in-person classes. Teaching unions are divided on the return to school.
Haiti earthquake destroys schools
Dozens of schools have been destroyed or damaged by the earthquake that devastated Haiti last week, killing more than 2,000 people and leaving 500,000 children with limited or no access to shelter, safe water and food.
Preliminary assessments by UNICEF and Haitian officials found extensive destruction to classrooms – just weeks before they are due to reopen. In one area, 94 of the 255 schools were destroyed or damaged.
"It will be extremely difficult for parents, teachers and the government to get children safely back to school on September 7," said Bruno Maes, UNICEF's Representative in Haiti, after visiting a damaged school in Mazenod. 
"But it is so crucial for children who have just gone through this traumatic earthquake-plus-extreme weather experience, to have the normalcy and stability of being in a classroom with their friends and teachers."
Learning a lesson from other countries
A film released this week follows four American students as they each spend a year at a high school in a country that regularly ranks above the United States on reading, science and mathematics scores.
The Smartest Kids in the World shows students aged 16 and 17 as they spent the 2018-19 academic year in the Netherlands, Finland, South Korea and Switzerland.
A review in the Guardian said the film "highlights the numerous shortcomings of the American education system by contrast, through the eager, at times overwhelmed eyes of four students so frustrated with their stagnation in school that they leave home for a year".
---
More news
Skills for the future give young people the best chance of success
Skills for the future give young people the best chance of success
Take the test and discover how our Schools Hub helps students grasp the global education crisis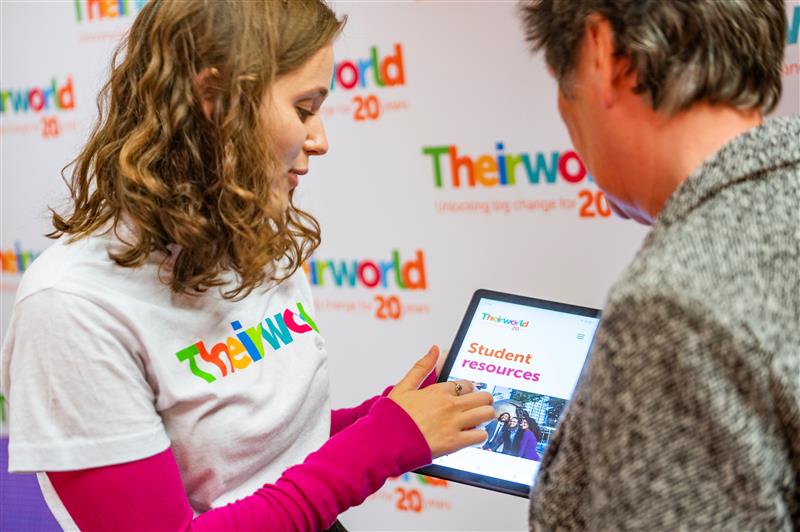 Take the test and discover how our Schools Hub helps students grasp the global education crisis