Five things you need to know this week about global education
Coronavirus and education, Education in emergencies
---
After the longest pandemic shutdown of any education system in the world, all schools in Uganda will finally reopen in January.
---
Uganda to reopen schools after two-year shutdown
All schools in Uganda will finally reopen in January after the longest pandemic shutdown of any education system in the world. 
Public schools have been fully or partly closed since March 2020 and most have been unable to provide online learning to students. 
President Yoweri Museveni announced that schools will reopen in the new year, regardless of how many people are vaccinated against Covid-19 by then. It is estimated that less than 4% of the population of 45 million is fully protected. 
But children in some primary classes will not go back until the start of the new academic year in March or April 2022, according to Uganda's Independent. 
Some classes did reopen in February this year but were shut again as cases numbers grew. It is feared many children will not return to school, having started work or dropped out of education permanently. Others worry they will not catch up on missed school work. 
Annet Aita, 16, told Al Jazeera: "Staying at home, sometimes you cannot even have the morale to read books. Sometimes you forget what they taught you in school." 
With such a long shutdown, many teachers have also moved into other jobs. 
Learning boost for vulnerable children in Syria
Some of the most vulnerable children in Syria, including many with disabilities, will receive quality education thanks to new funding from Finland. 
Additional support of $3.5 million – on top of previous grants – will support learning programmes for thousands of children who are out of school or at risk of dropping out. At least 1,600 children with disabilities will also benefit from quality learning. 
"The crisis in Syria impacts the most vulnerable children and their families. It is necessary to address wellbeing of children in a comprehensive manner to secure their right to education and to prevent violence against children", said Tarja Fernández, Chargée d'Affaires of Finland to Syria. 
UNICEF to pay Afghan teachers
UNICEF says it is planning to directly fund Afghan teachers, after the international community placed a freeze on funding to the Taliban-led administration. 
"We are setting up a system that will allow direct payments to teachers without the funds being channelled through the de facto authorities," Jeannette Vogelaar, UNICEF Afghanistan's Chief of Education, told Reuters. In preparation, she said the UN agency would begin registering all public school teachers. 
"The best way to support the education of girls in Afghanistan is to continue supporting their schools and teachers. UNICEF is calling upon donors not to let Afghanistan's children down," Vogelaar added. 
Digital help for teenage girls in South Asia
Girls from marginalised communities in South Asia will be able to improve their digital and English language skills thanks to software developed by a Scottish tech company. 
It helps teenagers who live in areas where connectivity is patchy or non-existent to access course materials on their digital devices and then work on it offline. 
The learning management system developed by eCom Scotland is being used by the British Council to deliver engaging lessons to girls aged 13 to 19 who are out of school or in marginalised communities across South Asia. 
The girls are enrolled in the council's English and Digital for Girls' Education programme, which helps adolescent girls to contribute more fully to their family and community. 
Gangs target schoolchildren in Haiti
Children at schools in Haiti are increasingly becoming targets for robbery or ransom, UNICEF has warned. 
In the past week in the capital in Port-au-Prince, a parent was killed and a girl injured at a school, while a teacher was robbed at gunpoint robbery. Since the beginning of the school year in September, at least seven schools in and around the city were forced to pay armed gangs in return for security – and more have been threatened. 
More than 500,000 children are out of school in Haiti because of a variety of reasons, including high education costs, lack of support for the most vulnerable and poor educational services. Gang violence is fast becoming another reason for parents not to send their children to classes. 
"More and more fear at school means less and less learning. Gangs are rapidly turning temples of knowledge into theatres of violence," said Jean Gough, UNICEF Regional Director for Latin America and the Caribbean. 
---
More news
Theirworld's mission to give children in crises a safe place to learn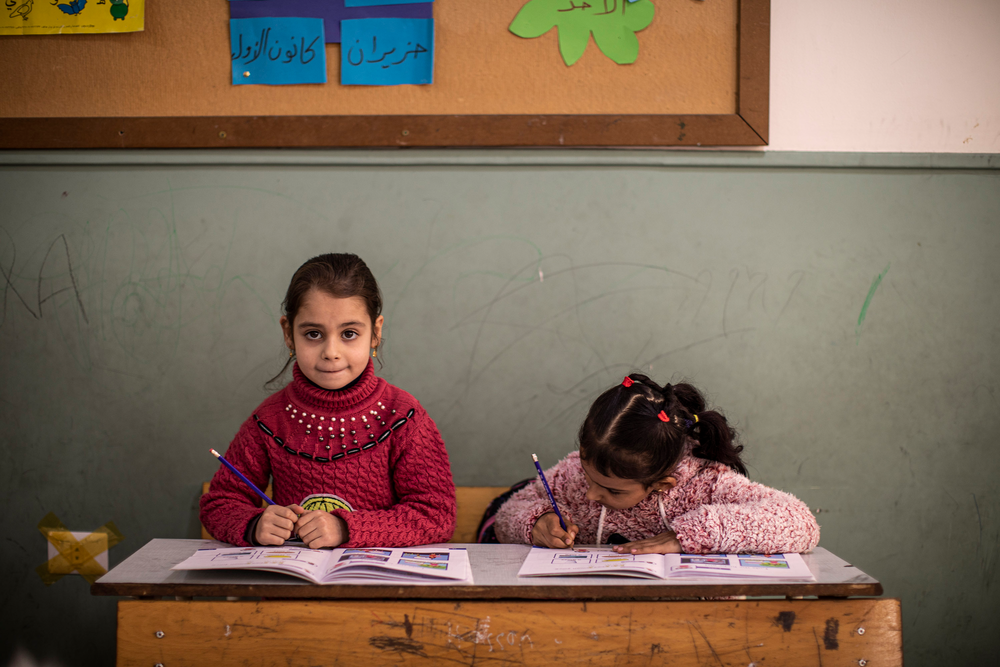 Theirworld's mission to give children in crises a safe place to learn
We thought loud noises were a storm – it was Russia bombing Ukraine
We thought loud noises were a storm – it was Russia bombing Ukraine