Five things you need to know this week about global education
Child soldiers, Early childhood development, Education in emergencies, Girls' education, Theirworld
---
Our roundup includes a breakthrough for pre-primary education, a warning that 12 million children will never start school and a move to end child marriage in Indonesia.
---
UNICEF's landmark pledge on pre-primary spending
Theirworld's ##WriteTheWrong campaign has been leading calls for countries, aid donors and United Nations agencies to spend 10% of their education budgets on pre-primary education.
So we were delighted with a major breakthrough this week when UNICEF announced their commitment to do just that. The children's agency and other global organisations also issued a call to action for more backing to be given to early childhood education.
About 175 million children are not in pre-primary education – and those who most miss out are the poor and marginalised, including girls and children with disabilities. 
UNICEF Executive Director Henrietta Fore revealed the commitment and tweeted: "Quality pre-primary education is the foundation of a child's learning journey: every stage of education that follows relies on its success."
The call to action statement was backed by the Global Partnership for Education, Education Cannot Wait – the fund for education in emergencies – World Bank, African Union, Global Citizen and the Africa Early Childhood Network.
It said: "It is time for a world ready to learn, where all children have access to quality early childhood education and enter school equipped with the skills they need to learn, succeed and prosper."
Theirworld President Justin van Fleet welcomed the moves, saying: "We are pleased that UNICEF has taken the lead in committing 10% of their education funding to early childhood education. We hope this leadership inspires other major donors to #WriteTheWrong and match this pledge for the youngest children." 
Only one in three children caught up in emergencies – including conflicts and disasters – have access to pre-primary schooling. And less than 1% of international aid to education supports pre-primary education.
Read more about UNICEF's pledge and the need for early childhood education
12m children will never go to school without urgent action
Twelve million young children – nine million of them girls – will never go to school unless urgent action is taken, a UN agency has warned.
New data published by the UNESCO Institute for Statistics (UIS) on the world's out-of-school children reveals little or no progress over more than a decade. 
"Girls continue to face the greatest barriers," said Audrey Azoulay, Director-General of UNESCO. "According to our projections, nine million girls of primary school age will never start school or set foot in a classroom, compared to about three million boys."
About 258 million children, adolescents and youth were out of school in 2018 – around one-sixth of the global population of school-age children (six to 17 years old). UIS said that on current trends one in six children will still be out of primary and secondary school in 2030 and only six out of 10 will complete secondary education.
A change in the methodology – which covers primary-age children being in pre-primary education – means the out-of-school total of 258.4 million is 3.4 million fewer than UIS's figure released last year.
Indonesia moves to end child marriage
Indonesia's parliament has revised the country's marriage law to lift the minimum age at which women can marry by three years to 19 – a move welcomed by campaigners as a step towards curbing child marriage in the world's biggest Muslim majority-country.
Indonesia is among the 10 countries in the world with the highest number of child brides, according to campaign group Girls Not Brides. One in four girls there is married before they turn 18.
"The society still encourages girls to get married in their teenage years, otherwise they will be considered spinsters," said Masruchah of the National Commission on Violence Against Women.
As well as the risks to health and safety, child marriage often disrupts girls' education because of early pregnancy or dropping out of school.
Poor children seven times less likely to finish school says report
In developing countries, a child from a poor family is seven times less likely to finish secondary school than a child from a rich family, according to a new report from Oxfam.
The charity's research reveals a shocking divide in education opportunities for children depending on their family's income and wealth.
The report shows a clear correlation between under-investment in free public education and the number of children out of school. For example, with 24 million children out of school, Pakistan has some of the lowest education spending and worst educational inequalities in the world.
In Malawi, Burkina Faso, Madagascar, Lesotho and Senegal, the richest 10% get more than half of government-allocated education resources.
Kira Boe, education policy lead at Oxfam, said: "Governments are jeopardising the future of children across the globe by failing to invest in free quality public education. Every child should have a fair chance to realise their potential, not just those whose parents can afford to pay."  
Child soldier numbers increase in South Sudan
Forced recruitment of child soldiers is increasing in South Sudan despite a peace deal last year.
Some of the country's estimated 19,000 child soldiers were released after the 2018 accord. But the chair of the UN Commission on Human Rights in South Sudan said investigators are seeing a reversal as government and rebel groups seek to swell their numbers.
Panel chair Yasmin Sooka said: "What our investigators have picked up is that in many of the hotspots you are actually seeing an increase in child soldiers." She said some were girls providing sexual and labour services to the fighters.
In almost all cases child soldiers around the world do not have access to formal education.
---
More news
Skills for the future give young people the best chance of success
Skills for the future give young people the best chance of success
Take the test and discover how our Schools Hub helps students grasp the global education crisis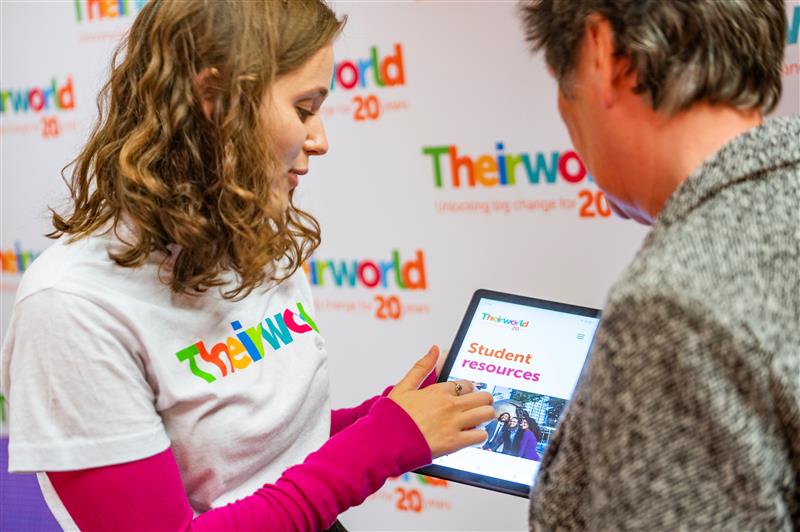 Take the test and discover how our Schools Hub helps students grasp the global education crisis