Small team gets big results by keeping girls safe and ready for school return in Tanzania
Girls' education, Technology and education, Theirworld, Youth skills
BRAC adapted its Skills for their Future programme, which is supported by Theirworld, to help students and their families cope with the challenges of the pandemic.
---
When the global pandemic suddenly shut down Tanzania's schools, many female students were left stuck at home facing a variety of challenges.
They included a lack of access to learning or little time to study because of chores. Not knowing how to combat Covid-19 and stay safe. And often not having enough food after their parents lost income.
But many of those adolescent girls and their families were helped during the three-month school closures by the dedicated team at BRAC Tanzania, which runs projects supported by Theirworld and made possible by the players of the People's Postcode Lottery UK.
Going from door to door, two ICT (information and communications technology) teachers with the Theirworld-backed Skills for Their Future programme reached 116 families in the outskirts of the capital Dar es Salaam with advice, health flyers and educational materials.
"We found that some families didn't have any knowledge about the pandemic. So we trained them on how to stay safe, on washing their hands and staying away from other people," said Lemmy Lucian.
"We reminded the girls it was important to concentrate on their studies. And we provided them with materials to learn while waiting for the schools to reopen."
Fellow teacher Aneth Nchimbi said: "One of the things we observed is that when the girls were at home they were given less time to study because they were given much more chores. 
"The girls were looking forward to going back to school. They have missed their friends."
Tanzania – which has recorded only 21 coronavirus deaths and just over 500 confirmed cases – became the first East African country to reopen its schools on June 29.
"On March 17 the government closed all schools, community activities and put some measures in place to combat the pandemic. But we did not have a lockdown like other countries," explained Susan Bipa, Programme Manager, Education at BRAC Tanzania.
"For the students it was a shock. It was an abrupt directive to close the schools and halt the community activities and bring in social distancing. It was a shock to the parents who were working because some of the companies had to close.
"In our communities, activities were halted – so we had to come up with a contingency plan on how to reach our beneficiaries."
That included what to do about the Skills for Their Future project, which helps young women aged 14 to 20 to gain skills in digital literacy, coding and entrepreneurship and receive a certification.
I assured the parents and the students that the projects will be back and will start over with a new energy. Lemmy Lucian, ICT teacher
The BRAC team adapted the programme to include promoting Covid-19 measures to students, their families and teachers to help them stay safe and create new healthy routines. Additional funding from Theirworld allowed them also to provide students with printed ICT materials to continue learning.
Veronica Kamwela – who manages BRAC projects including Skills for Their Future – said: "Though we had a small team, they did a great job in reaching more than 100 families about Covid-19.
"During the visits, the girls shared with us that they had been facing a lot of challenges including food support. Most of the parents have lost their jobs because of Covid-19. It was difficult for these people even to afford two meals a day."
The students also reported that their access to learning had been affected.
"The government introduced lessons through national television and radio – but the teaching mainly focused on form 6 and form 4 students who are supposed to do their final examinations," said Veronica.
Fewer than half of households in Tanzania have a TV set, so the BRAC team decided to print materials for the girls to study. They also bought tablets to help them access some classroom learning.
The home visits gave Lemmy and Aneth the opportunity to give parents a better understanding of the programme and how it will benefit the girls and the wider community.
"They thought when the pandemic came that maybe the projects would be closed and wouldn't go on," said Lemmy. "But I assured the parents and the students that they will be back and will start over with a new energy."
After the schools reopened on June 29, BRAC waited two weeks to ensure the classrooms were properly sanitised and made safe before inviting the students back to Skills for Their Future classes.   
They also conducted extra activities to ensure the Digital Literacy, Maths and Biology classes would run smoothly. 
This included registering each student with her designated laptop and tablet, conducting an election so the girls can choose their class representative and setting clear guidelines for ensuring laptops are handled with care. 
Theirworld's projects team said the programme officially started back in full on July 13. They wish to thank the BRAC team in Tanzania – Susan, Veronica, Aneth and Lemmy – for their incredible work throughout the past five months and also the Players of the People's Postcode Lottery UK for their support.
---
More news
Skills for the future give young people the best chance of success
Skills for the future give young people the best chance of success
Take the test and discover how our Schools Hub helps students grasp the global education crisis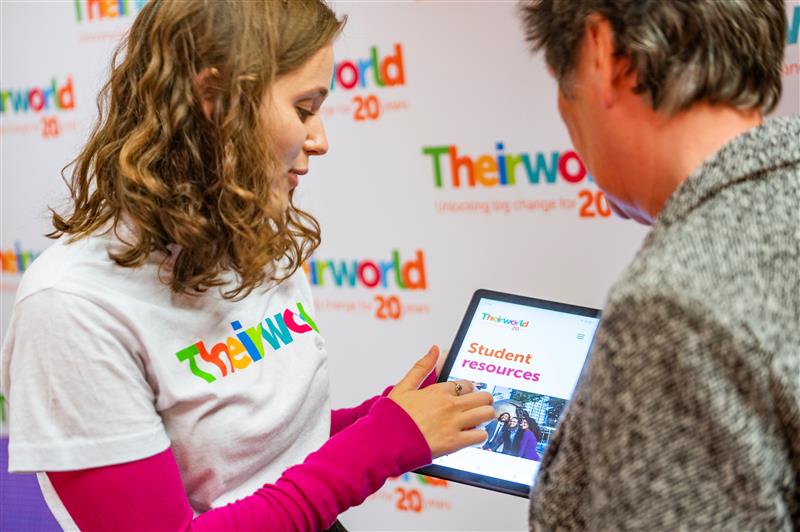 Take the test and discover how our Schools Hub helps students grasp the global education crisis