Landmark moment as world leaders act on plan to get millions of children into school
Barriers to education, Children in conflicts, Education Cannot Wait, Education funding, Education in emergencies, Girls' education, Right to education, The Education Commission, Theirworld
After campaigners demanded education for every child, the G20 summit has committed to action on a financing plan that will unlock $10 billion a year.
---
In a crucial turning point for global education, G20 leaders have made a dramatic commitment that could change the future for children around the world.
After 10 years of declining funding for education, the Hamburg summit has committed to action on a bold new financing plan that will unlock $10 billion a year and help to get millions of girls and boys into school.
It is the first time in a decade that G20 leaders have signalled action on a new education funding initiative in one of their official statements. The decision follows calls from singer Shakira, international leaders and more than 145,000 campaigners – including Theirworld supporters – to reverse the decline in funding for education. 
The idea for the innovative International Finance Facility for Education (IFFEd) to tackle a huge shortfall in funding came from the Education Commission – a group of world leaders and experts chaired by Gordon Brown, the UN Special Envoy for Global Education. 
He said: "Let us say to the 260 million children who have no school to go to: we are on your side. Let us say to the 400 million children whose education stops forever at age 11: we are fighting for you. 
"And let us say to the 800 million children whose education will end before its time: education is the civil rights struggle of our generation."
Shakira, who is a member of the Education Commission, welcomed the G20 announcement.
She said: "Over 145,000 signed a petition to urge all G20 countries to take action on education. That is powerful and inspiring! We have shown that we are not going to ignore the 263 million kids who can't access an education.
"We need to greatly increase investment in education. This is key to breaking the cycle of poverty in which millions and millions are trapped.
"We have a solution in the form of an international financing facility that could change the game for millions of kids around the world."
The announcement in the G20 summit Leaders' Declaration comes two days after demands for action to get every child in school were made at the Global Citizen Festival in Hamburg. 
It said IFFEd would be progressed under the G20 presidency of Argentina in 2018 – taking into account other existing initiatives, such as the Global Partnership for Education and Education Cannot Wait.
With more than 260 million of the world's poorest children and young people out of school, campaigners helped to push the right to education in front of the G20 – and highlighted the need for IFFEd. 
Theirworld and many other leading organisations have been campaigning for IFFEd – including ONE, Global Citizen, Save the Children, Avaaz, Islamic Relief, VSO and World Vision.
The actual wording about education in the Leaders' Communique is…
We note the UN Secretary-General's proposal to establish an International Financing Facility for education taking into account other existing initiatives, such as the Global Partnership for Education and Education Cannot Wait, and look forward to examining it in further detail under Argentina's Presidency with a view to making recommendations on it.
But contained in the 51 words of that diplomatic language is a major shift in the stance of world leaders.
Ben Hewitt, Theirworld's Campaigns Director, said: "Funding for global education has been on the decline for more than 10 years, denying millions of children a future and a hope.
"It's remarkable that these crucial few lines of text represents real progress and a strong commitment from world leaders to action. 
"Not only have they acknowledged the United Nations Secretary-General's call for a new International Finance Facility for Education, but have gone a step further wanting to shape it under the Argentine presidency."
The seriousness and scale of the global education funding crisis has finally been recognised at the G20. The leaders have acknowledged much more must be done urgently to address the global education challenge.
Norwegian Prime Minister Erna Solberg, a co-convener of the Education Commission, said: "Together, we can build a learning generation by 2030. We must invest in young people around the world. Education is the best investment available. Knowledge is key to the wellbeing of people and the planet."
Former Tanzanian President Jakaya Kikwete is a member of the Education Commission and visited several African countries to gather support for IFFEd.
He said: "IFFEd would not be a handout. It would support countries, many of which already invest a significant portion of their national budgets in education, in their efforts to achieve the Sustainable Development Goal on education.
"It is the biggest, boldest and most profound step we can take to ensure that the next generation is not lost, but learning."
---
More news
Skills for the future give young people the best chance of success
Skills for the future give young people the best chance of success
Take the test and discover how our Schools Hub helps students grasp the global education crisis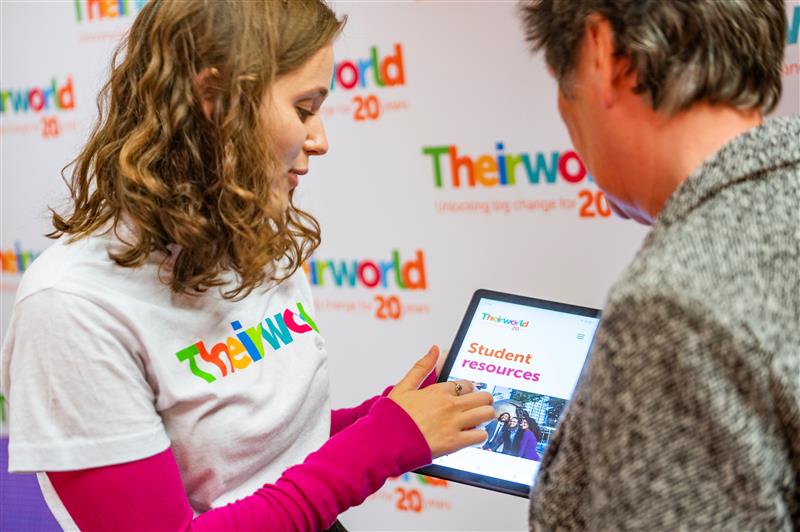 Take the test and discover how our Schools Hub helps students grasp the global education crisis