"I have enrolled over 100 students – they are fed, loved and happy to be in school"
Barriers to education, Day of the African Child, Days in the childhood development calendar, Early childhood development, Global Youth Ambassadors, Right to education, Teachers and learning
---
As he prepared for Day of the African Child on June 20, one of our Global Youth Ambassadors from Ghana wrote about the passions and challenges involved in his work.
---
Education is vital in today's society. And my contribution has become my story in this write-up.
Striving to ensure that children have access to basic education has been a challenge to most development partners in recent times.
Just to put a smile on the faces of children and achieve my goal as GYA I chose Glory Educational Complex – established in 1999 as a not-for-profit private school that has maintained its mission of providing quality tuition for its students. It currently has 120 students ranging from early childhood stage to primary school.
As a Global Youth Ambassador I have enrolled over 100 students into GLEC under a free admission project. These children are fed in school and cared with love to make them happy to be in school. 
They are taught everything in the Ghana Education Service syllabus and extra activities such as cultural and music training. The curriculum set for our students unleashes their potential, enhances their cultural lives and strengthens socialisation. 
Currently kids enrolled from the ages of four to 12 and above are able to express themselves in general English language – they are able to read and write based on their levels.
Children in the lower and upper primary are able to identify their passion and what they want to become in future.
Every term ending I embark on a free admission project to register kids whose parents are unable to enrol them in school. Children are fed in school to ensure they have a balanced diet.
I also organise programmes such as speeches, prize-giving ceremonies or annual graduation ceremonies. These bring together people in the neighbourhood to meet up in the school premises to see the potential of the children.
Apart from my passion to see children in school, I try to stabilise what I have done. And I achieve this through the following virtues: love, honesty, transparency and humility.
These virtues have kept me moving and have been loved by my students and their parents.
Our challenges are:
Lack of funds for the development of structures
Long travelling distances for some students who wishe to come to school
Inadequate teaching and learning materials
Inadequate furniture for students and teachers
In Africa we have an adage that a tree does not make a forest. I need individuals and organisations to help me address the following challenges that the school faces:
To support teachers' enumeration
To help provide an ultra-modern music and cultural class
Help in making my dream of building 21st-century classrooms and computer laboratory
Putting a smile on the faces of the young kids needs more dedication and work.
So as we celebrate the Day of the African Child, please support the children of the Glory Educational Complex to smile and be happy in school.
---
More news
Take the test and discover how our Schools Hub helps students grasp the global education crisis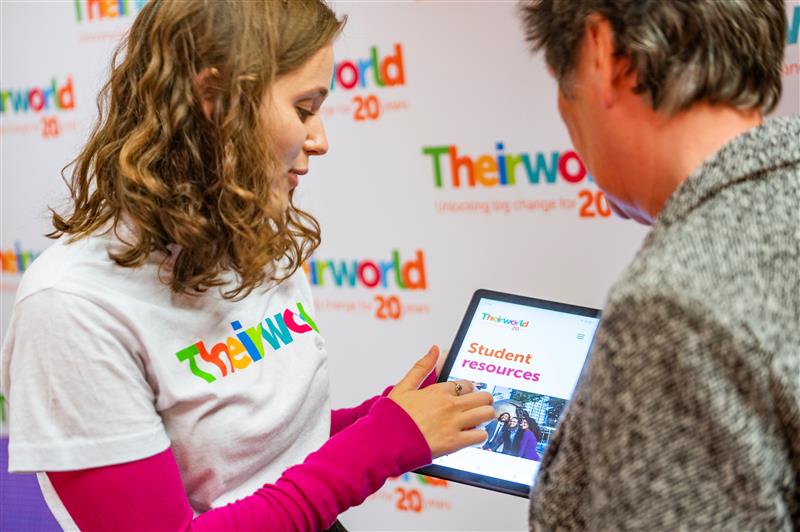 Take the test and discover how our Schools Hub helps students grasp the global education crisis
MyBestStart programme gives young girls the education they deserve
MyBestStart programme gives young girls the education they deserve