"We need to see girls as precious assets – custodians of the values that sustain our society"
Barriers to education, Child marriage, Girls' education, Global Youth Ambassadors, International Women's Day, Right to education
---
Ahead of International Women's Day, Global Youth Ambassador Ousmane Ba writes about the struggle for girls' and women's rights in his native Sierra Leone and across the world.
---
March 8 marks International Women's Day. Women are change-makers and leaders, full of great potential, their value in society immeasurable. 
As Adelaide Hoodless – the education reformer who founded the Women's Institute – said: "Educate a girl and you educate a community." This is evident in the power of women to shape the world.
Courageous and fearless – it is undoubtedly true that women are part of the solution, not the problem. 
It is time to stop debating about their worth and start seeing them as they should be: a valuable asset in society. Women's rights is not a women's issue. It is human rights.
However,  as we celebrate the strength and value of women, it is important to remember girls are still faced with many challenges related to gender. 
They are often subjected to rigid outdated practices, such as child marriage. An estimated 140 million girls will become child brides between 2011 and 2030. 
Girls who marry before age 18 are often denied access to education and are vulnerable to violence from their husbands.
According to a UNESCO report in 2013, 31 million girls of primary school age were not in school and about one out every four girls in developing countries did not complete their primary school education. 
These statistics are staggering and they are not just mere numbers. They represent a pool of untapped girl power and potential. They represent what the state of our community would look like in years to come. 
In my country, Sierra Leone, girls' education is improving but it remains a challenge due to number of factors. 
Early pregnancy, gender-based violence and child marriage continue to increase girls' dropout rates in school. 
Sierra Leone has one of the world's highest adolescent pregnancy rate – a phenomenon escalated by the outbreak of Ebola, which took thousands of lives but also left many girls out of school. 
60% of the girls in Sierra Leone often get married as early as age 11. This, coupled with other pressing factors, prevents many girls from getting an education in Sierra Leone. 
The challenges girls face are disturbing and need longstanding situations. But what is most disturbing is what society thinks of them. 
Recently I was on a radio station, discussing the importance of girls' education. I emphasised the need for a girl to be educated and how it is not a choice anymore. It is their human right to get an education. 
Soon after, a girl from the audience called and expressed her concern. It goes along these lines: "I am 16 year-old girl and I want to be a better person but I am surrounded by people who told me that I am a piece of sexual material and that makes me feel worthless." 
This made me lose my composure but, in response, I told her that her worth cannot be simply reduced to her sexual appeal and that her worth is beyond measure. 
As a society, we need to change our perception of girls and start seeing them as integral part of society. 
We need to stop sending girls into early marriage and, most importantly, we need to see girls as precious assets, not a liabilities. 
As a girl champion, advocating for girls' education, it means we have a lot of work do, in ensuring a safer and prosperous atmosphere for girls. 
But as a human being it scares me sometimes to live in a society that fails to see the value of girls and harnessing their great potential and power. 
Girls are the custodians of the values that sustain our society. How we see and treat them will determine the kind of future we create for the next generation.
---
More news
New school resources focus on disability and girls' education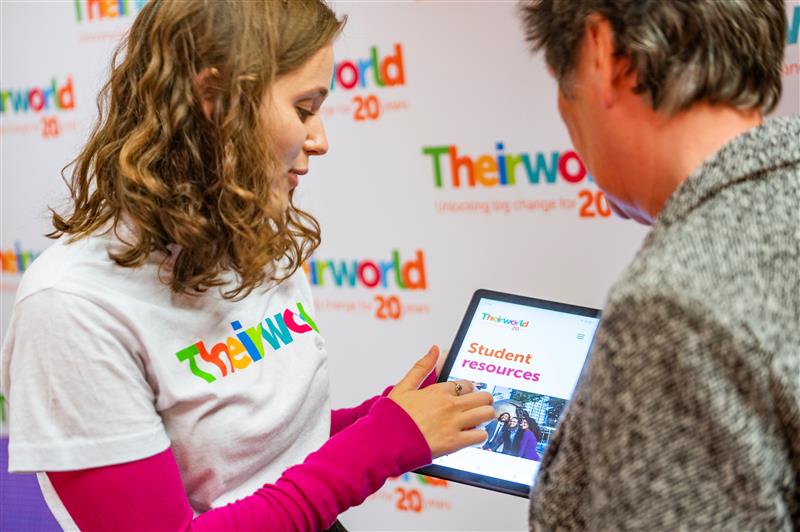 New school resources focus on disability and girls' education
Roger Federer supports the Act For Early Years campaign
Roger Federer supports the Act For Early Years campaign