Theirworld's global event champions ways to Unlock Big Change for education
Global Youth Ambassadors, The Global Business Coalition for Education (GBC-Education), Theirworld, United Nations General Assembly
---
An online conference hosted by Theirworld and the Global Business Coalition for Education discussed what needs to be done to achieve quality education for all. 
---
Global leaders, business figures, innovators, youth activists and changemakers gathered today to find ways of working together to end the global education crisis.
People from around the world took part in a virtual event called Unlock Big Change – hosted during the 75th United Nations General Assembly by Theirworld and the Global Business Coalition for Education.
The voice of young people was represented by some of Theirworld's Global Youth Ambassadors, our network of nearly 1,000 inspiring activists from 90 countries.
The event was opened by UN Secretary-General António Guterres and speakers outlined what needs to be done to make real and lasting progress towards the Sustainable Development Goal of equitable and inclusive quality education for all. 
It also marked the launch of Theirworld's new digital resource The Key, which will support community, national and global campaign efforts to advance education – from early years to youth skills for the next generation.
The event included five main panel sessions – on education in emergencies, skills for the future, early childhood education, education finance and Unlocking Big Change. There were also breakout sessions and participants had the chance to network in real time with leaders from NGOs, youth organisations, civil society, business, foundations, governments, international organisations and academia.
Guterres said the Covid-19 pandemic had seen 1.5 billion students affected by school closures. In the new academic year, two-thirds are not expected to attend physical classes.
He added: "This situation will unfortunately impact on the most marginalised and vulnerable students, many of whom many never return to school.
"To rebuild from this pandemic, education is the key to unlocking the big change we need. Education can promote equality, create opportunity and jobs, and build lasting peace."
Three of the panel sessions featured Theirworld Global Youth Ambassadors. In the skills section, Ousmane Ba from Sierra Leone talked about "a massive hill" that young people need to climb to succeed in a fast-changing world. 
He added: "Young people have been at the forefront of any sort of change. We need to empower them and provide them the right platform – not only to echo their concerns but to be able to inject their enthusiasm and energy in bringing about change."
In the early childhood education section, Eden Tadesse from Ethiopia talked about Theirworld's campaign for 10% of countries' and donors' education budgets to be spent on early years. She added: "175 million children were without early childhood education globally and Covid has worsened that figure by 40 million. ECE is monumentally important."
The panel on education finance included Sarah Musau from Kenya, where 17 million learners have been affected by the pandemic. She talked about how the bold new International Finance Facility for Education (IFFEd) will help the Kenyan government to get more children into school – "especially those from marginalised communities, children with disabilities, children from rural areas, girls".
Before #Covid19, there were over 260 million children in the world who weren't going to school.

To make education accessible, IFFEd aims to raise at least an extra $5 billion in 5 years, helping lower income countries to change the lives of hundreds of millions of children. pic.twitter.com/MeL1Glwqut

— Theirworld (@theirworld) September 21, 2020
A call for more donors to back IFFEd was made by Baroness Liz Sugg, the UK Prime Minister's Special Envoy for Girls' Education. 
She said: "IFFED is a really good example of innovation. To be frank, we have to get others supporting us on this. Some have been a bit slow to come forward. We need the World Bank and other donors to get behind this and get behind this now.
"The UK is really proud that we're the lead bilateral donor but we would be delighted to be overtaken by others so we can see more and more funds."
The last part of the main event featured a discussion with Gordon Brown, the UN Special Envoy for Global Education, and UNICEF Executive Director Henrietta Fore.
Brown said: "Education is the greatest gift of all, it's irreplaceable." 
Talking about the effect of the Covid-19 pandemic, he said: "We have to press every country to maintain their education budget. We've got to spend money on digital so that we can link children up. We must have safe schools for children – and that includes nursery and preschool education.
"Don't ever forget – education is how we bridge the gap between what we are and what we have it in ourselves to become."
Fore talked about the importance of early childhood education, adding: "We really want to sound the call that every corporation, every foundation, every government should be re-looking at their budgets and making sure that there is early childhood education of one year for every child in this world, so that they are ready to learn by the age of five."
The main event ended with a strong message from Amina Mohammed, the UN's Deputy Secretary-General. 
She said: "It is the time to increase investment in our children. We must sustain and increase domestic and international financing, attract corporate and philanthropic support and harness new mechanisms like the International Finance Facility for education to make our funding go further."
---
More news
Take the test and discover how our Schools Hub helps students grasp the global education crisis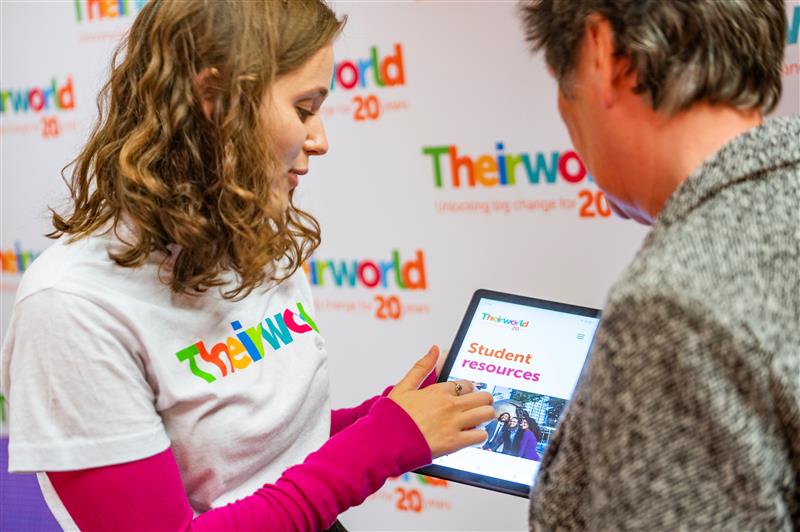 Take the test and discover how our Schools Hub helps students grasp the global education crisis
#LetMeLearn: the story of a global education campaign
#LetMeLearn: the story of a global education campaign