Global leaders join growing calls for urgent action on safety at schools
Children in conflicts, Children's welfare after natural disasters, Education in emergencies, Girls' education, Right to education, Safe schools, Safe Schools Declaration, Theirworld
---
Theirworld's report Safe Schools: The Hidden Crisis reveals that the education of nearly half a billion children is at risk from natural disasters, war or other types of violence.
---
Influential global figures have joined growing demands for action to improve the safety of children and teachers in and around schools. 
UNICEF chief Henrietta Fore and World Bank CEO Kristalina Georgieva are among those who have called for change in the wake of Theirworld's hard-hitting report Safe Schools: The Hidden Crisis.
The report projected that 620 million girls and boys – nearly 40% of all school-age children worldwide – will live in countries where their education is at risk from environmental threats, war or violence by 2030.
Around 75% of these children and young people – almost 470 million – will leave school without having achieved basic literacy and numeracy learning outcomes.
The Safe Schools report includes a range of recommendations and a Framework for Action – outlining how these threats to the education of children across the world can be tackled.
Here are some of the other shocking findings from our report – and what some leading names in the world of development, business and global finance are saying about it.
HALF WON'T FINISH SECONDARY
Nearly a quarter (22%) of children living in at-risk countries will not complete primary school by 2030 and over half (54%) will not complete secondary school unless urgent action is taken.
Henrietta Fore, Executive Director of UNICEF
"Every child deserves to learn in a safe school or learning environment. Today, hundreds of millions of children are living in countries affected by humanitarian emergencies, including conflicts. Their safety, and their futures, are at risk. 
"The Theirworld report highlights a pathway for the global community to invest in, and deliver, the safe schools that children everywhere need to create a better future for themselves, their families and their communities."
SCHOOLS UNDER ATTACK
Nearly 40 million children a year have their education interrupted or ended by wars in which schools are destroyed or occupied - and children and teachers are threatened and attacked in or on the way to school as a military tactic. 
Kevin Watkins, CEO of Save the Children UK
"This report is essential reading for anyone interested in human rights and development. 
"It is a timely reminder of the importance of safe education not just for the children and teachers concerned but for the health, peace and prosperity of the world."
DISASTERS AND DISEASE
Nearly 40 million children have their education disrupted by environmental disasters such as earthquakes and their impacts (including the deadly tsunami in Indonesia at the end of 2018) or disease outbreaks (including the Ebola outbreaks across West Africa since 2014). 

Strive Masiyiwa, Chairman and Founder of global telecommunications group Econet; Advisory Board, Global Business Coalition for Education
"Everyone – including the business community – has an interest in making sure every young person is able to learn and fulfil his or her potential in a safe school free of intimidation and violence. 
"That is how we build peaceful, stable societies. This report shows us how we can all play our part in making a difference for the next generation."
ABUSE AND VIOLENCE
Millions of children have their education disrupted by internal threats (including sexual abuse by teachers and corporal punishment), or endemically high societal violence (in countries such as Honduras and El Salvador, where rates of violent deaths are lower only than Syria).
Sir Mark Lowcock, UN Under-Secretary-General for Humanitarian Affairs and Emergency Relief Coordinator
"Humanitarian emergencies and violence are a threat to the Sustainable Development Goals – including every young person's right to an education.  
"We must all rally behind this framework to deliver safe learning environments for every child."
THE BIG THREATS
There are three broad categories of threat to safe education - external (including war, violent extremism and gang violence); internal (including corporal punishment, sexual and gender-based violence, and bullying); and environmental (including natural disasters and disease outbreaks).
Ngozi Okonjo-Iwaela, economist and former Nigerian Minister of Finance; Chair of GAVI, the global vaccine alliance
"We know that girls and young women are often most at risk when it comes to education, and this is a barrier to their health and wellbeing too. That is why safe schools and learning environments must be prioritised in emergencies.
"From Nigeria and Lebanon to Bangladesh and Central America, this report shows how we can make sure every child has a safe school."
SAFETY FOR ALL AGES
Access to safe learning environments is vital at every stage of child's education - from the pre-primary years, during which a child's brain undergoes 90% of its development, through to adolescence, when young people are prepared for the contributions they will then make to their communities, the economy and the wider world.
Kristalina Georgieva, CEO, World Bank
"Schools should be places that nurture our children so they can learn without facing danger or harassment. Safe schools are an essential part of investing in human capital and this should be a global priority so children everywhere have the opportunity to reach their potential. 
"The World Bank is committed to this agenda and we will play our part in making inclusive and equitable quality education a reality for all."
Theo Sowa, African Women's Development Fund
"In my work and in my personal life, I see every day the massive social, economic and cultural benefits that education brings. Even one child deprived of that opportunity is one too many, and yet we have allowed millions of children, especially girls and children from marginalised populations, to lose out on that opportunity – lose out on transforming  their lives , their life chances and our world. 
"This report shows how we can change course to ensure that every single young person has a safe learning environment and can develop their full potential – even, in fact especially, in the aftermath of conflict or other crisis."
Other findings from the report include...
Safe schools are strongly linked to improved physical and mental health, lower risks of exploitation such as modern slavery and recruitment into armed conflict, reduced marginalisation and inequalities, lower risks of future societal violence, and greater economic prosperity.
While any child can be affected by threats to safe schools, it is the most marginalised groups in society – such as girls, LGBTI youth, refugees and displaced children, and children affected by health problems and disability – who are most disproportionately affected, hampering their life chances and pushing them further to the margins.
Despite recent progress in the funding of education in emergencies, nearly two-thirds of humanitarian appeals fail to raise even 25% of the funds requested. Domestic funding for education within high threat countries stands at around half the recommended level.
The report recommends...
The Safe Schools report proposes a Framework for Action, through which a variety of stakeholders can identify partnership opportunities, entry points and opportunities to prioritise, invest and deliver safe schools. 
This will involve:
Identifying and strengthening policies and programmes by researching and piloting new approaches and taking successful initiatives to scale
Supporting governments to improve their capacity to achieve in full the educational rights of children and adolescents, which include ensuring schools and learning environments are safe and inclusive
Promoting an open dialogue among families, children and adolescents, authorities, the private sector and communities for immediate action as well as building long-standing responses for education within high threat countries stands at around half the recommended level
Safe Schools: the Hidden Crisis was researched, written and produced by Theirworld with the generous support of the Conrad N. Hilton Foundation. 
---
More news
Skills for the future give young people the best chance of success
Skills for the future give young people the best chance of success
Take the test and discover how our Schools Hub helps students grasp the global education crisis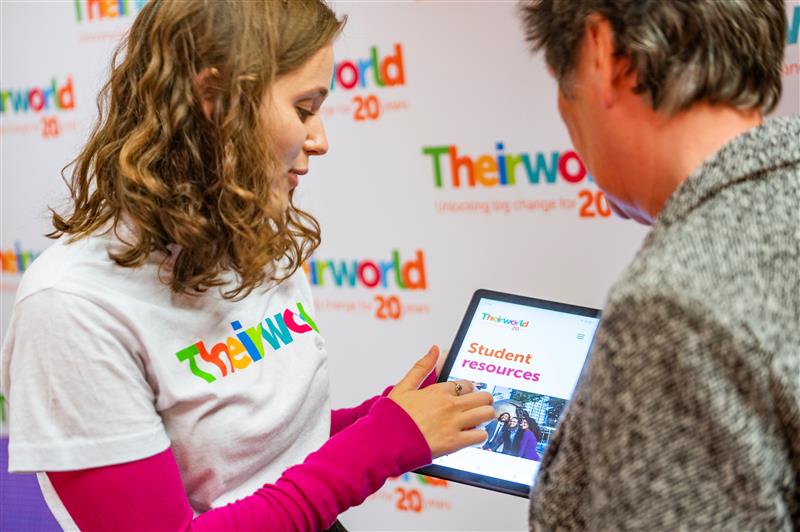 Take the test and discover how our Schools Hub helps students grasp the global education crisis