How our Global Youth Ambassadors have been inspired to Unlock Big Change
Girls' education, Global Youth Ambassadors, Theirworld
---
Our youth activists tell about their uplifting experience at Theirworld's annual International Women's Day event.
---
Theirworld's mission to end the global education crisis and get every child into school wouldn't be possible without the passion and energy of young activists.
Our Global Youth Ambassadors – a network of young campaigners from around the world – are at the heart of everything we do. So it was fitting that several of them attended Theirworld's annual International Women's Day event.
The theme, as more than 300 supporters and friends of Theirworld gathered in London, was: How we can all work together to Unlock Big Change for girls and women? One of the highlights was a special award to one of the world's most inspirational female leaders – Ngozi Okonjo-Iweala, former Nigerian Finance Minister and Managing Director of the World Bank and currently Chair of GAVI, the Vaccine Alliance.
Here three Global Youth Ambassadors – Danielle Green, Nyasha Duri and Amishta Aubeelack – tell of their experience at the event. Nyasha and fellow Global Youth Ambassador Amrit Kaur Lohia also spoke to Theirworld Chair Sarah Brown for a special International Women's Day edition of the Better Angels podcast.
Amishta Aubeelack
The Theirworld annual International Women's Day breakfast was nothing short of inspiring. 
The morning started off with a panel of women – and the one that stood out to me the most was Maysa Jalbout. She was passionate about the refugees left on the Greek islands and emphasised how Theirworld is the only renowned organisation recognising this predicament and adopting powerful strides to decrease the unimaginable conditions our refugees live in. 
In that moment, I felt proud to be a Global Youth Ambassador for Theirworld. This organisation seeks out situations that are uncomfortable and shocking and responds through long-term, pragmatic solutions. 
I felt my pride heighten when guest speaker Ngozi Okonjo-Iweala ended the morning. This woman is formidable. She has dedicated her life to improving healthcare and advocating for justice and through that cultivated robust ties with Theirworld. 
Ngozi left the whole room in goose-bumps. I was blown away by her resilience. That day I went home and thought about one thing she said that resonated with me: "Amazing things happen when girls go to school". She couldn't be more right. 
As a GYA, I felt re-energised to #UnlockBigChange and contribute to Theirworld's goal of ending the global education crisis.
Danielle Green
As I made my way to Theirworld's International Women's Day breakfast, I wasn't sure what to expect. I had suspected that it would involve a few GYAs like myself gathering for a discussion in a London hall for a couple of hours – a pleasant but small-scale meeting to share experiences and inspire each other in our work. 
I was certainly right about the sharing of experiences and the inspiration, but this was no small-scale gathering. Upon entering the hall of the Grand de Vere, I was greeted by what seemed to be thousands of women, flitting around dozens of elegantly dressed tables. 
The conversations I was to have with those women would leave important imprints in my mind: ladies who have witnessed and lived through gender inequality and discrimination at its worst but have gone on to found parties, write books, become comedians … or work in development, just like me. 
I found Ngozi Okonjo-Iweala's speech particularly inspiring – I hope that, like Ngozi, I can spend my life working for justice. Her words of encouragement to us all have rekindled the spark of motivation I have always had to ensure that every child has access to an education that will allow them to flourish on all levels. 
I hope to bring Ngozi's sense of determination – and that of the other ladies whose stories I had the pleasure to hear – into my own work. I will be finishing my Master's course at the end of this academic year, after which I hope to pursue issues related to Education for Sustainable Development, with an emphasis on realising tangible impacts on communities worldwide.
Nyasha Duri
It was a real privilege to attend Theirworld's IWD breakfast focusing on how to #UnlockBigChange to end the global education crisis: unless we act by 2030 half of young people may lack skills needed for meaningful employment. 
This really brought home again that Education Cannot Wait – but left me hopeful, optimistic and invigorated by our energy as we explored ideas while fundraising. Theirworld and Reed Smith staff did an excellent job setting up the event.
Panellists Leena Nair, Amrit Kaur Lohia, Unjoo Moon and Maysa Jalbout gave incredible insights covering the whole spectrum: from business, politics, media, history, academia, and art. I also learnt so much from the wonderful women at my table, with our discussion led fantastically by Lorraine Candy.
I'm now more inspired than ever to #UnlockBigChange in my communities by using all resources I have regardless of size, practically iterating theories for transformation and calling upon each sphere of influence beyond work.
Among the many takeaways, I loved the way Ngozi Okonjo-Iweala – moved by her award, standing ovation and how June Sarpong shared her story – encouraged us not to just let things like this be a motivational power hour or talking shop. Instead, we must keep on pushing every day to engage others in this cause we care about so much.
---
More news
Skills for the future give young people the best chance of success
Skills for the future give young people the best chance of success
Take the test and discover how our Schools Hub helps students grasp the global education crisis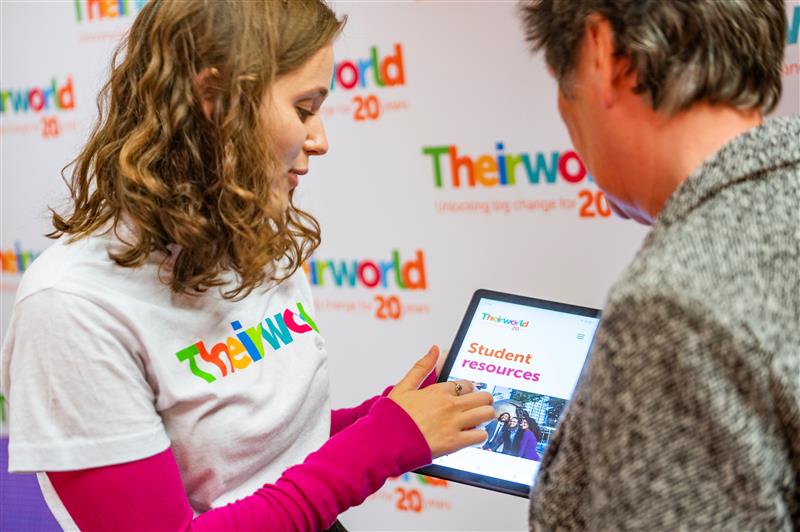 Take the test and discover how our Schools Hub helps students grasp the global education crisis