Haiti's children at risk of trafficking and exploitation after hurricane
Child trafficking, Children's welfare after natural disasters, Education in emergencies
---
Aid agencies say thousands of destitute and vulnerable children and women have been forced to move to towns for food and shelter since the deadly storm.
---
Women and children in Haiti are at heightened risk of sexual exploitation and trafficking in the wake of Hurricane Matthew, which ripped through the impoverished Caribbean nation, the United Nations and aid agencies warn.
Thousands of women and children have been forced to migrate to towns and the capital Port-au-Prince for food and shelter since the October 4 storm, destitute and vulnerable, the UN said.
Some 1.4 million people lost their homes or livelihoods in the storm, which created the worst humanitarian crisis since a devastating earthquake in 2010.
"It's important to provide options for women so they are not vulnerable to sexual exploitation, sex for cash and human trafficking," said Anthony Ngororano, head of UN Women in Haiti yesterday.
The experience of previous natural disasters provides "reason to be extremely concerned about the likelihood of this happening in this context," he told the Thomson Reuters Foundation in a telephone interview from Haiti.
"Trafficking and sexual exploitation of women and girls is all too much of a reality. This is accentuated by crises like these," he said.
Children from very poor families are particularly at risk to becoming victims of child labour and domestic servitude, experts say.
Ngororano said evidence of human trafficking is so far anecdotal, with no official figures to show the scale or any increase in the wake of the disaster.
Many towns were wiped out in the country's hardest-hit southwestern areas and nationwide about 800,000 people need urgent food aid, according to the UN's World Food Programme (WFP).
"Natural disasters, sadly, always cause an increase in cases of child abuse, sexual violence, child labour and child trafficking," said Fabiola Brignol, Haiti's advocacy manager for charity World Vision, in a statement earlier this month.
"We are very concerned that the current situation in Haiti will give rise to such cases as a consequence of the latest disaster," she said.
Even before the hurricane, child labour in Haiti was a problem, with an estimated 207,000 children trapped in domestic labour, according to a 2015 report by the Institute for Labour and Social Research (FAFO), based in Norway.
To help stop child trafficking, World Vision said it aims to set up nearly 30 centres to provide psychological care to children and protect those who are separated from or lost their families.
The UN's child agency UNICEF estimated 125,000 children need protection from violence, exploitation and abuse in Haiti in the wake of the hurricane. Rebuilding destroyed schools and reuniting children with relatives are key to preventing child exploitation, UNICEF said.
About 175,000 people, uprooted due to flooding and mudslides, live in more than 200 temporary shelters where women and girls are at risk of sexual violence, Ngororano said.
"All too often women and girls are vulnerable in shelters," he said.
One way to prevent human trafficking is to provide ways women can earn wages quickly and locally, and UN Women said it was giving priority to cash-for-work schemes to pay some 5,000 women to put together hygiene kits and clear debris.
The Thomson Reuters Foundation, the charitable arm of Thomson Reuters, covers humanitarian news, women's rights, corruption and climate change.
---
More news
Theirworld's mission to give children in crises a safe place to learn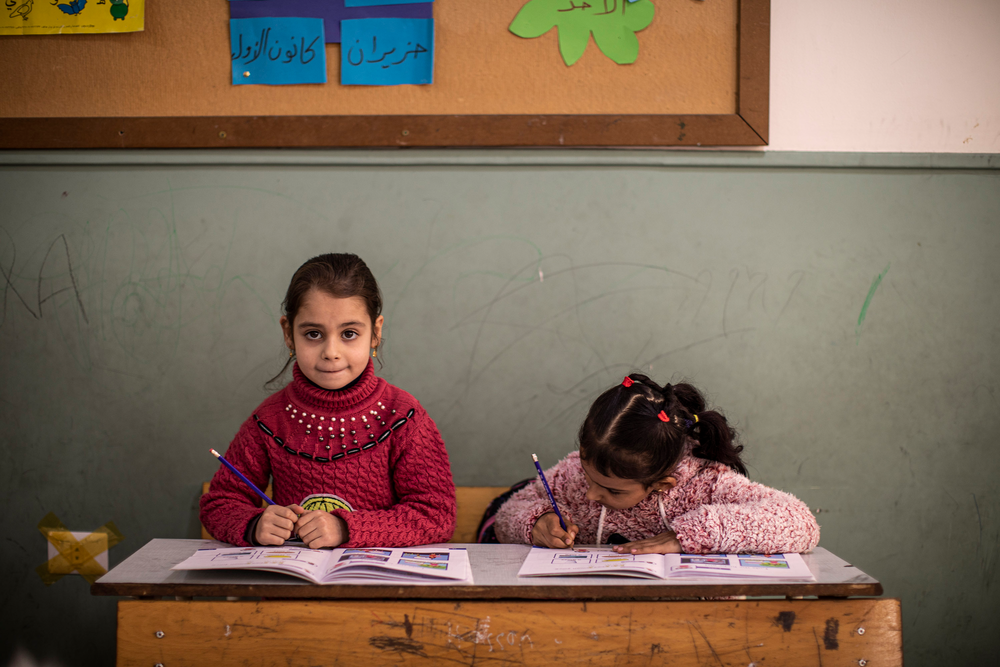 Theirworld's mission to give children in crises a safe place to learn
We thought loud noises were a storm – it was Russia bombing Ukraine
We thought loud noises were a storm – it was Russia bombing Ukraine