"Esma had difficulty speaking – but she got a standing ovation when she sang"
Children with disabilities, Global Youth Ambassadors
---
A Global Youth Ambassador tells how weeks of guidance and practice paid off for a girl from Turkmenistan.
---
Tomorrow the United Kingdom government will co-host its first Global Disability Summit with the International Disability Alliance and the government of Kenya. It will bring together more than 700 delegates from governments, donors, private sector organisations, charities and organisations of persons with disabilities. 
In the run-up to the summit, we are publishing articles by Global Youth Ambassadors – a network of more than 900 young activists in over 80 countries.
I am privileged to have met Esma from Turkmenistan. She had difficulty with speaking and required speech therapy. 
Esma's school diagnosed the problem and they asked me if I, an ESL (English as Second Language) teacher, could help her. 
I was initially worried as it was my first time working with someone with a speech impairment. Although Esma can hear and speak a few words, she could not speak clearly.
I was asked to make a plan of 10 weeks with her in order for her to be able to start speaking clearly. That's where my memorable journey began.
Esma had very low self-esteem and was conscious about the fact that her words weren't clear. I advised her to speak out no matter how the words came out. 
The first two days she was hesitant, scared and used to cry in a corner whenever I asked her something. We played trampoline and Scrabble all day to build a friendship. 
On the fifth day, she started to approach me and gave me a paper with a smiley face and hugged me. Seeing this as a positive sign, I started to incorporate my lesson plan into our activities.
In my interactions with Esma I realised she was struggling to use the words that related to rolling or pressurising her tongue. 
I chose videos that would help her to improve and practise. She would watch the videos for 30 minutes and then I would let her go out for an hour so that I could observe her level of confidence and communication.
In the mornings, we would practise reading aloud simple words as morning is a very good time to do any kinds of vocal practice, just like most singers around the world do. 
The videos were also given to her parents so that she can practise at home. However, she didn't because she wanted to make it a surprise for her parents to be able to speak and sing very clearly at the singing contest of the school which would happen at the end of the semester.
When she shared this, I understood that she was interested in improving herself now. So I kept her giving the daily little doses of confidence and training.
After three weeks, Esma started to speak to her friends although her speech was unclear. She used few words in her speech and would become silent midway into a conversation. She would explain the rest by writing on paper, which her friends would read. 
I observed she had made some friends who understood her. I used the approach of peer-to-peer learning to help Esma further.
Esma and her new friends would play speech-related games during recess. She would speak wrongly and her friends would say the same wrong words and keep repeating the words. 
At every repeat of that word, the word would sound different. This meant that the tongue had to slowly get under control of the speaker.
She found it funny but exciting as she could laugh and follow her friends enthusiastically. This worked wonders in the next three weeks. Esma's speech started becoming clearer.
A week or so later Esma told me she wanted to learn the Aladdin song A Whole New World to sing at the upcoming competition. I was stunned because the words of that song were so hard. 
I took this as a chance to be able to teach her more words. This was great because learners learn more if they are taught the way they understand and want to hit a certain target.
In the succeeding two weeks, she successfully learned to speak several difficult words which were in the song.  Every day she would practise the song with mistakes but she didn't give up. 
The parents were moved to tears of joy and me too, as this was my first time to actually help a student reach this level of improvement. Mobasshera Amin
Esma would ask me to sing along with her so that she could hear the pronunciation. We had great laughing sessions as she used to laugh at me due to my bad singing voice. Sometimes I used to make deliberate mistakes so that she could correct me with saying the right word. 
Her progress was better and faster than before. However, she would throw tantrums at times when she wouldn't be able to cope up with the tough words. Then, I would tell her to stop, rest and practise the words with her two special friends.
The final week came where Esma would have to participate in the competition. Her parents were invited to the competition as guests. She came up to the stage and got nervous again. 
When she was about to leave the stage, I showed her the "smiley face" that she gave me on her first week with me. This boosted her confidence and she started greeting the audience and sang. 
To their surprise, the parents were moved to tears of joy and me too, as this was my first time to actually help a student reach this level of improvement.
The thing that I took from these 10 weeks was that it requires a lot of research, courage, time and, more importantly, a lot of trial-and-error episodes for the learner to improve. 
My lesson plan had to keep on changing but the objectives did not. I wished to give her a five-minute speech kind of project but she wanted to sing despite stage fright. 
Esma became braver than I thought which was unexpectedly amazing. The song she sang still had a few mistakes but as she was very well known by all the teachers and parents of the school regarding her "special ability", everyone was surprised to see her on stage. 
The best part was the standing ovation she received!  Esma gave me an unforgettable "whole new world" of a carpet ride. Thank you Esma!
---
More news
New school resources focus on disability and girls' education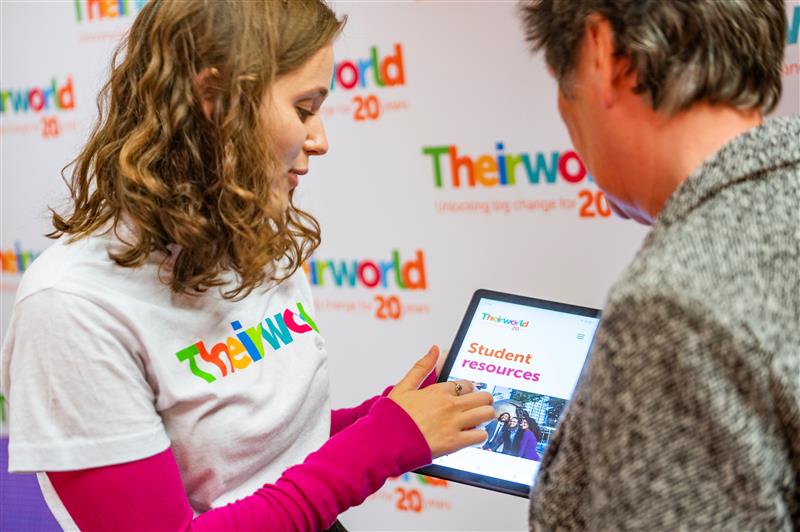 New school resources focus on disability and girls' education
Roger Federer supports the Act For Early Years campaign
Roger Federer supports the Act For Early Years campaign