In schools, homes and villages … how 1.5m people signed a call for education funding plan
Education funding, Global Youth Ambassadors, Right to education, Theirworld, What is advocacy?
The petition demanding world leaders back a big idea to give more children a quality education will be delivered to the UN Secretary-General by youth campaigners.
---
It will be a momentous occasion tomorrow when three of Theirworld's Global Youth Ambassadors hand over more than 1.5 million petition signatures to the head of the United Nations.
We have secured a meeting with Secretary-General António Guterres to deliver demands from around the world for an innovative funding plan that will help millions of children into school.
Behind that iconic moment is an incredible amount of effort to collect those 1.5 million-plus names, calling for the International Finance Facility for Education (IFFEd) to be established.
Theirworld has been working with the organisations BRAC and Idara-e-Taleem-o-Aagahi (ITA) and the campaigning website Avaaz to maintain pressure on the world's most powerful leaders to keep a historic promise on education. The G20 summit last year made a landmark commitment to act on IFFEd – a bold plan to unlock $10 billion of funding each year – by the end of 2018. 
The petition's 1.5 million-plus signatures are part of a growing campaign to ensure the big idea that could help to deliver quality education for every child becomes a reality.
You can join the campaign too
Among those who have been collecting signatures is Kakar Hayat Hamandzai from Pakistan – one of our network of more than 700 Global Youth Ambassadors in over 80 countries.
He has gathered over 20,000 signatures on his own from educational institutions, centres and communities in his local Killa Saifullah district and beyond in Balochistan province.
Kakar said: "I have travelled from city to city, district to district, community to community to collect the signatures and carry our message of education for every child.
"When I was collecting the signatures I met with many different people, children and teachers. They were all enthusiastic for education. 
"But I found many schools in a very bad condition. Many had no resources like classrooms, boundary walls, toilets and other facilities and some students did not even have books and pens."
Kakar drew on his own childhood experiences of having to walk more than four miles a day to school. Now he has degrees in education and political science and wants to help others change their lives.
He said: "If all children get a free and quality education, it will be a blessing for both my community and country."
Incredibly, BRAC – the development organisation based in Bangladesh – collected more than one million signatures by hand. BRAC has a massive network across the country and globally, so it tapped into those resources.
"We are very happy to join this campaign," said Profulla Chandra Barman, Programme Head of BRAC Education. "We have 650 branch offices across Bangladesh and we operate more than 30,000 schools, 2900 libraries and 5000 adolescent clubs.
"We explained to our staff about why we needed this petition both for Bangladesh and globally. They then communicated that message to students, teachers, librarians, youth and others. 
"That is how we collected over one million signatures – all on paper. The biggest challenge was to organise it over just two weeks."
Profulla said there are various issues facing education in Bangladesh – among them dropout rates, quality of education, lack of learning materials and being able to get to remote schools, particularly in monsoon season.
He added: "If education was fully funded, we could have better learning materials, smaller class sizes and interactive classrooms in remote areas. 
"We told the people about the IFFEd campaign and explained about the support BRAC gets to enrol children in school – and how many of those children have gone on to complete school and go to university. When donors support us, this is what happens."
ITA has collected more than 500,000 petition signatures – most of them in person.
"We have a huge network of volunteers in Pakistan who help us on a daily basis with our data collection process," said Sahar Saeed, ITA's Deputy Director Research. 
"We have offices across Pakistan and are working in more than 1000 schools. We also have Education Youth Ambassadors who work with us, along with other civil society organisations, schools, universities and partners.
"Reaching out to so many people has been a challenge – but persuading them to sign has not. 
"There are so many challenges being encountered in these communities – some are living in poverty, some kids are not going to school, some have disabilities and there is no provision in schools for them.
"The government in Pakistan has been striving really hard. But there are not enough teachers, many school buildings are shut and there is no transportation in some areas.
"Kids are very eager to learn. Education means children can do something better with their lives."
If IFFEd helps to deliver fully-funded education, Sahar sees a brighter future.
"It would bring a revolution – if wisely spent," she said. "It's going to bring a lot of change. We will have more schools, more children going in, more teachers and more learning. In a couple of years we will start seeing a difference."
---
More news
New school resources focus on disability and girls' education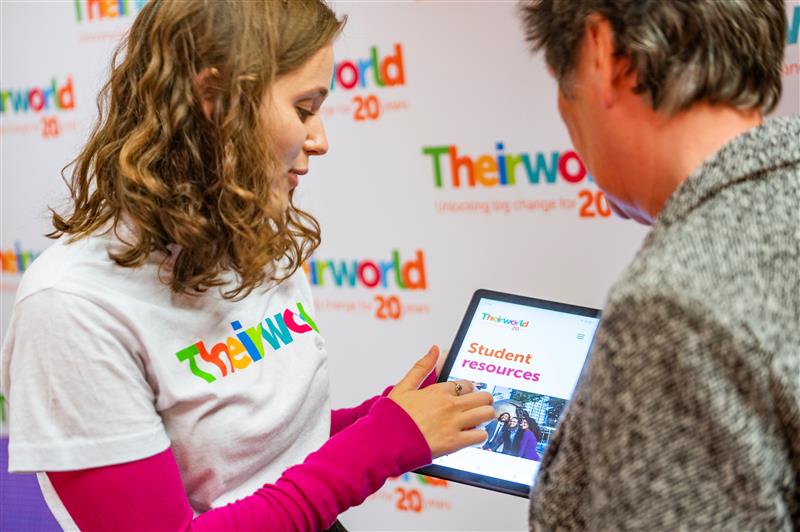 New school resources focus on disability and girls' education
Roger Federer supports the Act For Early Years campaign
Roger Federer supports the Act For Early Years campaign