How children around the world are #StillLearning at home during school closures
Coronavirus and education, Theirworld
As Theirworld starts to share playful educational and entertaining activities, we look at how students are coping with lessons away from the classroom.
---
Some countries have started to reopen their schools – but about one billion children are still unable to enter a classroom because of coronavirus closures.
Taking lessons at home will continue for many weeks if not months. That means teachers, governments, UN agencies and NGOs are coming up with innovative ways to deliver schooling remotely and give children a sense of normality during this traumatic time.
Theirworld has launched the #StillLearning campaign, which will share fun and practical ways to keep youngsters educated and entertained. We kicked off the campaign with Theirworld ambassador Nick Sharratt – the brilliant British illustrator and children's author – inviting families to share their children's drawings on social media to show how they are #StillLearning at home.
Watch the video to find out how to take part
Italy
Twelve-year-old Giulio Giovanni has an unusual remote study spot – under a tree a mile from his home in a country that has been devastated by Covid-19. The phone line at home has been out of order for months and there is no mobile phone signal.
So his mother drives him every day to a place outside the small Tuscan town of Scansano where he can pick up a signal.
"On days when I have lessons I bring from home a table, a stool and my bag with the tablet and all the books that I need and then mum and I come up here in the car," said Giulio. "We set everything up and we are ready for our lessons.
"I prefer being at school because at least there I'm with friends. Here I can see them but only via the screen. At least there I would see them in person."
It's been a learning experience for Italian teachers too. Anna Niro told The Local.it that switching to working online "has been a positive experience". She added: "I've found the most challenging thing about converting to remote lessons has been the internet connection itself.
"I've also found, however, my students to be enthusiastic about the opportunity to learn in this way as it's more challenging than face-to-face."
Panama
When schools were suspended in March, some made a quick switch to online classes – but many have struggled to make distance education a reality.
Lola Schverdfinger, 15, does her schoolwork at home at Gamboa in Colon Province. She said: "I have live online school via Zoom every day from 9am to 12pm with a similar schedule I had during regular school classes. 
"Between 12pm and 3pm I have my teachers online in case I need to contact them for assistance regarding homework or assignments. It really works.
"What I miss is hanging out with my friends, at recess time, between classes, at lunch time. Although we meet online every day, either to talk or play at night, it's not the same thing as hanging out with them. What I really dislike is not being able to do sports."
Nigeria
Tolu Alagba, 13, copies down class notes from a communal village chalkboard, the closest thing to online lessons on an island with no electricity that is a boat ride from the city of Lagos. 
Fewer than 8% of households in Nigeria have access to the internet. So a retired teacher is giving lessons to around 20 children three times a week in short sessions. Tolu said: "I'm happy, a teacher brings us together to learn a few things." 
Kenya
Amina Hassan would normally be teaching her class at Dadaab refugee complex. But with schools closed, she broadcasts to her Grade Five class of around 100 over Radio Gargaar, a community station.
The lessons help Amina and her fellow teachers support over 100,000 students at the camp's 22 primary and nine secondary schools.
"I am happy to relate with most of my students over the radio. They sometimes call me at the studio to ask questions," she said. "I believe they are learning even though I can't see them."
Venezuela
In the remote southern community of Palo Mocho, where internet and cell signal are sparse, education has returned to rudimentary roots. Teachers post a sign at the local store asking parents to visit the school so that they can copy homework assignments written out on a sheet of paper taped to a chain-link fence.
"It's not easy to keep classes going," said Ariannys Rengel, 32, a school director who has been visiting local families, at times walking up to an hour to reach their homes.
"The government talks about technological advances but out here there's no television, no radio and no smartphones."
United States
In Chicago, 70% of the 360,000 students in the public school system are economically disadvantaged and a third have no access to a laptop or desktop computer.
So officials have been distributing 100,000 laptops. In the poor neighbourhood of Englewood, special needs teacher Winnie Williams-Hall admitted when classes moved online: "I have no idea if all of my 14 students will be logged online."
She uses textbooks, dry erase boards and giant sticky notes to teach her middle-school students reading, math, social studies and science through live and recorded videos.
Williams-Hall said most of her students rely on personal relationship with her, adding: "They can message me and text me, but that's not the same."
In Miami, 16-year-old student Elsa Pena said: "It's definitely opened my eyes to stuff that I do every single day. I'm suddenly missing a lot of kids, a lot of my friends. We don't realise how awesome school is until we lose it."
In Houston, Karissa Caruso's eight-year-old daughter Amari, eight, has been doing lessons online. Karissa said: "She was sending us messages right away. It was a little challenging at first, since I know nothing about Google Classrooms, but if I had a question I've been able to reach out to the teachers and they've responded right away."
India
Akshita, a student at RIMT School in Chandigarh, said: "Our teachers are diligently working from home and giving us assignments that I love doing. I usually finish these early and then help my younger sister in her studies."
Syria
After bombs forced him and his students from their homes, Ahmed Hadaja began teaching in a tent in the Atmeh camp near the Turkish border. Even when the threat of coronavirus shut even his tented school, he found a way to carry on.
"We're urging parents to help their kids study well in their own tents, to do the homework and then message it so that we can correct," said Hadaja, a 21-year-old medic and volunteer Arabic teacher. 
Along with five other young teachers, he created a Whatsapp group on the messaging app for each class from the first to the fourth grade. They send brief video lessons and homework to the phones of the parents.
At the Kili camp for internally displaced people in rural Idlib, nine-year-old Maria gets lessons through a WhatsApp group on her father's smartphone.
"I like getting the lessons this way, I like to keep learning," she said. "But I really would like to get back to the school to meet my friends and play with them." 
Colombia
Martha Gracia, who teaches information technology at a school in the small town of Arbelaez, said teachers are sending homework exercises to students by WhatsApp – even though only around 30% of them have access to the application.
The rest will have to rely on their parents collecting paper copies of the instructions from a local coordinator.
"The majority of the students are from rural areas and don't have resources or computers at home," said Gracia.
---
More news
Take the test and discover how our Schools Hub helps students grasp the global education crisis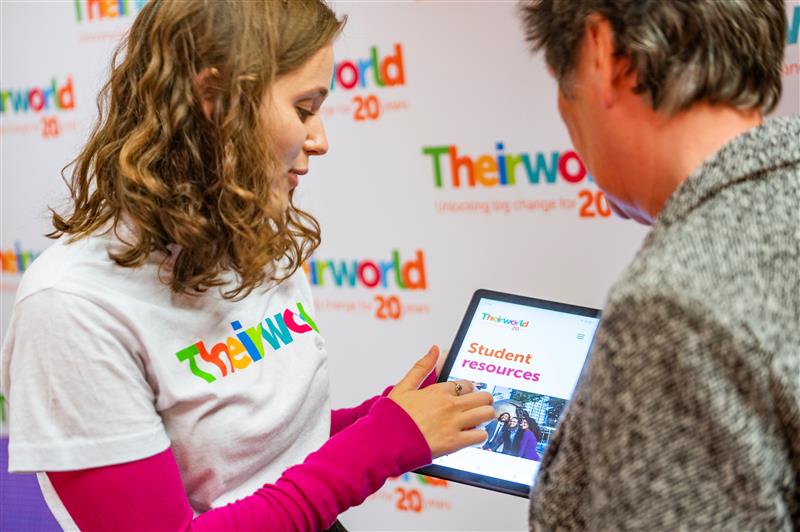 Take the test and discover how our Schools Hub helps students grasp the global education crisis
#LetMeLearn: the story of a global education campaign
#LetMeLearn: the story of a global education campaign