How it was made: dramatic virtual reality film shows life for Nepal's children
Watch the film in the player above – and find out here how to get the best effect on your mobile phone.
Can you imagine what a child feels when they live through a devastating event like an earthquake?
What life is like long after the bodies have been removed but the destruction is still all around?
That was the task facing a talented group of film-makers when they started a project with the children's charity Theirworld to tell the stories of children one year after the earthquake in Nepal that killed almost 9000 and left millions needing humanitarian aid.
What they came up with is a stunning virtual reality, 360-degree video that transports the viewer into the heart of the country. The film, called Safe Schools: Nepal, was launched today.
It supports the charity's #SafeSchools campaign – calling on world leaders to commit to urgent funding to provide education to children caught up in natural disasters and conflicts ahead of the first-ever World Humanitarian Summit next month.
We talked to the team to find out more about why and how the film was made. Theirworld – the charity behind A World at School – partnered with the digital agency Rain, which then brought in Christian Stephen, award-­winning conflict journalist and Co­-Founder/Creative Director of the multimedia production company Freelance Society, and VEHICLEvr, The Uprising Creative's virtual reality studio.
Jeff sets up the 360 equipment on the first day of filming in Bhaktapur, the ancient city devastated in the earthquake Picture: A World at school/Claire Wilkinson
Christian said: "My first film in virtual reality – Welcome to Aleppo – focused on showing war in 360, so after releasing that film Rain CEO Brian Edelman shared his idea about using VR to highlight more issues globally.
"We then worked to bring the project to reality with the Theirworld team. As soon as we were all agreed on the direction, the production began."
The team that went to Nepal was Christian; Dylan Roberts, CEO of Freelance Society; Jeff Nicholas, Co­-Founder and Executive Creative Director at The Uprising Creative; Jonathan Craven, Head of Film/Video at The Uprising Creative; and producer Lauren Ciell.
"I had never worked with an NGO before," said Jonathan. "So I was super-excited to be working with Theirworld, Rain and Future Society on a project as special as this."
The concept was always to make a 360-degree virtual reality film to highlight the challenges in the education system after the earthquakes.
Jeff said: "It was one of those projects that we were really honoured to be a part of. The concept was loose so we worked hand-in-hand with Freelance Society and Rain to develop a storyline, approach and point of view that we thought would really illustrate the challenges – but also provide a hopeful approach."
Dylan said he began communicating with friends he had made in Nepal last year when the earthquakes hit.
Christian and Jeff set up next to one of the destroyed schools in Sindhupalchok district Picture: A World at School/Lauren Ciell
He said: "When doing any story internationally, it is very important to have great local fixers who are respected and have access to get what you need."
Jonathan added: "These fixers – child advocates, teachers and producers – really helped form this story in a way we never could have on our own."
A huge amount of groundwork was done before the team headed to Nepal. First the narrative and script, then the technical and location planning.
"About 70% of any shoot is done before you hit the ground," explained Christian. "So the team was prepared thoroughly, including choosing which rigs to use, which places to cover, which fixers would be best, but none of that can start until there's a creative framework to build on."
The team travelled to Nepal to meet Claire Wilkinson, Senior Campaigns and Communications Manager at Theirworld. The eight-day trip included six days of filming.
Jeff said: "The plans changed once we hit the ground. We had a framework but the people we met and the conditions on the ground had a massive impact on what we actually covered."
The crew set up their equipment at the river crossing in Dhading district Picture: Lauren Ciel
Christian, who is used to working in conflict situations, agreed that the plan changed within hours of arriving. But he added: "Although there were challenges and logistical barriers, this was one of the most clear-thinking, swift and strong shoots I've done."
Those challenges included a petrol shortage and other many technical issues including physically difficult shots and filming with a drone.
Dylan said: "I focused primarily on making sure the cameras, rigs and sound recording were always good to go. There were a lot of difficult shots and sometimes these cameras can be tricky.
"The modified DJI Inspire drone was great to see in action and I had to catch it in the air so the VR camera wouldn't hit the ground upon landing."
Now for the science bit. 
Jeff explained: "We shot with a couple of different GoPro-based 360 camera rigs, one six-camera rig, a four-camera rig with modified fisheye lenses and a two-camera rig with the same fisheye lenses that we used for our drone shot.
"We also used this really awesome little gyro stabiliser you see in the first shot of the piece that allowed us to move the camera in a way that doesn't cause the viewer to get sick."
Children travel in the basket 80 feet above the river Picture: A World at School/Claire Wilkinson
The most memorable section of the film shows children crossing a river in a rather rickety-looking basket on cables.
Jonathan said: "It took a bunch of tech gear we'd brought plus rope, chewing gum and Scotch tape to get the cameras rigged off a hand-propelled steel basket full of school kids 80 feet above a rocky river bed. The resulting footage was worth it all though."
The team are confident that virtual reality will help to bring the plight of children in Nepal to a new audience.
"I truly believe VR will be most effective in the education world, allowing audiences to fully immerse themselves into cultures, stories and more," said Dylan. "For a lot of people, international travel is difficult but VR has a chance to educate audiences properly."
What does 360-degree and VR technology add to the telling of human stories like this one?
"We want people to really understand what is going on in Nepal, connect with it and hopefully be inspired to take some kind of action, however big or small," said Jeff.
A villager tries on the VR headset in Sindhupalchok Picture: A World at School/Claire Wilkinson
Dylan added: "I truly believe VR will be most effective in the education world, allowing audiences to fully immerse themselves into cultures, stories and more. It has a chance to educate audiences properly."
Christian said: "This film exists to conjure an understanding about education in the midst of disaster. I want it to highlight the importance of safety for children in all its forms – mind, body and spirit."
Jonathan believes Safe Schools: Nepal is a major step forward in the use of VR technology.
He said: "To me, this type of film is the most effective use of VR to date – to be able to be immersed in places you'd be very unlikely to go visit and be surrounded by people you'll likely never meet. It may be the ultimate form of arm-chair traveling.
"But more than that – it can create a kind of empathy no other form of film-making can approach."
---
More news
Theirworld's mission to give children in crises a safe place to learn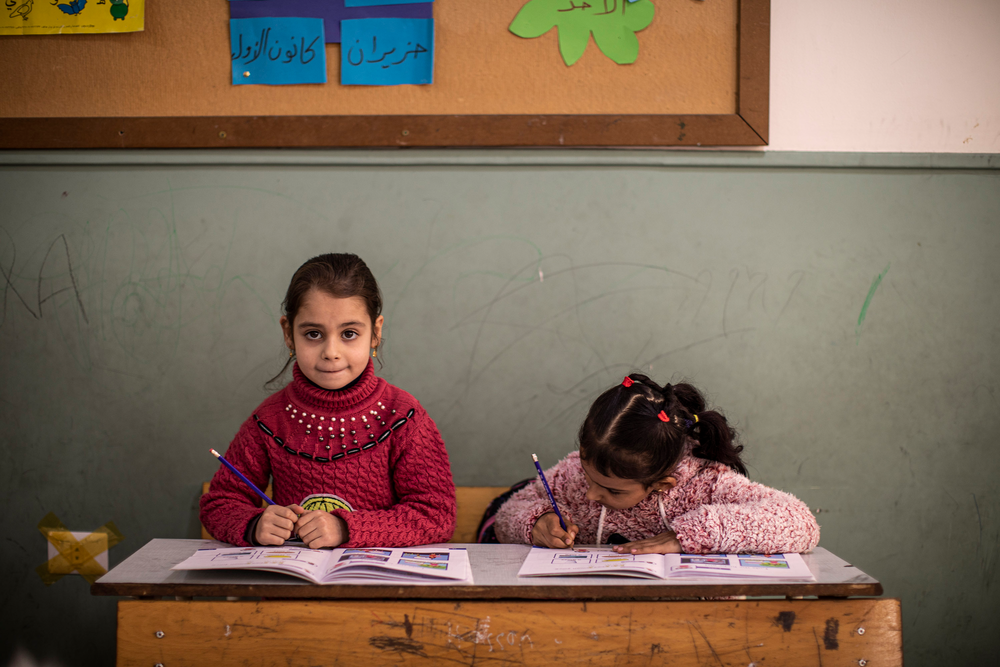 Theirworld's mission to give children in crises a safe place to learn
We thought loud noises were a storm – it was Russia bombing Ukraine
We thought loud noises were a storm – it was Russia bombing Ukraine