How natural disasters in Asia Pacific have left hundreds of thousands out of school
Education funding, Education in emergencies
A boy swims in floodwaters at Kyaut Ye village in Myanmar
By Alisa Tang (Thomson Reuters Foundation)
From earthquakes in Nepal to flooding in Myanmar, disasters damage or destroy thousands of schools – leaving hundreds of thousands of children unable to go to class. But education is often overlooked in humanitarian responses.
Deadly earthquakes in Nepal last year damaged or destroyed more than 8200 schools, leaving 870,000 children without classrooms.
Nearly a year on, many children were still taking lessons in makeshift facilities without walls, exposed to cold winter weather, Save the Children said in a report on lost education due to disasters in the Asia Pacific.
Part of the problem is that less than 2% of humanitarian aid is earmarked for education, leading to delays in the reconstruction and repair of damaged schools, the global aid agency said.
"Regardless of the size of the disaster – it doesn't matter if it's small or big – education is disrupted, and students' lives are impacted," said Sarah Ireland, the author of the report, by telephone from Melbourne.
A child walks along a Nepalese street destroyed by the earthquake Picture: A World at School/Claire Wilkinson
The report, to be launched tomorrow, details the impact on schoolchildren of five disasters in 2015, including flooding in Myanmar that put 4100 schools out of action, leaving 250,000 children in limbo for several months.
"Education needs to be prioritised as part of a holistic response," said Ireland, the humanitarian advocacy and policy adviser for Save the Children.
Education Cannot Wait fund aims to help 13 million children hit by disasters and wars
"If education is supported before, during, and after disasters, it can save lives, protect children and benefit whole communities and countries."
For example, many children attend schools that are not built to withstand the impact of natural disasters, Ireland said.
Primary school children wear masks while walking home from school in Karo district, North Sumatra province, after the eruption of Mount Sinabung in May
"If you consider how much time a child spends in schools, if a disaster hits, like an earthquake or a flood, that school is likely to cause injury or loss of life," she said. "We need to ensure the school is a safe place for children to go."
Schools that are still standing often play an important role in the humanitarian response to a disaster, serving as a community hub where disaster-hit families can access healthcare, clean water and food in safety.
"If children are in a school … their parents can actually go about their business rebuilding their lives, knowing their children are in a safe place and that their children will be less vulnerable to trafficking, abuse or exploitation," Ireland said.
Save the Children's report – titled Education Disrupted – will be launched in Bangkok on the sidelines of a United Nations conference on disaster risk reduction.
Ireland said the report aims to provide information that will help improve future data collection and thereby improve post-disaster support and response.
Cyclone damage to a school in Vanuata Picture: OCHA
Here are some key facts and figures from Save the Children's report Education Disrupted.
INDONESIA
Between January and August 2015, Indonesia experienced 1160 disasters, including drought, forest fires, volcanic eruptions, landslides and floods
Also during that period, there were 373 floods, affecting 607,000 people, according to the United Nations Office for the Coordination of Humanitarian Affairs (OCHA).
Rains in January 2015 submerged roads in Jakarta and more downpours in February caused further flooding. It affected 351 schools in northern Jakarta. Inaccessible and submerged, some were closed for up to two weeks.
VANUATU
The Pacific island nation of Vanuatu is home to about 250,000 people, with 64% of the population exposed to natural hazards each year, including storms, floods, volcanic eruptions and earthquakes.
Cyclone Pam, a category five storm in March 2015, triggered floods that destroyed infrastructure, homes and livelihoods, affecting 80% of Vanuatu's people and leaving half the population in need of emergency assistance.
More than half of schools were damaged or destroyed and 34,500 children were affected. Schools were closed for up to 30 days and 34 schools were used as evacuation centres.
NEPAL
A 7.8 magnitude earthquake on April 25, 2015, followed by a 7.3 magnitude quake on May 12, killed 8900 people, destroyed 605,000 homes and damaged 288,000 more.
About 3.2 million children were affected by the quakes and of those 870,000 were left without permanent classrooms.
More than 8200 public primary and secondary schools were damaged in the quakes. Almost 52,200 classrooms were damaged or destroyed.
MYANMAR
In June 2015, seasonal rains triggered heavy flooding in parts of Myanmar.
At the end of July, Cyclone Komen brought heavy rains and strong winds, resulting in severe, widespread flooding that affected more than nine million people across 12 of the country's 14 states and regions.
From June to October, the floods displaced about 1.7 million people and damaged 4116 schools. About 250,000 children could not attend school because of the floods.
PHILIPPINES
In 2015, 14 typhoons and tropical storms hit the Philippines.
Between 2007 and 2011, 10.8 million students in the Philippines were impacted by disasters and 8472 schools were used as evacuation centres.
Typhoon Koppu, a category three storm in mid-October, hit Central Luzon, north of Manila, causing widespread floods and landslides.
The typhoon displaced one million people and damaged 803 schools, which were closed an average of two weeks, while 138 schools were used as evacuation centres.
The Thomson Reuters Foundation, the charitable arm of Thomson Reuters, covers humanitarian news, women's rights, corruption and climate change.
---
More news
Young people's tireless campaign for an education game-changer
Young people's tireless campaign for an education game-changer
Theirworld's mission to give children in crises a safe place to learn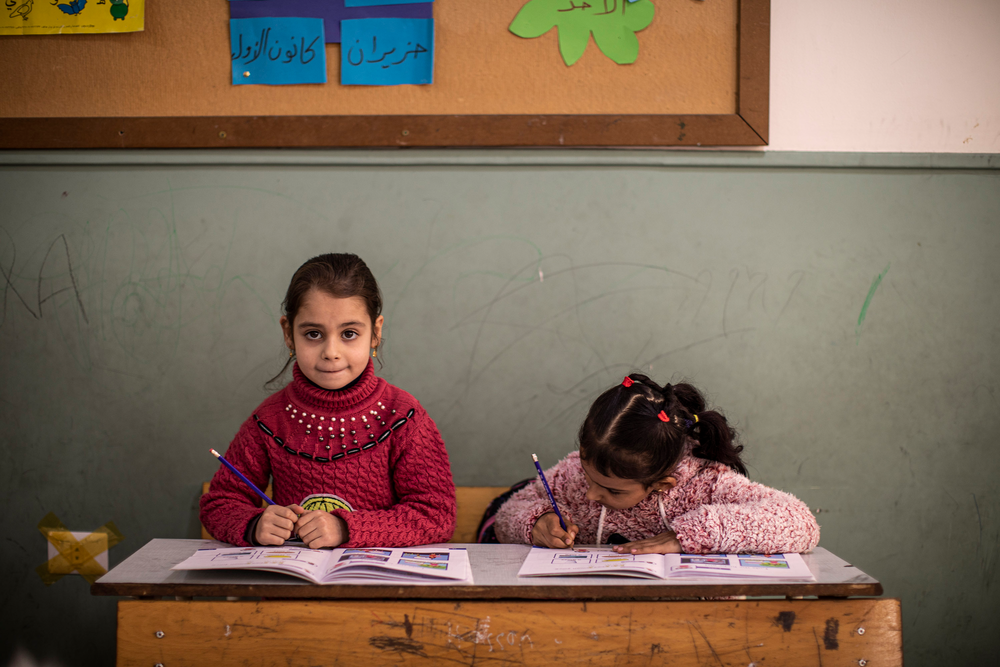 Theirworld's mission to give children in crises a safe place to learn