How our inspiring Global Youth Ambassadors are working to end the education crisis
Global Youth Ambassadors, Theirworld
---
Five of our network of young campaigners talk about what they're doing to help children in their own communities and beyond.
---
At Theirworld, our mission is to end the global education crisis and ensure every child can unlock their potential. But we don't just help young people – we also work with them to bring about lasting change.
Our Global Youth Ambassador (GYA) programme is a network of almost 1,000 campaigners aged 18 to 28 from across the world who are collaborating to unleash the potential of the next generation. We place these inspiring and diverse young people at the forefront of Theirworld's campaigns and events, as well as encouraging them to work within their own communities.
To recognise the extraordinary passion and commitment of our Global Youth Ambassadors, their fellow activists nominated six finalists for the title of GYA of the Year 2020. The winner was Emmanuel Sani, a campaigner from Nigeria who has made a big impact in a short time. You can read about his achievements and hear what he said about being chosen by his fellow GYAs.
But we also wanted to recognise the amazing work of the other finalists. So here we spotlight just some of their activities in recent months – mostly during the pandemic – by talking to Ahmed Oueslati from Tunisia, Bushra Farooq from India, Fontoh Desmond Abinwi Fontoh from Cameroon, Iswat Badmus from Nigeria and Simbiat Oladoja from Nigeria.
What were you most proud of achieving in 2020 to further every child's right to education?
Fontoh: The ongoing crisis in Cameroon has seen schools shut down and burned, kidnapping and the killing of kids who dared to go to school. We began a campaign within our community, sensitising the rebels on the need for school resumption. An agreement with them meant we started a temporary community school to accommodate 200 kids aged five to 12.
Simbiat: I have been able to create awareness about the importance of education in the northern region of Nigeria. Educating the community leaders and parents about the importance of education is the first step and has helped most of the parents to change their mindset about education and also to support their girls to go to school. The use of local languages in this made more impact.
Ahmed: Every year I organise a campaign with my team from the Local Youth Pilot Council of Testour city to help pupils from needy families buy education tools, books and school bags. Our capacities are limited but for the second year we reached our target.
Bushra: I began a project on menstrual hygiene education for girls with autism in Lucknow. My proudest moment was raising enough money for sanitary products so the girls don't have to miss school and can be comfortable. 
Iswat: I initiated an online learning platform in collaboration with fellow GYAs where 20 teenagers were exposed to learning, innovation and life skills, which made them productive during the lockdown.
What other activities have you been doing outside of Theirworld in the last year to overcome barriers to education?
Ahmed: I participated in an online campaign to help students without computers and phones and we raised enough money to buy 1,000 tablets. I also worked with the Search for Common Ground organisation as a facilitator of a peace club in Testour, helping to educate teenagers on peacebuilding, tolerance and citizenship.
Bushra: Through Plan A – an app that links high school students in India with university students and professionals for academic/career mentoring – we have designed an algorithm that will identify career paths and link students with people who can mentor them through the next stages of their education. This project idea has been selected by the Harvard Innovation iLab and currently is in its pilot phase. We want to create a platform that connects urban poor high school students with mentors.
Iswat: I carried out menstrual hygiene management programmes that helped schoolgirls manage their periods with confidence. I also facilitated an online skill acquisition programme that has helped over 2,000 students hone their entrepreneurial, corporate and social skills.
Fontoh: I was able to create eco clubs in four schools where we trained kids and educated them on the need to protect the environment. We also presented proposed curriculums to school proprietors on the need to trigger kids towards environmental education. 
Simbiat: As a food scientist and nutritionist, I knew that nutrition education was lacking in most schools curriculum. So I decided to start an initiative called Nutrified which focused on using education as a tool to reduce the rate of malnutrition and poor school performance among schoolchildren. I also partnered with Pan-African youth groups to organise education forums that fight against gender-based violence.
What message would you like to share with your fellow GYAs who are working together to end education injustices?
Iswat: I want to appreciate my fellow GYAs for the good work they do towards ending education injustices and also to encourage them not to relent in the cause. They should consider a key aspect of social change, which is collaboration. This will make their work easier and will achieve more.
Bushra: I want to remind you that we all have been created for a purpose. For me, a purpose means some form of change – it's like the butterfly effect, a small vibration can shake up the entire cosmos. Taking the time and effort to go beyond what is expected of you and ensure that communities around you are being helped is what truly makes you a representative of Theirworld. 
Simbiat: The most powerful tool a child can have to secure their future is good education. Let's keep fighting until every child in the world has this powerful tool.
Ahmed: Our children are our future and there is no future without a well-educated generation. We should all work hand in hand to achieve the goal, which is helping every child to take his or her right to education.
Fontoh: Change can only be achieved through education. It is a treasure that must be prioritised. Together let's continue to stand firm and tall to ensure every single child should have the right to quality education with no gender bias.
Do you want to be a GYA?
Dawn Humphreys, Theirworld's Senior Youth Engagement Manager, said: "It has been amazing to learn from what our Global Youth Ambassadors achieved when faced with such a challenging year.
"As 2021 brings more uncertainty, it is more important than ever that education and the opportunities it provides remains a priority – our dedicated network of young activists have the passion, determination and drive to make it a reality for all. 
"This year we will see our network continue to grow while we provide training, opportunities and support for our Global Youth Ambassadors in their pursuit to fulfil every child's right to quality education". 
If you are aged 18 to 28, are passionate about ending the education crisis and would like to learn more about Theirworld's Global Youth Ambassador programme, register your interest here. We will be in touch when applications open again later this year.
---
More news
Take the test and discover how our Schools Hub helps students grasp the global education crisis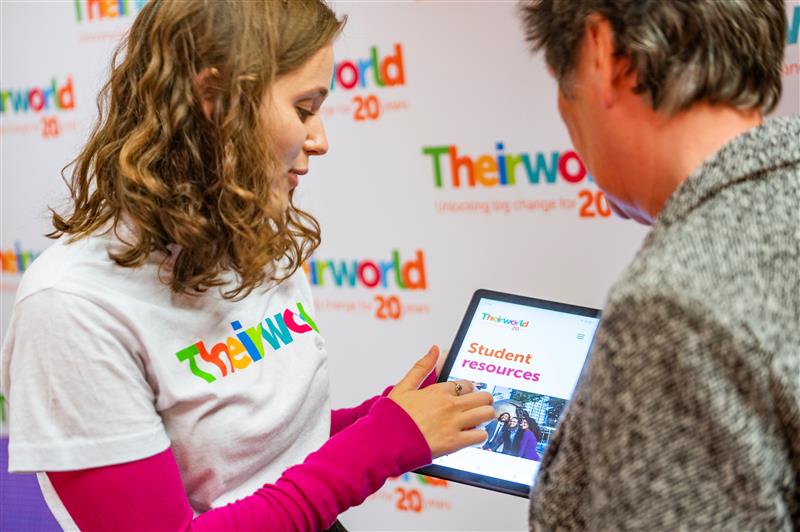 Take the test and discover how our Schools Hub helps students grasp the global education crisis
#LetMeLearn: the story of a global education campaign
#LetMeLearn: the story of a global education campaign