Theirworld unveils Infinity Classroom to show world leaders the vast scale of global education crisis
Barriers to education, Right to education, Theirworld
---
The idea for an exhibition at the UN showing endless rows of empty desks arose from the challenge of how to represent the 260 million children out of school.
---
An Infinity Classroom exhibition from Theirworld is revealing the enormous scale of the global education crisis to world leaders gathering this week at the United Nations General Assembly. 
The mirrored room, sited on the main UN Plaza in New York, is filled with what appears to be endless rows of empty school desks – representing the 260 million children who don't go to school. 
  
The immersive Infinity Classroom is the centrepiece of Theirworld's #WriteTheWrong campaign to build mass awareness of the education crisis and mobilise the political will and financial support to give every child a chance to achieve their potential. The exhibition is now open to visitors and will run until October 5, with an official opening tomorrow for leaders and influencers.
Watch our new #WriteTheWrong video
Alongside the campaign launch, Theirworld is calling for donor countries to commit their support for global education with contributions to two critical funding vehicles:
Education Cannot Wait (ECW) is the global fund for children in conflict and emergency situations
The International Finance Facility for Education (IFFEd) will leverage billions in new financing for education in countries around the world
"Today the world has the largest number of refugees and displaced people since World War II, half of whom are children. We owe them what we want for our own kids – a safe place to learn," said Sarah Brown, Chair of Theirworld
"That's why we're calling on all countries and international institutions to make education a priority." 
The Infinity Classroom was devised as a way of demonstrating the vast number of children who are out of school. The Sustainable Development Goals agreed by world leaders have a target of education for every child by 2030.
The Theirworld exhibition was developed by the creative ad agency BBDO MPLS from Minneapolis. Its Executive Creative Director Timothy Mattimore explained: "The idea initially came from a few creative people sitting in a room one night, grappling with the sheer number of children globally who go without an education – as well as the number of kids who will lack basic skills by the year 2030.
"We were just asking ourselves: 'What does 260 million even look like? How can we show that?' 
"That led us down multiple paths and presented even more questions, such as "How much space would 260 million pencils take up? How much does that weigh? Can we get a barge in the East River of New York to carry them?'
 "In order to make maximum impact at the UN General Assembly, we needed to create something powerful within the confines of the venue. Something that would hit people in the heart with the incredible number of children at risk – but achievable in a small space.
"From there, we began talking about a mirrored room in my parent's home from my childhood, where you would basically see infinite images of yourself upon entering the room. 
"Then the work of Japanese artist Yayoi Kusama [which includes infinity installations] became part of the conversations and the Infinity Classroom was born. 
"By creating a mirrored room with only a small amount of school desks, we were able to paint a vivid picture of what the number of children without education looks like and leave viewers with a powerful story to share with the world."
One of the first visitors to the Infinity Classroom was Amina Mohammed, The UN's Deputy Secretary-General. She tweeted this:
In 2019, there is no reason for 260 million children worldwide to be unable to go to school —as this infinity mirrored classroom of empty desks represents.

We need to #WriteTheWrong to ensure the world is on track to reach all children with #SDG4 quality education.#UNGA pic.twitter.com/vL2jEizKGt

— Amina J Mohammed (@AminaJMohammed) September 22, 2019
Also involved with the project was Nick Eagleton, whose role was to ensure the Infinity Classroom integrated with Theirworld's brand. 
The co-founder of UK brand studio Saboteur – who previously worked on the charity's rebranding in 2013 – said: "One goal was to bring the #WriteTheWrong global campaign more closely together with the Theirworld brand through language, identity and communications.
"The result is that the campaign is much more clearly a Theirworld initiative, helping to reinforce Theirworld as the brand behind it. It gives the charity a much more prominent voice through all the campaign executions and communications."
The #WriteTheWrong campaign will be featured at various events around this week's UN General Assembly.
Justin van Fleet, President of Theirworld, said: "It is within our reach to end the global education crisis. If nothing changes, by 2030, more than half of the world's 1.6 billion children won't have basic skills to get an entry-level job or participate in society. 
"We are at a crossroads and we must act. It is within our reach to end the global education crisis." 
---
More news
Take the test and discover how our Schools Hub helps students grasp the global education crisis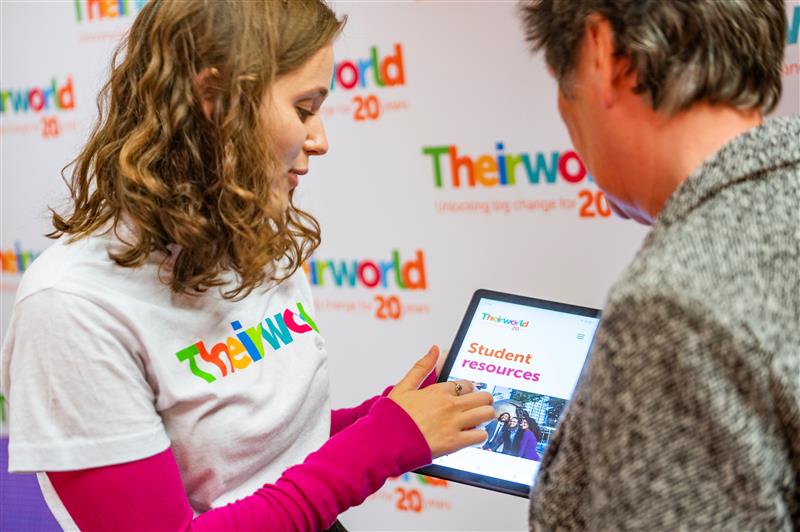 Take the test and discover how our Schools Hub helps students grasp the global education crisis
#LetMeLearn: the story of a global education campaign
#LetMeLearn: the story of a global education campaign