"I learned that not only boys should know more about computers – girls should learn as well"
Days in the childhood development calendar, Girls' education, Technology and education, Theirworld
---
The theme of this year's International Day of the Girl is getting the skills needed for work - here we look at the role Theirworld's Code Clubs play in achieving that.
---
Souhail is a Syrian refugee living in Lebanon. She is only 12 but is determined to become a mathematics professor because she likes calculation and problems. 
Originally from the city of Sweida, Souhail goes to one of Theirworld's Code Clubs for girls. Learning coding there will help her because of its connection to maths – but the club teaches her other valuable lessons.
"Through Code Club, I learned how to defend myself and that no one can control me," she said. "I also learned that I can be myself, the way I feel comfortable." 
Today is International Day of the Girl and the 2018 theme is "With Her: A Skilled GirlForce". Millions of girls are about to enter a world of work that is being transformed by innovation and automation.
If they don't get the skills today for the jobs of tomorrow, they are in danger of being left behind – especially girls who live in developing countries or have been displaced from their homes by conflicts or disasters.
So safe spaces like Theirworld's Code Clubs in Lebanon, Kenya, Tanzania, Nigeria and Uganda are crucial in helping vulnerable and marginalised girls  learn key technology skills for the fast-changing digital world. 
By building confidence, offering skills to compete in the workplace and educating the girls about health and social responsibility, Theirworld believes Code Club participants will make more informed, better choices. That will help them, their families, their communities and even the economic growth of their countries.
Rawan also goes to a Theirworld Code Club in Lebanon. Her family moved there from Palestine when she was very young. She doesn't remember much of her former home and loves living now in Dibbiyyeh. 
Rawan is learning alongside Syrian refugees, as well as Lebanese children. They have made friends and learned to collaborate and help each other.
She feels encouraged to learn more about coding and improve because she knows it can help her to become an accountant. 
"I learned that not only boys should get to know more about computers – girls should learn as well," said Rawan.
She loves the Kano computer and coding kits that Code Club students use. They learn to build their own computer and then code on it. Excitedly, she added: "I loved it. It was like I entered a new world and I learned it."
Rawan believes Code Club has taught her patience, perseverance and the importance of teamwork. About her classmates, she said: "I learned from them that they can do things as well. We have to collaborate in order to achieve things."
Theirworld also has Code Clubs in Uganda, where 17-year-old Shamim lives.
When she started at the club she was very shy and worried that other girls would laugh at her because she didn't know how to use a computer. She also thought that "computers were only for people with money".
But she feels more confident because she has more knowledge and is interested in the subject. Shamim wants to study to become a lawyer and her newfound skills can help her.
She said: "Poor people can use a computer too."
---
More news
Skills for the future give young people the best chance of success
Skills for the future give young people the best chance of success
Take the test and discover how our Schools Hub helps students grasp the global education crisis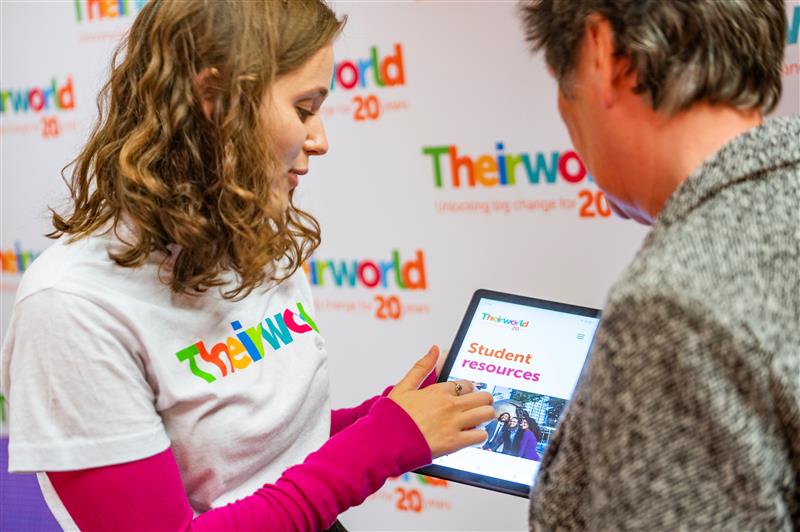 Take the test and discover how our Schools Hub helps students grasp the global education crisis