'Mover, shaker and partnership builder' … Theirworld honours Ngozi Okonjo-Iweala
Girls' education, Theirworld
---
The former World Bank chief and chair of GAVI, the global Vaccine Alliance, received a special award at the charity's International Women's Day event. 
---
One of the world's most inspirational female leaders was visibly moved today when she received a special award from Theirworld.
Ngozi Okonjo-Iweala – former Nigerian Finance Minister and Managing Director of the World Bank and currently Chair of GAVI, the Vaccine Alliance – was presented with the charity's International Women's Day Award at an event in London.
She said: "It is not often that I am moved to tears but to have a room full of women standing up for me – thank you so much, it's such an honour."
The theme of Theirworld's event was how to #UnlockBigChange for girls and women. Read more about the event here.
The award was presented by June Sarpong, the BBC's Director of Creative Diversity and a member of Theirworld's Advisory Board.
"She has embraced unlocking big change for decades," said June. "Born in Delta State in Nigeria, she has gone on to have a career as a world-renowned economist. She is a mover, a shaker, a network and partnership builder – always focused on how she can provide opportunity to more children, young people and girls.
"She was the Managing Director of the World Bank – one of very few women to hold the role – where she prioritised education and health of children and spoke up for girls and women. 
"She took on corruption – her own mother was kidnapped to pressure her and they both did not waver. She has written a powerful and moving book about corruption in her country and around the world. She is fearless."
Accepting the award, Ms Okonjo-Iweala said: "If not for Theirworld, we would not have been able to accomplish many things.
"After the Chibok girls, it was Theirworld who came in to support us and help us to put into place the programme for safe schools in Nigeria.
"One of the most important ways to unlock big change for girls and children is through health. You have to be healthy to be empowered. Health prevention is key – and one of the key ways is through vaccines. It helps women to be healthy human beings who can contribute to their households and their countries.
Getting girls into school is a really a big win to unlock big change. Ngozi Okonjo-Iweala
"One of the challenges we face in reaching girls and women is that some are in remote areas, so we have started using drones to deliver vaccines. It is working. It gives me a lot of excitement and hope. That is unlocking big change."
She also addressed how education can provide opportunities for girls and women, saying: "One of the most worrying things about education is that we have 260 million children out of school. 57% of them are in sub-Saharan Africa. 
"If we want to make big change, starting with early childhood, as Theirworld is doing, we will be able to unlock change for these girls and the women they become.
"We need to obtain resources from all sources to help children into school. A new instrument – the International Finance Facility for Education – is one way. We can use this to plan financing and make it cheaper for countries to bring their children back to school.
"When girls go to school, so many things happen. You improve their wellbeing. You improve their ability to contribute to their household – but also to the GDP of their country. Getting girls into school is really a big win to unlock big change."
---
More news
Skills for the future give young people the best chance of success
Skills for the future give young people the best chance of success
Take the test and discover how our Schools Hub helps students grasp the global education crisis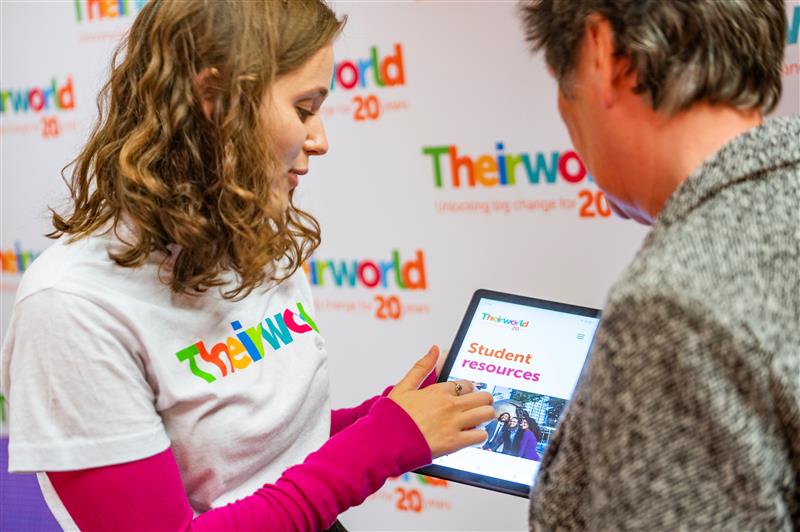 Take the test and discover how our Schools Hub helps students grasp the global education crisis