International Youth Day: how our Global Youth Ambassadors are making a difference
Global Youth Ambassadors, Theirworld, What is advocacy?
---
The Theirworld Global Youth Ambassador Programme is a network of nearly 1000 young people from over 90 countries across the globe who working together to end the global education crisis.  It is the go-to network for youth campaigners who want to be at the centre of the future of education.  The diverse cohort of 18-29-year-olds is comprised of world-renowned youth campaigners and social entrepreneurs united in their passion for social justice and the right to education. Global Youth Ambassadors (GYAs) commit to a two-year membership and to use their skills and talents to responsibly campaign for Sustainable Development Goal 4: inclusive and equitable quality education for all. To mark International Youth Day today, we look at some of the achievements over the past year of our network of inspiring young education activists.
---
Global Youth Ambassadors S/Hero Week
A celebration of the exceptional work of our Global Youth Ambassadors was held in August – with seven of them named by their peers as outstanding individuals .
Each day, Global Youth Ambassadors S/Hero Week highlighted how integral the GYAs had been in each of Theirworld's campaign or focus areas. 
The category winners were:
Education Financing S/Hero: Lian Wairimu Kariuki (Kenya). She is passionate about education and helping young people to fulfil their potential. So it was fitting Lian was chosen to represent over 1.5 million children and young people globally when a youth-led petition was handed to United Nations Secretary-General António Guterres last year.
Youth Skills S/Hero: Prabhath Mannapperuma (Sri Lanka). Started the STEMUp Educational Foundation to bridge the STEM skills gap of Sri Lankan children using technology. As well as being a GYA, he is regional lead for Sri Lanka at CoderDojo Foundation, Ireland and Ambassador at Micro:bit Educational Foundation, UK.
Refugees and IDPs S/Hero: Nandini Kochar (Botswana). Set up Ray of Hope, a youth-run NGO which strives to educate and empower underprivileged and marginalised children – including refugees and displaced children – in Botswana and the United Kingdom. Was also named as one of the Queen's Young Leaders and is a member of the Global Changemakers network.
Safe Schools S/Hero: Anushka Gupta (India). Raises awareness of issues as sensitive as sexual abuse, including conducting workshops in state schools. She also helped to educate children and teachers about gender equality and designed a proposal of activities for the ministry of education to ensure gender equality in schools.
Early Childhood Development S/Hero: Stephen Odiwuor (Kenya). The medical student developed a community initiative that screens children in ECD centres in Kenya for malnutrition and refers the malnourished children to the nearest health facility for further management.strict to help fund costs for equipment.
#ReWritingTheCode S/Hero: Clareine N'lambi Nzeza (DRC). She is involved with REPER Asbl (Réalités et Perspectives) and KPossible Leadership Academia, where she helps to empower girls and women through education and information and communication technology. 
Disability S/Hero: Saul Paul Mwame (Tanzania). A committed youth activist who has been working towards inclusive education. He started a campaign called "Disability is not an inability" at his school, where he interviewed visually impaired students to raise awareness of the issues they were facing. He spoke at the UN General Assembly's High Level Sustainable Development Goals Event on Education in New York.
Tributes to Kofi Annan
When former UN Secretary-General Kofi Annan died in August last year, GYAs paid tribute – here are some of their comments.
Julius Karl Dugboer Fieve (Ghana): "The world has lost a fine man who carried Ghana and Africa to the United Nations."
Enock Nkulanga (Uganda): "I was privileged to have met Kofi Annan in Johannesburg, South Africa, during the convening of the Obama Foundation Leaders. He said to all of us who were there: "You're never too young to lead and you are never too old to learn"."
Joannes Paulus Yimbesalu (Canada): "Our world has lost a giant, Africa has lost a son, I have lost a mentor. Go in peace. Be peaceful."
GYA Influencers programme
Theirworld believes young people should be recognised as key leaders in creating sustainable development and that they should be given the skills they need to do this. That is why we created a mini six-month training programme called Global Youth Ambassador Influencers for selected members of our network. 
The training focused on upskilling them in campaigning and influencing through a variety of real-life tasks and problems, where their input helped to shape our activities for GYAs. 
Sylvia Kakyo (Uganda) said: "The development sessions presented a prime opportunity to improved performance, provided a strong supportive free space and allowed us access to training materials that I wouldn't have otherwise sought out by myself."
UN General Assembly and support for education funding
In September, a bold funding plan to get millions of children into school took a giant leap forward when it was backed at the United Nations by world leaders, the business community and international donors.
The voices of young people were heard at a major event in New York – including GYA Omotoke Olowo from Nigeria. She said: "We hope that the leaders that have come here today are ready to take decisive action and commit to doing something bold to show that we really do care about the promises we made to children – the marginalised, the disabled, the refugees."
Graça Machel – campaigner for children's and women's rights and a member of the Education Commission – said young people representing Theirworld and civil society organisations were there to present the signatures of nearly two million people demanding action to set up the International Finance Facility for Education.
Omotoke and fellow GYA Gideon Olanrewaju also featured that week at the Make Impossible Possible, #WriteTheWrong and Concordia events.
Youth skills for future jobs
With technology changing so rapidly, it's crucial that young people have the skills needed for jobs of the future. With that in mind, the Youth and Skills Innovation Initiative was launched at the UN General Assembly in September by the Global Business Coalition for Education. 
The initiative had spent a year conducting research and analysis with its business partners as well as young people. Fourteen GYAs who are on the initiative's Youth Council were integral in this research. 
One Young World Summit
GYAs Ibrahim Galal Ibrahim Fakirah (Yemen), Sarah Mwikali Musau (Kenya), Julius Karl Dugboer Fieve (Ghana) and Kenneth Gyamerah (Ghana) all participated in the One Young World Summit in the Netherlands tin October.
They were among 1,400 young leaders in attendance to network and find solutions to the 17 Sustainable Development Goals. Julius got a standing ovation for his speech appealing to young people to stand up and make differences in their countries.
Gordon Brown's prize money goes to GYAs
The Global Youth Ambassadors network benefitted when Gordon Brown received crime writer Jo Nesbø's annual award in Oslo for his "special" efforts in trying to get every child in the world into school.
The UN Special Envoy for Global Education and former British Prime Minister lived up to the spirit of the presentation – by giving the £200,000 reward to Theirworld.
Brown said: "We need to support work to break down the barriers that prevent young people from going to school – and bring young people to the front lines of the civil rights struggle of our time, the right to education.
"This is why I have chosen Theirworld as the recipient of this award, to help them build on the 1000-strong Global Youth Ambassadors group – young people under the age of 30, who are determined to campaign until every single child is at school and learning. They will build the movement of the next generation of leaders and activists for all of those denied an education."
Global Youth Ambassador of the Year
In January, Mosa Olatunji was named by Theirworld as the Global Youth Ambassador of the Year for 2018 – selected from our hundreds of youth activists in more than 90 countries.
It is a special annual award given to a young person who has been doing outstanding work both within and outside the GYA network to break down the barriers that keep children out of education.
He said: "Education is the best legacy one can leave behind. I also believe having access to quality education yields liberation that will give birth to personal growth.
"I have consistently campaigned with Theirworld, a great initiative that has transformed many children's lives positively to help achieve their dreams and goals."
Activists share inspiring stories at International Women's Day event
The campaign to break down barriers and get every girl into school was the theme of an inspiring event hosted by Theirworld in March to mark International Women's Day.
Three Global Youth Ambassadors shared their stories of overcoming the odds to fight for girls' education worldwide. Shazia Ramzan, Kainat Riaz and Yara Eid were targeted simply for wanting to go to school and realise their potential.
Shazia and Kainat were campaigning in Pakistan with their school friend Malala Yousafzai when all three were shot and injured on their school bus in 2012. Yara grew up in Gaza experiencing terrible attacks on her home and school. 
All three are now studying in the United Kingdom and campaigning for their own – and other young women's – education. 
Want to become a Global Youth Ambassador? You can register your interest in the network here and we will notify you when applications re-open.
---
More news
Take the test and discover how our Schools Hub helps students grasp the global education crisis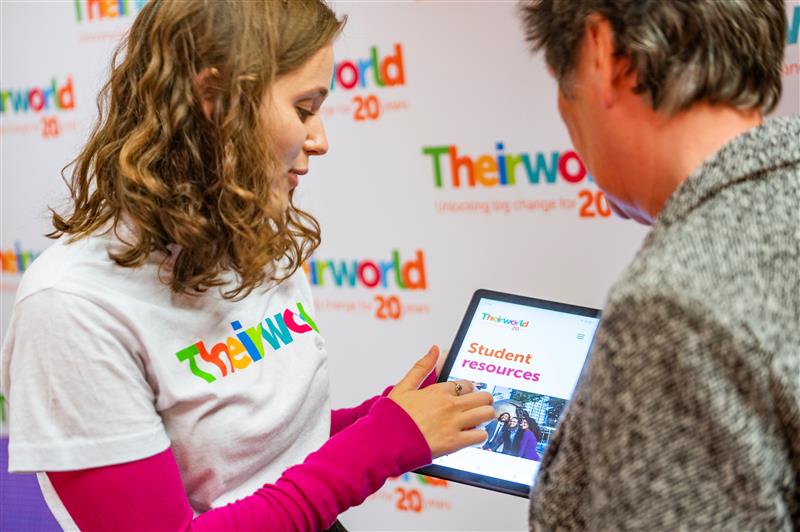 Take the test and discover how our Schools Hub helps students grasp the global education crisis
#LetMeLearn: the story of a global education campaign
#LetMeLearn: the story of a global education campaign