Investing in children's futures: GBC-Education event blog
Education funding, Education in emergencies
More than 124 million children and youth are out of school across the world. Millions of them are being denied an education because of emergency situations such as wars and natural disasters.
The Sustainable Development Goals include a place at school for every child and adolescent and the opportunity for lifelong learning. But it is clear that governments can't do that by themselves.
They need financial and other support from businesses and philanthropists. That's why the Global Business Coalition for Education (GBC-Education) convened business leaders and development agencies last year to identify how to deliver joint investments in education.
Now GBC-Education is hosting an event in Washington, DC, today called Stronger Investments, Greater Impact. The businesses and development agencies are back – and the more than 100 attendees include foundations and philanthropic leaders.
This blog will bring you the highlights of the event. All times given are local Washington time.
The event gets underway at the St Regis Hotel in Washington
7am – Today's event is going to be a quick-fire format of engaging conversation, to include as many perspectives as possible.
GBC-Education is a coalition of more than 100 businesses worldwide. It believes the skills, influence and leadership of the private sector can be powerful tools to increase the number of children and youth who are in school and learning – especially when combined with peer companies, government, foundations, civil society and the educational community.
7.30am – Guests arriving early are getting a sneak preview of an amazing virtual reality film which Theirworld – the children's charity behind A World at School – has produced to mark next month's anniversary of the Nepal earthquake.
The film, Safe Schools: Nepal, will be officially launched in April as part of the charity's #SafeSchools campaign. It captures 360-degree video and audio to allow the viewer to experience the continued impact of the earthquake and hear about the challenges children face in going to school.
7.45am – In February, the, 2016 Supporting Syria and the Region conference was held in London – and private sector foundations and businesses mobilised $75 million in commitments to support education for children impacted by the conflict.
That demonstrated that business not only can be a partner – but is already a partner in delivering educational opportunity.
Host Tom Fletcher makes the opening remarks
8am – The event begins with an introduction from Tom Fletcher, former British Ambassador to Lebanon and now Director of Global Strategy for GBC-Education.
He says: "We'll hear today about new ways of financing, new mechanisms for delivering education, examples of partnerships that have worked and where we need to do more as an international community."
8.05am – Now on to the first segment of the event – our featured speakers on the four pillars of Multilateral, Government, Foundation and Donor Agency.
First up is Kristalina Georgieva, Vice-President of the European Commission, on the theme of humanitarian finance.
Kristalina Georgieva, Vice-President of the European Commission
She says: "In 2015 we in the EU have increased by 15% our delivery of assitance in development. We are now at a record high of 68 billion euros – this is a significant increase, making us the region with the highest contribution to development.
"We are more concentrated today on giving a future to people and are focusing on fragile circumstances much more – 70% of what we do goes to situations of fragility."
She tells how the the private sector contributes only 5% of all humanitarian aid. She says the skills they can deliver must be harnessed.
Next is Akinwumi Adesina, President of the African Development Bank. 
Akinwumi Adesina talks about African Development Bank initiatives
Mr Adesina says: "In Africa, 750 million people are basically illiterate. Simply put education, enhances lifetime economic opportunities. A lot of our kids, the future generations, are out of school.
"Poverty continues to be a critical factor, as children from low-incole backgrounds are more likely to drop out of school. We need to improve economic opportunities for their mothers."
He tells how the bank is investing heavily in initiatives to help African women, who in turn will ensure their children are in school. The African Development Bank is also helping to provide technology in schools and has invested $1.6 billion in education over the past 10 years.
Mr Adesina says strong partnerships are needed to moblise the recources needed to provide quality education.
The President of the Hilton Foundation, Peter Laugharn, is asked to explain how the private sector and donor governments can work effectively with foundations to increase impact.
On the role of foundations, he says: "We can be helpful with the experimental, the things that governments are hesitant to provide. We welcome partnerships with business and welcome their particular skills."
He says the Hilton Foundation has decided "to take more dynamic approaches on educating Syria" and has worked with Theirworld on helping Syrian refugee children in the region.
Eric Postel is Associate Administrator for USAid, the United States government agency that administers foreign aid. Tom asks him how donor agencies best work with business for results through partnerships.
He says: "We cannot do this job alone without the help of the private sector. We have got to move beyond working on an individual village or town basis and got to start working at scale."
Eric Postel is watched by Gordon Brown, on his right
Mr Postel says USAid will be taking GBC-Education partners on a trip to Jordan next month and will get their ideas about collaborating on their investments for refugees and Jordanians.
He adds that businesses and foundations can help to "crack the code on girls' education", printing and distributing textbooks and the issue of financing education.
8.25am – Tom he's now keen to hear how businesses engage with each other to help frame the conversation.
He starts with a GBC-Education Advisory Board member – Rosalind Hudnell, President of the Intel Foundation and Intel's Vice President of Corporate Affairs.
Tom Fletcher listens to Rosalind Hudnell's remarks
She says: "We want to ensure we have our aim is now about how we go together around a solution and decide to go and solve it."
She tells about a programme in Africa in partnership with USAid which reached 100,000 girls, helping them to learn about the internet and digital skills.
Now for Sir Ronald Cohen, Chair of the Social Impact Investment Taskforce and Chairman of the Portland Trust. 
He says: "The world will not change if we keep doing the same old things over and over again. I am here to preach revolution.
"The world will not change of we keep doing the same old thing. I'm here to preach revolution." Sir Ronald Cohen pic.twitter.com/eGELBGknGE

— GBCEducation (@gbceducation) April 14, 2016
"We can bring new sources of capital, new entrepreneurs and the activity of corporate organisations to bring about meaningful social improvement.
He tells of plans to create a $1 billion "outcomes fund" to help the education and assimilation of refugees.
8.35am – We now have three themed discussion. The first is titled Addressing the Syrian Refugee Crises through New Partnerships. This is a chance to hear about how partnerships are working in the region.
First to speak is Elias Bou Saab, Education Minister of Lebanon. He says: "I have hope because all the people in this room are here of the same cause.
Elias Bou Saab tells of the struggles in Lebanon
"In Lebanon the crisis is too huge – it has the highest number of displaced people. The nine next add up to Lebanon. And yet we are still trying to put every child in a classroom."
Mr Bou Saab tells how the funding is not sufficient to put all refugee children into school and adds: "We risk losing an entire generation and you know where they will be heading after that – and that will affect the world. I ask the donors to move fast."
8.40am – Kolleen Bouchane, GBC-Education's Director of Policy and Advocacy, is now taking the microphone to talk to people about examples of partnership models.
Tone Skogen talks about the need for joint efforts
She hands over to Tone Skogen, Minister of Foreign Affairs, Norway, who says: "Joint effort is needed if we want to provide education for children affected by emergencies. This involvement of businesses and private sector is vital."
She tells about a partnership between her government, USAid and a mobile phone company to create a learning app for Syrian refugees.
Kasia Witkowski, Director of Government Relations-Americas at HP, talks about educational programmes created by her company including in Guatemala, Tunisia and Hungary.
Kasia Witkowski talks about HP's educational programmes
Chris Page, Executive Vice President at Rockefeller Philanthropy Advisors, tells how its mission is to help donors with creative and meaningful philanthropy.
He says: "We see our role as a home for all kinds of donors. For example, we work with many family foundations who have an interest in education." He also talks about the work of the Sustainable Development Goals Philanthropy Platform.
Mr Page adds: "We really enjoy this role of briging together donors from all sectors and there is significant impact from working together in strategic ways."
Roger Ford, Managing Director at Accenture Development Partnerships
Alice Albright, CEO of the Global Partnership for Education, talks about solving problems at scale. She says: "Top of the agenda for many of us is education in emergencies. We will not make progress on any of the education goals unless we work in countries of crisis."
She says "We have to work with the private sector" and says innovation is needed in the areas of finance and date.
Roger Ford, Managing Director at Accenture Development Partnerships, says his company has more than 300,000 employees and a chance to use that scale.
He says: "We have to give young people around the world the right talent to get a job." He tells how Accenture has helped three million youth "get a job, become an entrepreneur and have a sustainable business".
8.55am – Marie Ottosson is Assistant Director-General for the Department of International organisations and policy support at Sida (Swedish International Development Co-operation Agency).
She talks about Sida's role in the Swedish Academy for Training in Iraq, which offers quality training for mechanics, and a training centre in Ethiopia – both are partnership projects.
Next to speak is Stephen Sobhani. He is CEO of the Wellbeing Foundation, which partners with more than 50 organisations in Africa.
"We cannot exist, we cannot pursue, we cannot progress without partnerships" @wellbeingafrica @stephensobhani pic.twitter.com/p97GczRiLw

— GBCEducation (@gbceducation) April 14, 2016
He talks about the foundation's work and adds: "We cannot exist, we cannot pursue, we cannot progress without partnerships."
Harley Feldbaum, Head of Strategy and Policy at The Global Fund to Fight AIDS, Tuberculosis and Malaria, takes to the microphone.
He says: "We have a crisis in HIV and we need to work with the education communiyt to solve it." He says HIV is the leading cause of death among girls and young women aged 15 to 24 in Africa – but girls who stay in school have a better chance of avoiding HIV.
Mr Feldbaum talks about partnerships to help adolescent girls stay in school to improve both their education and health outcomes.
9am – Megan Pollock, Senior Director, Strategic Communication for Samsung Communciations, talks about the role of fostering students' interest in STEM – science, technology, engineering and math.
"We believe that in addition to @samsung's role as a visionary, our role is to provide resources & to collaborate" pic.twitter.com/4qybhAasdY

— GBCEducation (@gbceducation) April 14, 2016
She tells about a partnership to develop a schoolyard STEM lab, designed to work in any climate and to engage children in learning.
She adds: "We want to execute more programmes like this and find partners who have the passion to take these regional programme and create global scale."
Cracking the issue of partnering with the private sector at scale is tackled by Julia Gillard, Chair of the Global Partnership for Education.
.@JuliaGillard: We live in a world where the old divide between humanitarian work and development no longer applies pic.twitter.com/gOjqpfxYS5

— GBCEducation (@gbceducation) April 14, 2016
She says: "We need clear metrics at scale around the world – part of your investment conversations should be about how the workforce of the future has the right qualifications."
9.10am – Claudia Costin, Senior Director for Education at the World Bank Group is up next – the day after her organisation announced $12.5 billion of funding for education of adolescent girls in the developing world.
Emiliana Vegas, Chief of the Education Division of the Inter-American Development Bank, highlights a bonds initiative which enables investors to get involved in education projects.
Doug Hunt, General Manager Education at IBM, tells of his company's long-standing commitment to innovation in education. He says: "We believe that education leaders can pave the way by creating new models for personalised education.
Ewen McDonald, Deputy Secretary of Department of Foreign Affairs and Trade, Australia, tells of his government's particular focus on early childhood development and about partnerships with industry to ensure students leave college with the right skills to enter the workforce.
Claudia Costin talks about World Bank funding for girls' education
Takao Toda is the Director General of Human Development at JICA (Japan International Co-operation Agency). He tells of its work to help the Lebanese government improove 100 schools.
He adds: "Charity might not to be sustainable – we need to ask the private sector to do the sustainable business."
9.20am – Now for the third and final segment, which is on Building the Global Momentum. This is a chance to zoom out and look at the big picture.
How do we drive greater momentum for partnerships and bring diverse partners together to solve today's global challenges?
Now we have two members of the Education Commission – the high-powered group set up to engage world leaders, policymakers and researchers to develop a renewed and compelling investment case and financing pathway for global education.
Helle Thorning-Schmidt is Chief Executive of Save The Children International. She says: "What we are trying to achieve is one very simnple thing – that every child has the chance to get into quality education.
Helle Thorning-Schmidt explains the aims of the Education Commission
"But governments cannot do this alone. This is what the commission is trying to resolve."
She says private partners have to be involved, scale and systems are vital, and the focus must be on every single child – not just on quick wins.
Ms. Thorning-Schmidt adds: "The commission will come up with some brilliant ideas. If we get the financing right, this is an ambition which we can achieve together."
Amel Karboul, Secretary-General of the Maghreb Economic Forum, tells how governments used to "talk at me" when she was a company CEO.
She says: "My personal aim is to build bridges between the corporate worlds, the governments and NGOs to really advance the quality of education. We really need the support of everyone."
9.25 am – The official event ends with an address by Gordon Brown, the United Nations Special Envoy for Global Education. He is here in his role as Chair of the Education Commission, which is charting the progress of education funding.
Gordon Brown says 'We need the best brains'
He talks about the creation of the Safe Schools Initiative in Nigeria in the wake of the Chibok abductions, the Syrian refugee crisis and the after-effects of the Nepal earthquake.
Mr Brown says: "The public-private partnerships are important because we need the best brains in emergencies. We need people ready to take risks and do things for people in the first of circumstances.
"We want businesses, foundations and others to be partners for the new humanitarian fund for education in emergencies which will be launched at the World Humanitarian Summit in Istanbul next month. This coalition will be at the centre of the running of this new fund."
Powerful words from @UN Envoy Gordon Brown. This is why we must make the #smartinvestment in education for ALL youth pic.twitter.com/hwQANXdnYk

— GBCEducation (@gbceducation) April 14, 2016
He says the Education Commission has got to come up with solutions for funding the education of millions of children not at school or not learning properly.
Mr Brown adds: "We are constructing a partnership and leveraging each other's finance upwards so that we can fund education.
"What crushes a child is the soul-destroying lack of hope that a child cannot plan for the future because there is no school and no education available for them. That is why partnerships are so important."
9.35am – Mr Brown introduces Matata Ponyo Mapon, Prime Minister of the Democratic Republic of the Congo.
Mr Mapon says: "When you invest in education it is as if you were taking a seat and trying to learn.
"I myself am a result of education!" @Mapon_Matata shows exactly how a #smartinvestment in education changes lives pic.twitter.com/GY98IPHQtY

— GBCEducation (@gbceducation) April 14, 2016
"That seat is like a tree that will produce. It will bring forth fruit for eternity and one day we will taste this fruit."
The programme ends but guests are invited to view the Nepal virtual reality film and find out more about the #SafeSchools campaign.
It's been an inspiring event, bringing together some great minds and opinion-makers – all willing to work together for the sake of educating children.
If you want learn more about the opportunities for public-private partnerships in education, read the GBC-Education background document on the subject.
Prime Minister Mapon is the final speaker at the event
---
More news
Young people's tireless campaign for an education game-changer
Young people's tireless campaign for an education game-changer
Theirworld's mission to give children in crises a safe place to learn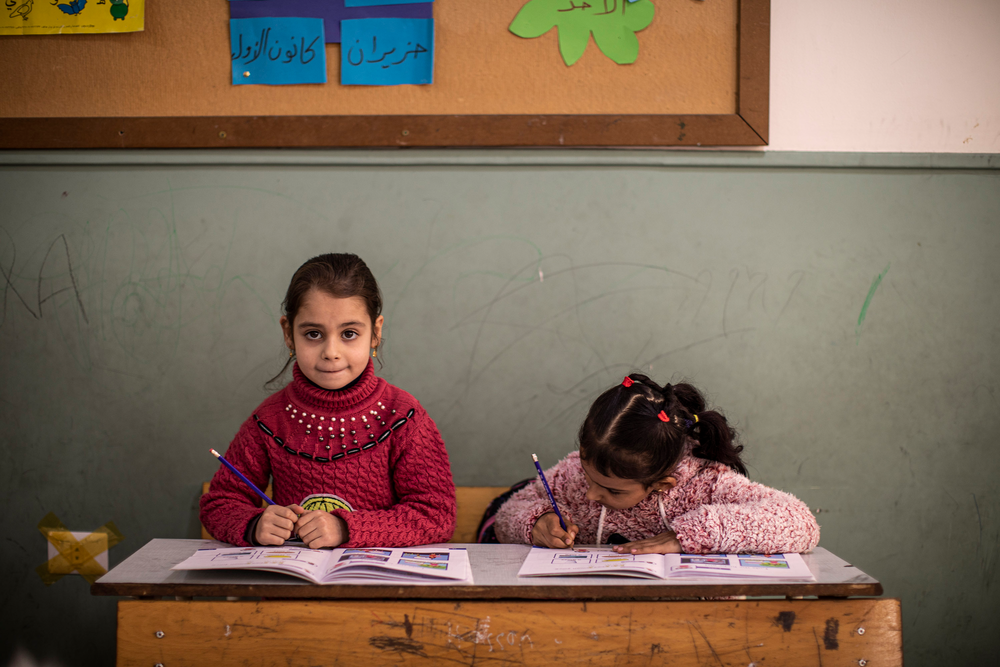 Theirworld's mission to give children in crises a safe place to learn